Evans restructure continues, Instagram hacked by disgruntled employee(s)
Update: Since this story was published, CI.N has been told by Evans Cycles that the Leeds store will be re-opening at a new location in the city sometime in January, the Chiswick store closed in October 2019, and the Macclesfield and Chalk Farm stores closed in November 2019.
Evans Cycles, part of the Sports Direct portfolio since November of 2018, has moved to close four more UK branches as part of its restructuring effort.
The branches at Leeds, Macclesfield, Chiswick and Chalk Farm have closed (see updated info above) and follow a further eight that were culled in March of 2019, largely in the capital. It was feared the cull may have been greater given the statement made on acquisition that "hoped to keep 50% of stores open."
At the time new owner Mike Ashley said: "We are pleased to have rescued the Evans Cycles brand. However, in order to save the business we only believe we will be able to keep 50% of stores open in the future. Unfortunately some stores will have to close."
At present the Evans website still lists 50 branches as open and the story is not one sided; openings have happened in The Midlands and Scotland.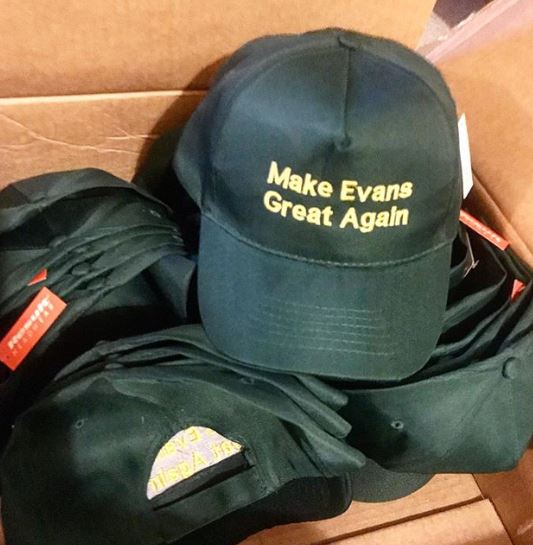 Instagram drama
CyclingIndustry.News was recently tagged into an unusual development on a former Evans Cycles' Instagram account that seemed to go rogue over the festive break.
Road.cc now has an interview with one (or potentially more) of the accounts' custodians.
Rebranded as 'Make Evans Great Again' and seemingly now with its own Trump-esque merchandise in Evans' green and gold colouring, the account rattles off criticism of the business's upper management, adding that the problems pre-date the Sports Direct buyout.
It is said that the person(s) currently at the helm of the social media account are currently employed by the business, but this cannot be verified. Criticisms levelled on the platform range from alleged wastage by the business, through to wages paid and complaints about upper management.
It is, at this time, unclear if the account is operated by a sole employee or by the multiple claimed in the interview, but Evans are said to be focusing their legal team's efforts on its re-acquisition.