Identiti launches new AKA to complete its 2019 range
The 2019 Identiti range is now complete with the addition of the new AKA. Aimed squarely at singletrack, it sits alongside the Dr Jekyll for pumptracks and dirt jumps and the new priced Mettle for all day-er out in the mountains. Price wise, the AKA is available as a frame only at £499.99, with complete bikes from £1,699.99.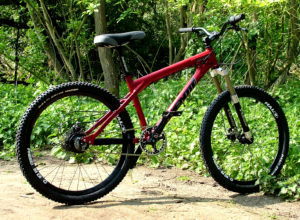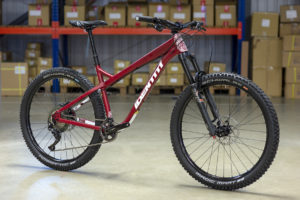 The original Mr Hyde from 2007 in classic red and the 2019 model alongside.
Trail Roots
The AKA is a descendant of Identiti's original Mr Hyde from the early 2000's. One of the first hardcore hardtails designed to cover miles, rattle downhill runs and race dual slalom tracks. It was designed to take anything you could throw at it and come out laughing.
Geometry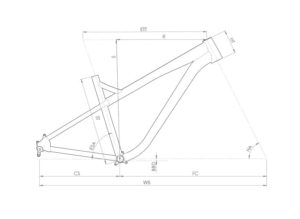 With 3 frame sizes available, it has been constructed with progressive geometry designed around sag and handling derived from the Mettle enduro bike. The frame also incorporates ISCG 05 tabs for chain guides,  threaded BB, triple bottle cage bosses inside the front triangle with another regular set underneath the downtube.
Versatile
So versatility… You can build the same frame with either 27.5'' (140mm forks) or 29'' (120mm forks) wheels and that's made achievable by an  Adjustable Drop Out System or ADS for short. In 148mm spacing, you can run it geared or singlespeed and fit a 2.6'' tyre with 27.5 and 2.35'' tyre with 29's. The brake caliper is attached to the drop out inner plate meaning the pads are always in-line with the rotor face regardless of how much you move the wheel.
Complete bike builds
There's three complete builds available, the R, RC and RCX. All available in 27.5'' or 29'', and all models feature tubeless ready tyres, 150mm dropper posts and 1x drivetrains. Ready to hit the trail.
Pat Campbell Jenner commented "Hardtails run deep and rich our history and we couldn't be more stoked to finally say that the new second generation AKA is now available, packed with class leading features and more versatile than a Swiss army knife".
For full information, visit www.identitibikes.com – the range will of course also be on show at Ison Distribution's stand at Core Bike 2019.