Fabric: "Consider us much more than just a saddle brand, P&A is our future"
Nick Larsen's Fabric brand launched several new lines outside of its traditional saddle portfolio on Friday, proclaiming that the brand has eyes to become "the best" parts and accessories brand in any category it enters.
Speaking in between heavy showers, Larsen said: "The new focus of the company is parts and accessories and everything launched here today will land from August. In the bicycle industry I had observed that many products haven't really changed in their design in 20 years. Everything you see here today has been carefully considered against the market's best product and wouldn't make its debut here had we not felt we'd improved upon what's available."
Joining the catalogue dealers will find various pumps, tooling, new commuter lighting, standard and ergonomic grips, fresh additions to Fabric's standout cage-free bottle, as well as saddle additions.
On the lighting line there are some key differences, with a dial at the rear offering gloved operation to turn up the brightness. Produced alongside a diving specialist, each will function, even if submerged, handy if you're cycling in the UK's current "summer" conditions.
Five lights are to be available to retailers shortly, with the FL30 available as a front and rear at £27.99, FL150 at £36.99 and FL300 retailing at £44.99. The fifth, the FL500, will be announced shortly. Key to the differences between Fabric's and its competitors products, front lights can double as emergency rear lights if required, with additional illumination delivered on top of each. An accelerometer also features in the 30-lumen lighting, meaning it'll shine brighter or flash under braking.
Speaking to CyclingIndustry.News, Larsen added that some tough lessons have been learned from bringing product to the market in the past.
"We've learned the hard way that people can and will copy our work and so we've signed countless exclusivity agreements with those making our products this time around, as well as the necessary patents."
In expanding its range, Fabric now boasts a team of 13 staff, with some appointments bringing in experience from beyond the cycling industry. Proudly displayed alongside Fabric's new lines were a number of OEM partners bikes too. But this is apparently not a focus
"New technical and design knowledge has been crucial," says Larsen. "Both innovation in design and the way we source product has been required. On OEM, yes we've plenty of interest in Fabric, particularly in recent times, but this isn't something we're actively driving, rather a great way for our brand to achieve a wider reach in new markets."
As a side note to product launches, Larsen also spoke of a custom bottle program now available from 500 pieces.
"We've boosted the real estate on the side of our cageless bottle to give any partners enhanced visibility. You'll also now find four differing models in the line, including one insulated design (£15.99) and another to hold tools (£12.99)."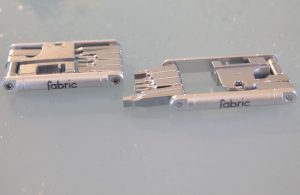 On to tools and Fabric has built upon last year's Chamber addition with a six piece multitool (not available in UK), eight piece at £17.99, 16-piece at £21.99 and a chain tool at £17.99. Each is designed to be slender and functional, with the six small enough to attach to a bunch of keys.
There's now four bar tape options, ranging £17.99 for the Hex and Knurl, through £29.99 for a silicone and £69.99 for the ALM tape.
Meanwhile, the grip line is expanded with new ergonomic designs, available with the addition of lock on. This line now offers seven options worldwide, (six in the UK) spanning £7.99 through £19.99.