Comment: Why manufacturer training is essential for bike mechanics and shop owners
By James Stanfill, president of the PBMA
It really started long ago when we both worked at a small American manufacturing company called Cannondale. It was a backroom conversation some 8 years later, however, that lead to the topic we will talk about in this story.
To be precise, I was in a backroom at Bicycle Sport Shop in Austin and Troy Laffey was in some warehouse in Indy rebuilding wheels. Troy, the head instructor of technical training for SRAM, invited me to Colorado Springs for their SRAM Technical University (STU) training.
Fast forward to June. A flight from Austin followed by a big day of meetings in Boulder, a quick drive down to Colorado Springs, and here I am at the SRAM Colorado Springs Research and Development Center on a perfect summer Tuesday morning.  I have been around; I have heard of STU, I even lived about 4 miles from the facility for 3 years. I had just never had the time or opportunity to take part in the course.
The SRAM facility in Colorado Springs is a very nondescript building in a mixed industrial zone. No signage or fanfare – it's a research facility. We are allowed in and told that if we find ourselves standing on carpet – we are in the wrong place! The STU classroom and lab are top-notch and very purpose built.
Day 1, 9am. We sit in a classroom setting of tables and chairs.  Troy introduces the group to SRAM and talks about the history of the company and how they arrived where they are today.  He tells us, "I hope you brought comfortable shoes, 90% of this course is lab time on your feet." There are 18 of us in this particular STU session.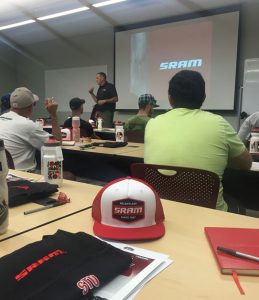 We move on into the lab – they have everything here that has anything to do with suspension. First up, a complete service of a RockShox Solo Air system, then a charger then an air can service. Honestly I haven't taken anything suspension apart since probably 2008. I simply haven't needed to for my day-to-day job. I forgot how much I enjoy it and how it is really not difficult with correct tools and knowledge.
Day 2. We are first reminded, "you don't need to memorize this stuff, it's all on the interwebs" – this in regards to SRAM's living document library that can be found online; every manual accessible in fewer than five clicks.  We got right to it; complete teardown and rebuild of the new RS-1.  Reverb was next, but with Reverb came a lot of other information. Simplicity (20 minutes average to do a full rebuild), the thought that a shop can charge $80 to $100 for this service, readily available parts and some 800,000 units living in the real world… I had dollar signs spinning around in my head.
We ended the day in the lab with a complete rebuild of a Monarch Plus. We had a group dinner and enjoyed some out of classroom bonding time, 17 new stories and 17 new friends and perhaps an adult beverage.
Day 3. It is not over yet. There was a brief apology for the past troubles everyone has surely experienced with Avid hydro brakes.  Then came a good conversation about the new SRAM brake systems and reassurance they are completely new systems, not rebranded AVID product. We talked about what's different between DOT fluid and mineral oil and had a good discussion of why the two don't mix.
We move to the lab and bleed some brakes. I can tell you from my time at Specialized during the big push to road disc and road hydro brake product a few years ago I have bled a lot of brakes… with the unfortunate brake recall, I was forced to bleed even more! I don't know what magic they did to make the product better but it is so much easier to bleed then those original road and mountain products. I had a real bad taste for a while and it wasn't from ingesting brake fluid.
We got to see a Buffalo Bike and talk about World Bicycle Relief, and one project there that myself and the PBMA are passionate about is the Mechanics for Mechanics program. We saw new Zipp wheel product and we got to see and ride the new Eagle system and it was pure gold, and of course the now heavily desired eTap. We soon arrived at the end of the day and the end of this STU session.
What did I take away from my time at STU? I was reacquainted with suspension from a technical standpoint. I learned how much money a shop could make by focusing on suspension service. Having a quality skilled person doing suspension work, according to Laffey, could earn a shop around $150 per hour – I call that really good money.
We saw some of the new technologies and can now think about how they affect my own future and that of other mechanics. The rapidly changing world of cycling and push for evolution of technology make technical training opportunities like STU so important.
If you have the chance to attend any manufacturer's training I encourage you to do so. We need to continually evolve just like the products and technologies we work on.
James Stanfill is the president of the Professional Bicycle Mechanics Association (PBMA) and a practicing professional bicycle mechanic. CyclingIndustry.News recently ran an interview with Stanfill in which he detailed how the organisation aims to make life better for the mechanic. You can read that here.