Average sale price of bikes sold in the UK steadily rising with independents
The sale price of bicycles sold into the UK market has shown strong evidence of rising, with data gathered by CyclingIndustry.News placing just 12% of sales in the ballpark of the formerly accepted figure, just shy of £300.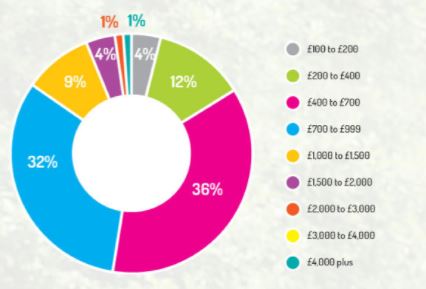 Not accounting for anticipated figure skewing from an enormous uptick in electric bike sales, CI.N's data places 36% of independent retailer's bike sales in the £400 to £700 bracket and 32% in the £700 to £999 region. In recent years the typical independent retailer has enjoyed stronger sales in the mid-to-high-end of the market, while the base price points have been increasingly consumed, largely by retail chains such as Halfords.
Though the number of bikes landing on UK shores is at its lowest level since the turn of the century, those that are landing are of a higher quality and thus largely selling for a higher price. With electric bikes now representing 12% of the UK's imports, it is expected that the true average sale price may be higher still.
Assessing import data made available to Bicycle Association members, total values for pedal cycles landing in the UK were impacted by the numbers decline, with the second quarter seeing a 4% decline on 2016, equating to around £3.8 million.
Meanwhile, year-to-date imports were 3% down on the same 2016 period earlier in summer, valued at around £5.4 million. This further represents a 15% dip on the 2015 peak in value.
The average unit value at the end of Q2 2017 comes in at £144 per unit (trade cost) at the time of landing, some 17% higher than 2016's like-for-like figures. The Bicycle Association attributes this in part to the fall in the £ sterling, making imports around 16% more expensive over 2015 levels. 10% of this is since the Brexit vote.
Great Britain is second largest in Europe in terms of market sales of bicycles at 17%, sat only behind Germany at 21%. France (14%), Italy (8%) and Poland (6%) round out the top five.
CyclingIndustry.News' data stems from a pool of 74 independent retailers ranging small to large businesses.
For further data on the UK cycling market's worth, head here.