FOCUS: Who cares about cycle crime? And what should the cycling industry do about it?
With police budgets at their tightest for decades, retailers and individuals will have to do more to prevent theft. What is the cycle industry's role and responsibility in this area? Tom Gash investigates…
A £200 MILLION PROBLEM FOR THE UK
Cycle theft is the scourge of UK cyclists. A quarter of a million cycles were stolen in the UK last year, each worth an average of £333. The costs of cycling crime to the UK are well over £200 million per year. The human costs are considerable.
Unfortunately, cycle crime doesn't seem to be a priority for the government, nor policing. With police numbers at their lowest per capita level since the 1970s, most forces are shifting resources away from tackling property crime to focus on rising serious violence and sexual offences. As a result, just seven in every 100 theft offences last year resulted in a charge or summons – the lowest rate recently recorded. Clear-up rates for cycle crime specifically are not published but they could be even lower. Cycle crime prevention work is also on the wane. We are seeing fewer police cycle marking events and information campaigns, for example.
This is a problem. Fear of theft deters cycling. According to Transport for London, 25% of people who cycle in London, and 22% of people who don't, are put off cycling by fear of having their cycle stolen.
The new Prime Minister has promised 20,000 more police officers, but they will take time to recruit and train, and are still likely to focus mainly on violence. Victims are left more traumatised than many imagine. A quarter of cycle theft victims say they are affected 'quite a lot' or 'very much', according to the latest Office of National Statistics survey. Four in every hundred victims report crying – a surprising figure in the context of British stoicism. Seven out of every hundred victims report a loss of confidence and feeling vulnerable.
THE NEED FOR A MORE ROBUST RESPONSE
Some in policing – and beyond – are trying to do more. But their financial situation means that forces can't simply throw money at the problem. The role of cyclists is critical, of course. Good security practices are highly effective in preventing the opportunistic thefts that still account for a high proportion of offences, and reporting of thefts assists recoveries and allows the police to identify and target organised or systematic criminal activity. However, they need much better security advice, frequent reminders about how to protect property, and good, affordable security products and cycling infrastructure, such as secure parking.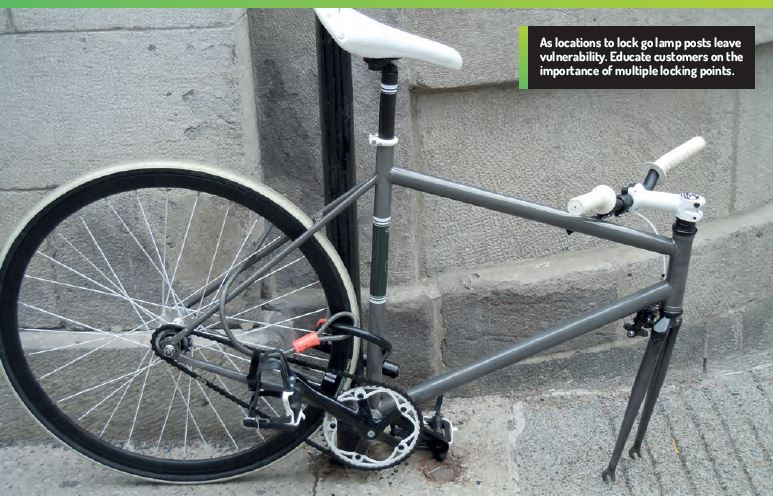 Retailers should do much more too. Most cycle stores are good at promoting lock purchases and checking registries like BikeRegister to ensure second-hand bikes they buy have not been reported as stolen. However, there is a perception in policing circles that some retailers don't care enough about cycle crime, aware that each cycle stolen can simply lead to an additional bike sale paid for by insurance companies. Police are therefore likely to increase pressure on retailers to:
1. Provide crime prevention advice at the point of sale. For example, cyclists should be told that two thirds of bikes are actually stolen from homes or gardens, so they can realise that a shed offers little protection from theft unless the bike is secured.
2. Register cycles at point of sale and/or service. Ensuring all bikes were registered at point of sale would dramatically increase the difficulty thieves have in disposing stolen bikes, particularly in combination with cycle marking.
3. Ensure cycle marking is offered to all, as well as locks. Discreet but difficult to remove cycle marking that visibly identifies a bike (and for more advance products its parts) can deter thieves as well as ensure it becomes all too obvious to retailers when a bike has been stolen and tampered with.
The police themselves can also do more, of course – at least in some areas. Budgets may be tight and investigating every individual crime thoroughly may no longer be affordable. There is, however, no excuse for not tracking patterns of cycle theft to allow targeting of organised criminality, to disrupt criminal supply chains and to pursue rogue traders and exporters. It would shock many that this needs saying, but police should also assist in cycle recoveries when victims have a good idea of where their stolen bike is, and pursue sanctions where there is strong evidence. Not doing so for such a common crime type will fundamentally undermine trust in the police.
If everyone contributes, there is a good chance of turning around waning activity to tackling cycle crime. A £200 million problem cannot simply be ignored.
Tom Gash is an honorary faculty member at University College London and author of Criminal: The Truth About Why People Do Bad Things.
Editor's note: Bike theft from bike shops is another facet of cycle crime which hits the industry about as directly as it possibly could. CyclingIndustry.News compiles reports of bike shop break-ins on the site.