FOX 2019: The need to knows for bike shops
A range of updates have come in ahead of delivery of Fox's 2019 suspension line, including new models, updates to existing products and new point of sale material.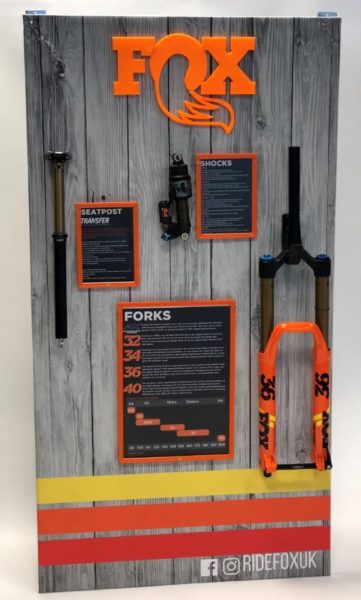 The choice of multiple World Champions and bike makers alike, Fox will this season add all new models including:
A new 34 Step-Cast
For 2019 FOX have added a Step-Cast version of the popular 34 fork giving riders a dedicated 120mm travel fork, said to be stiff and race light.
Step-Cast lower legs save weight yet maintain stiffness creating a new generation of race fork that the manufacturer touts as perfect for riders who want an all-round fork that performs in a vast range of applications, from climbs to more demanding singletrack and descents.
New 36 FIT GRIP2
The new FIT GRIP2 unit gives riders four-way adjustment of the High and Low rebound and compression speed giving a wealth of performance tuning. This performance boost brings VVC (Variable Valve Control) and fewer seals for a new level of performance and small bump sensitivity.
New 40 & 49 FIT GRIP2 Forks
The 40 takes a leap forward in performance and control with the addition of the FIT GRIP2 damper, according to FOX. Equipped with a patent-pending Variable Valve Control (VVC) high and low-speed rebound adjuster, improved compression damping and less friction overall, the 40 is designed to be as comfortable in the bike park as it is racing the World Cup circuit. For 2019, FOX has also introduced a 29" wheeled version of the 40 called the 49.
Rear Shock Updates
2019 sees updates to a number of rear shocks. A remote option is now available for the DPX2, while the Float X2 also sees refinements with a New XV EVOL air sleeve, new progressive bottom-out bumper and a new angled valve for improved pump clearance.
New point of sale 
Silverfish are now offering in store point of sale units for FOX dealers.
Silverfish Retail Marketing Manager Antonio Fiore commented: "We had some great feedback from the CoreBike Show earlier this year and how FOX was presented, so we have worked hard to create a refined version of that display for our UK dealers. Traditionally, it has been tough to display the aftermarket range, but with our wall panel it holds one of each component, supported with product information cards which guide the customer and make the retailers' life easier."
Sales Manager Scott Hillyard added: "This is a great time to come on board as an official FOX Stockist. As well as benefiting from keen pricing, our retailers receive great tech and warranty support back-up from the FOX Service Centre in Risca, South Wales. In addition, they now also have access to great FOX POS and merchandising support."
Silverfish are contactable on 01752 843882.