Fresh capital investment sees Vittoria's manufacturer open Thai R&D complex
Vittoria's manufacturing arm Lion Tyres has opened a new state-of-the-art tyre and wheel text centre in Thailand.
Coming on the back of fresh capital investment in the business, the rubber compound factory and R&D complex will enable the firm to test its products with a new level of scientific precision. With Graphene running deeper into the business, including recently acquired off shoots, the new testing capability has become crucial as the firm aspires to create lower and lower rolling resistance and higher performance.
The significantly upgraded and expanded test facility allows Vittoria to simulate precise conditions related to all climate and weather conditions, to test the soundness of the construction and durability, wet and dry grip, as well as extreme forced failure scenarios. In addition, the added test abilities allow detailed wheel analysis and will further the development of Vittoria's Perfect Match (wheel and tire bead optimization).
New equipment for grip testing can also now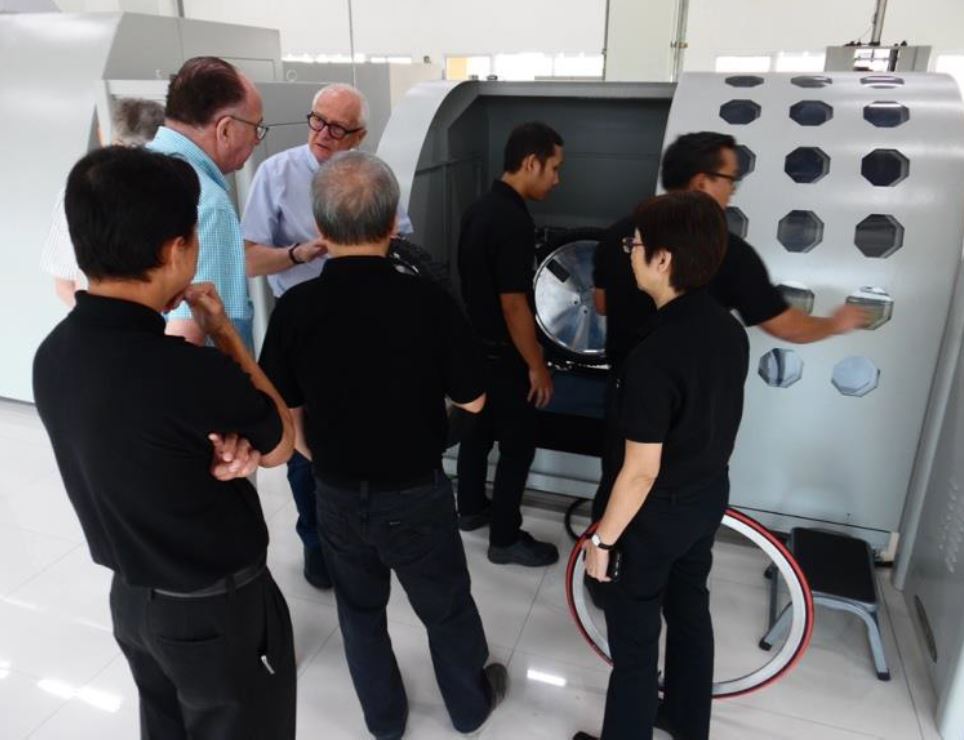 combine different variables. By altering the level of wetness at the surface, the lean angle and the loading many new insights will be gained in terms of compound placement as well as grip levels relevant for each area. A huge improvement has been made to test the durability of the tire tread as well as side walls.
Finally, scientific precision is also added to Vittoria's unique cotton tubeless tire development by monitoring precise air retention per hour with variable air pressures. In short, the firm says it now has the ability to develop compounds and products with measurable precision thus far not seen before in the cycling industry.
Shareholder Jan van Waas and Vittoria chairman Rudie Campagne visited Rayong on February 15, 2017 to officially open the extensive new test facilities. After 2,5 years of preparations and work, the major capital investment creates a one-of-a-kind scientific test laboratory for bicycle tyres as well as wheels and has started its operations.
Traditionally, test riders play a big part in product development and testing. Although these contributions are valuable, Vittoria outlines that the results are hard to quantify with required precision and are not always consistent. The Vittoria bicycle tyre/wheel test center offers 100% precise and comparable tests from calibrated computer-controlled equipment, which will significantly increase the product development speed as well as its accuracy.
Benefits to wheels
The application of Graphene has helped Vittoria produce new levels of strength and performance. With the new unique test equipment, Vittoria will gain significant further insights. Torque testing for the hub and the wheel explores all kinds of forces and tensions; the results help to further improve the wheel performance and durability as well as the rider safety across a wide range of circumstances.
The burst pressure test helps to test and optimize Vittoria's Perfect Match. Both high pressure and low pressure testing options are now available, so test results can drive the future development of this important safety feature.