Gocycle GXi included in TIME's 100 Best Inventions 2020
Urban e-Bike brand Gocycle has achieved recognition on the international stage with its fast-folding GXi model being named as one of TIME's 100 Best Inventions of 2020.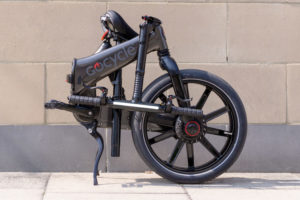 The Gocycle GXi's fast-folding frame enables users to fold and stow the bike in just 10 seconds. It also includes a fully-integrated 375 Wh battery which provides a range of up to 50 miles. In addition, it features a patented automotive-inspired Daytime Running Light (DRL), LED cockpit and Gocycle's electronic predictive shifting.
Richard Thorpe, Gocycle Designer and Founder, said: "We are absolutely delighted with this accolade for our fast-folding GXi – you don't get much more prestigious than TIME! Breaking the mould isn't easy and this award is a testament to the hard work that goes on behind the scenes here at Gocycle. We are driven by the pursuit of designing the world's best urban electric bikes, taking a no compromises engineering approach to continually improve our products."
"The challenges of 2020 have given the world a chance to reset and assess how we do things, how we move around and how we look after ourselves. More people than ever are switching onto the enormous health and lifestyle benefits that comes with two-wheeled electric travel."
"E-bikes will become the dominant form of sustainable personal urban transport and improve the air quality, noise pollution and congestion in our cities."
This year has seen Gocycle achieve 50% growth in global sales with the lockdown period pushing people to realise the benefits of electric bikes for healthier and more sustainable journeys.
The business has doubled its global workforce over the last 12 months in order to meet the increased demand and to support its exciting future product plans and growth plans.