Green Oil teams i-ride for bike shop-facing Kickstarter
Green Oil will turn to Kickstarter to fund the EcoSpray Lube prototype first shown at January's CoreBike Show.
Putting a twist on the usual crowdfunding story, Green Oil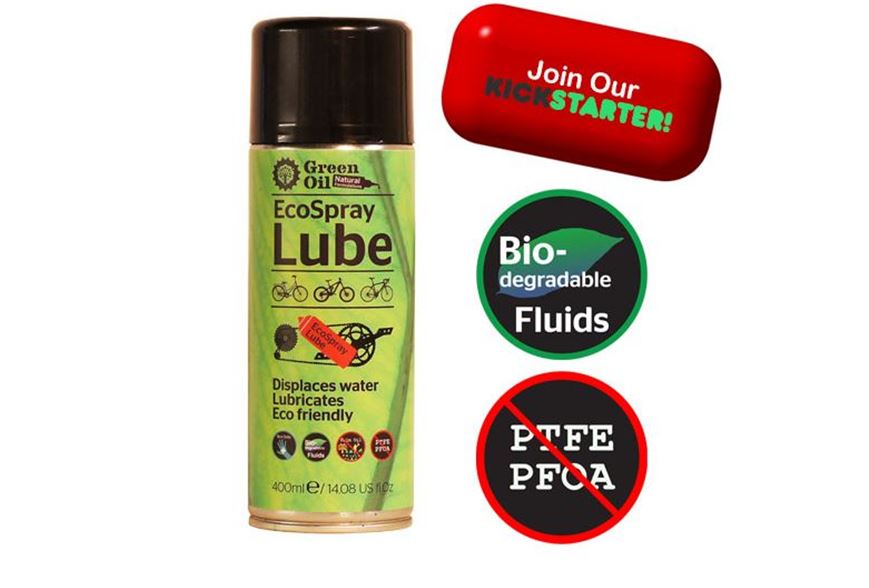 is to follow in the footsteps of Hiplock's recent Kickstarter success, teaming up with its distributor i-Ride to offer bike shop trade deals through the Kickstarter, with Orro Bike products and huge trade margins for bike shops who pre-order EcoSpray Lube stock-in deals.
Simon Nash, director at Green Oil UK, said: "Green Oil EcoSpray Lube has been a long time in the making. Simply, people asked for it. It's an important step to stop people breathing in PTFE, in bike shops and cycling cafés, which often smell like the products they use."
Aside from being safe on skin (as shown by Simon in the lead pic), Green Oil's spray lube is a water displacer that lubricates. With it's straw fitting the lubricant is designed to work effectively on brake levers and other difficult to reach moving parts.
Bike shops who like the sound of a workshop free of air born PTFE can order Green Oil EcoSpray Lube through i-Ride in April, or can take advantage of the Kickstarter offers here.
Post Kickstarter, the EcoSpray will retail at £8.99 for a 400ml bottle.