High5 adds Slow Release Energy range
Landing with UK distributor Windwave this month, High5 has introduced a new line under the Slow Release Energy banner.
Developed and tested with professional German cycling team BORA – hansgrohe, the new range of products provides athletes with a longer-lasting supply of energy and a hit of electrolytes.
Working on the principle of flattening the curve of energy release, the formula is designed with endurance in mind, rather than an energy burst that spikes and declines quickly thereafter.
It is the Isomaltulose content within the mix that enable this slow burn thanks to its slow digestion. Isomaltulose is a low glycaemic carbohydrate (it has a low GI of 32, compared to a high GI of 86 for maltodextrin). The resultant effect of this is a lower release of insulin.
Digestive enzymes hydrolyse Isomaltulose breaks down four to five times more slowly than sucrose because of a strong glucose-fructose bond. This in turn results in a slower release of glucose, slower intestinal absorption, and a longer-lasting fuel supply to the body and brain.
Robert Gorgos, BORA – hansgrohe Head Nutritionist, said of the product: "HIGH5 are committed to push the science to create sports nutrition products that have a real benefit… with the Slow Release Energy range, they have delivered once again. Since we started using HIGH5 Slow Release it has played an important part in our day-to-day training and racing to provide us with long-lasting fuel. It also tastes great, which is important when the riders need a lot to stay fuelled."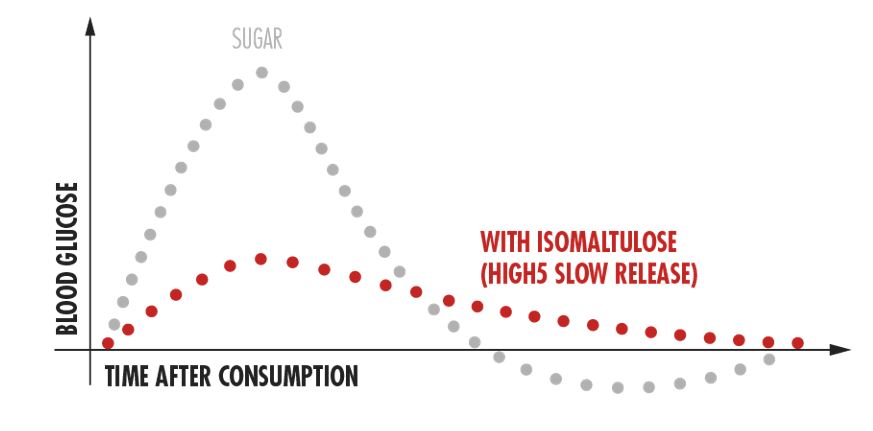 Aside from a more balanced energy release, the Slow Release Energy range has also been enhanced with Ocean Minerals. This, says High5, is the the firm's most advanced electrolyte complex yet, providing riders with an invigorating hit of magnesium and over 70 minerals and trace elements, to help them balance electrolytes during exercise.
Slow Release Energy will be available in all the main formats – drink, bar and gel. Just like High5's fast release energy products, only used natural flavours are used and there are no colourings or artificial sweeteners.
"We are thrilled to be working with HIGH5 and launching their New Slow Release Energy range in the UK. Long-lasting fuel is a key focus for both amateurs and professionals so this range truly appeals to a wide range of cyclists," said Andy Notley at distributor Windwave. "With key input from BORA – Hansgrohe it's great to have a product that has been tested and developed by a renowned WT team."
The range is now available by contacting sales@windwave.co.uk, or by calling 02392 521912.
A guide to the sports nutrition market is to feature in CI.N's up-coming magazine landing later this month. To listen to a podcast on the often complicated product segment, head here.