How to purchase CyclingIndustry.News' Independent Retail Channel Study
Today we are pleased to make available the CyclingIndustry.News Independent Retail Channel Study in full to those businesses looking to develop a pin sharp understanding of the UK bike shop segment.
The survey, held in conjunction with The Cycle Show (for which trade can register for free access here), exceeded our expectations and quickly grew to become the largest of its kind ever undertaken in the UK bicycle business. 201 bike shop owners shared a wealth of information and opinion on a plethora of topics.
Represented within is information on: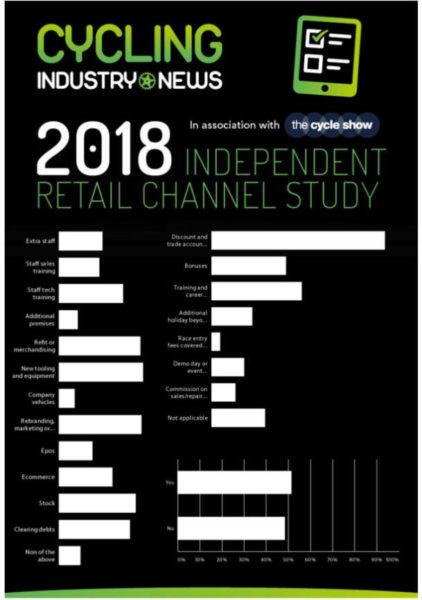 What product lines stores intend to stock more and less of in the year ahead
Which service and sales aids are to be invested in and dropped
Areas where investment is to be made in the business
Which bike brands are gaining and losing traction in the market
Staff salary data for mechanics and management
Average sale price data for a range of bikes and electric bikes
Where bike shops envisage offshoot trade will be won and lost
What stores consider to be the greatest threats to their business
What bike shops would like to see from suppliers and brands
Data relating to market openings and closures
Trade show attendance habits
Much more!
CyclingIndustry.News editor Mark Sutton commented on the survey: "Last year our survey, even at half the size, proved to be one of the most productive things we invested time in all year. Research such as this not only underpins the writing and knowledge of our staff, ensuring ours is a trustworthy source of B2B information, but fills a void that the UK market has long held when it comes to data on which to base investment decisions. Our 2018 study is a record breaker and we can't thank the 200+ bike retailers who engaged with our efforts this year enough."
As promised, those who filled in the survey will be among the first to see the report in full with individual access codes sent to your inboxes shortly. We will also shortly mail a handful of lucky winners who will scoop a range of workshop goods.
To purchase a unique licence to access the report please click here. If you wish to receive future updates on our surveys, including notification to participate next year please register here. Alternatively, please update your preferences at the base of our current email communications.
To speak to CyclingIndustry.News about bespoke survey work, contact us here.