Ideas for better retail: Life hacking, consultancy and being aware of local closures
One of the objectives of CyclingIndustry.News has always to bring you the latest news, insight and opinion on how to develop your bike retail business.
With the introduction of our Trade Journal, we have created the "Ideas for better retail" column – a collection of some of the more left field, but worth considering ideas to growing your business. Here' our first five pointers:
Time on your hands? Try consultancy
We're all acutely aware that customers buy online and that practice is, sadly, unlikely to stop anytime soon. All is no lost, however. Monetising that mindset is possible, with you the bike shop taking on the role of personal shopper, consultant and fitter.
Aware that a customer's clueless, yet has money burning a hole in their pocket? Offer to sit them down in store and guide them through the purchases they need, offering charged per hour advice on sizes, compatibility and explaining the technical blurb that they pretend to understand.
This method, though experimental, has the potential to offer you high margin activity only. You're paid for your time, paid for piecing the parts together and you earn the trust of a future customer if the finished product satisfies their need to burn
money.
It's an 'outside the box' idea, but let's not pretend there's any shortage of customers who think they're experts until the package hits their doormat.
It's also worth reminding customers that Bike-in-a-box deliveries can often fail safety standards. 
Be aware of local retail closures
According to a report on the UK High Street by BIRA and the Local Data Company there was a net decline of 476 independent shops in 2015. As unfortunate as that is, opportunities can emerge from the dust. Think about the number of manikins available since BHS's closure. The opportunity for a cut price upgrade to your merchandising can't be knocked.
We're not perfect either…
Be honest, how many times has a customer returned with the complaint of a tubeless tyre on backwards, pointed out a cable that's missed the internal routing or the mechanic accidentally cut a fork steerer too short? Hopefully this is a limited occurrence, but we all make mistakes and they can sometimes be costly.
Inspired by the old adage 'measure twice, cut once', have you thought about what reminders the mechanic could use and could these be printed at the base of a service sheet, or pinned to board where your tools hang?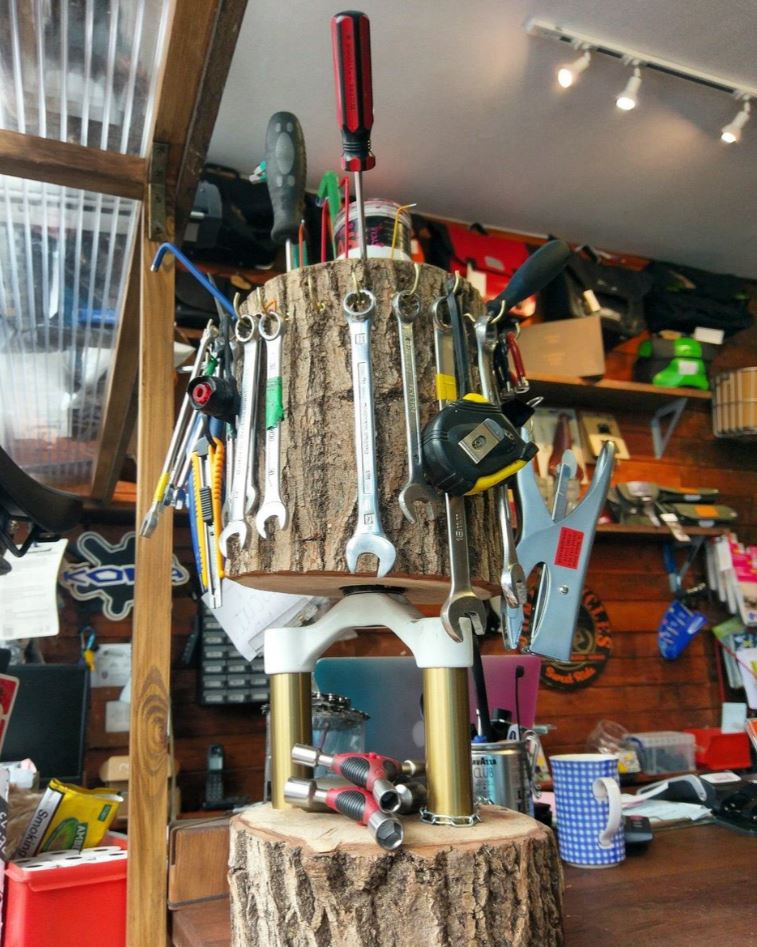 When the shop's quiet, life hack 
Pictured here you'll find a great DIY hack we've spotted on our travels. Yes, that's a tree stump, swan in half, mounted to a redundant old fork and with rotation on an old headset. Without doubt one of the best bits of shop DIY we've seen. Not only is it a great piece of practical upcycling, but you'll get cycling journalists with too much time on their hands coming in and papping the idea for their Instagram/Twitter/Faceache. Free marketing is the best kind, we're told… 
The card machine will break
This one's pinched from our July article "Opening a bike shop: Advice, common pitfalls and money saving tips". It's inevitable, just when you're taking money for that decked out custom build the card machine will fail. Don't get caught out, what's your plan B for that eventuality?
We strongly recommend checking out the "Opening a Bike Shop" article, which draws on the combined knowledge of both experienced and upstart businesses.