Jamis appoints Doug Martin as director of sports marketing and comms
Doug Martin has joined Jamis Bicycles as the company's director of sports marketing and communications.
As well as working for USA Cycling as an Olympic coach, Martin has previously held roles at GT Bicycles, Nirve Sports and most recently Felt Bicycles.
Starting on Monday, Martin will be charged with working alongside the Jamis and Nirve marketing staff to help promote the business's products, teams and branding efforts.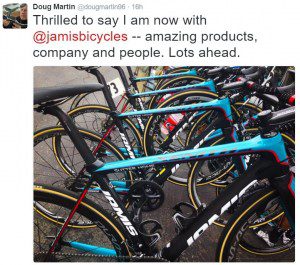 "We are thrilled to have Doug on board," said Jamis and Nirve president, Carine Joannou. "I have known Doug for quite some time and have long admired his work and ability to bring attention to the brands and programs he has been with. In this new fast-paced and ever-changing time in the bicycle industry, it is more critical than ever that we offer regular insight into all of our products, technologies and overall company efforts. Doug is a highly accomplished communicator, leader and doer–we are extremely confident in his ability to help in this capacity and much more."
Martin is now found on dmartin@jamisbikes.com.