Businesses warm to electric cargo bikes as 90% cost savings realised
Serving the Dutch and German markets The Accell Group has held a long commitment to utility cycling, but an expansion of electric cargo bikes' availability has ignited a new corporate interest. Here in the UK Raleigh are quietly replicating the model from mainland Europe and getting ahead of the curve. Charged with the development Edward Pegram tells us more…
Used to finding ourselves in a chicken and egg scenario, the UK's appetite for a change in how we move goods and people appears to have a reception, arguably for the first time in decades. With stories of green mobility making the press with greater regularity, the time has come to question not only personal mobility choices, but also those of business.
According to 'White Van Cities', a paper on the subject of inner-city logistics, van traffic is the single fastest growing segment of road traffic and little wonder with the astonishing acceleration of online retail trends. Van traffic has grown by 71% over the last 20 years, according to DfT data and 47% of the 3.8 million registered since 1996 are attributed to businesses. With the spotlight shone on sustainability there is a recognition by anyone capable of basic mathematics that this trend's continuation is incompatible with urban spaces.
Edward Pegram, Raleigh's Commercial Partnerships Manager is now tasked with solving that conundrum in a role that mirrors the Accell Group's work on mainland Europe in the cargo bike arena. It is, for Ed, a rewarding challenge when his clients realise there is another way.
"The first project that really hit home as a template for the potential came from a construction business, in tandem with Southwark Council and TfL. We were approached by senior site manager of a plush apartment complex over the Southwark bridge. They were doing four to six trips a day of less than two miles total in a commercial vehicle. So, 12 miles total, all factoring the cost of the congestion charges, extra parking costs and extra time in traffic. We are talking journeys for trips to the paint centre, plumbing fixings and lunch runs too."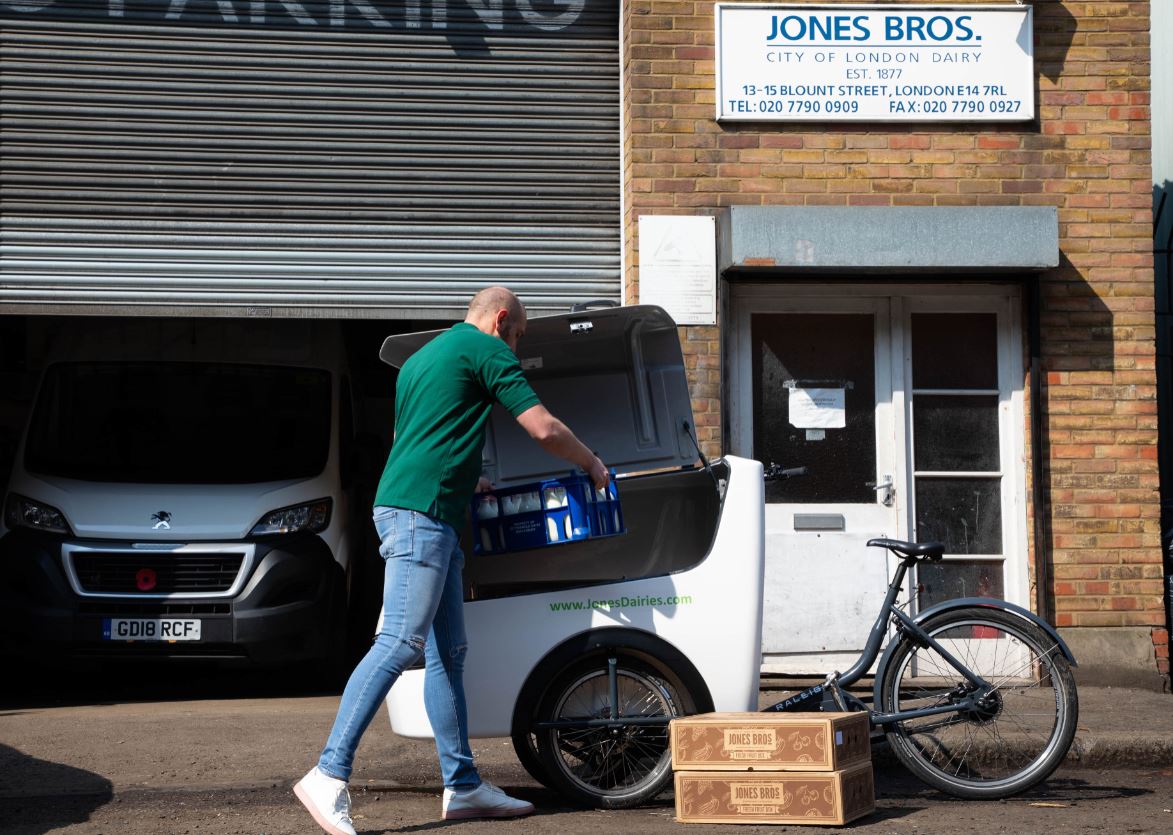 It was costly and inefficient, and the company is far from alone in that dilemma, but the first step is recognising the problem, we're told.
"We had a talk with the site manager whose questions were simple; how can we reduce congestion locally rather than be seen adding to it? Can we also be seen in community to be doing positive construction? Is it possible to do it with no emissions, no charges, parking and fines?"
The intention was there and an admission of being fed up with parking tickets for stopping in bus lanes in London proved a final straw. Raleigh deployed its Babboe electric cargo bikes and the construction firm's costs have since reduced. What's more, when the bikes are not in use they are available to food banks in borough for deliveries.
In bringing about changes that seem insurmountable the UK again looks on enviously over the water, pondering what it could take to bring about a cycling culture that is now so deep seated that people question whether Amsterdam ever had anything other than bicycles as a primary transport mode. You needn't look too far back into history to see that the Dutch capital did indeed suffer the same affliction of motor dependence, that was up until a string of road deaths prompted the canal city's residents to call for a rethink. Social responsibility, then, is a trigger for change, in particular as corporates fine tune their ESG credentials.
Pegram points to a second project as sign that change is coming from the top down.
"The Jones Dairy in Hackney are as old as Raleigh and used cargo bikes up to 30s. Then it went to vans, both petrol and diesel. That was until the pandemic hit, at which point the Square Mile stopped accepting traditional vehicle deliveries; that is the building management itself taking steps to prevent dirty traffic entering the zone. What we are now seeing is large vehicles taking goods to the outskirts, then using a repurposed car park to consolidate the shipment and transfer what they need to cargo bikes, which then do runs into the centre."
This model, studies have shown, is beneficial in both time and cost to the vast majority of businesses and it is just a case of presenting that evidence through trials that will be the first roll of the snowball to not only acceptance, but demand.
"The electrification of cargo bikes has been the difference, in Europe our sales show a rapid overtaking of pedal powered cargo sales and its to a variety of clients. Like when e-Bikes began filtering through there is the question "is a fad?" Yet, for Raleigh, cargo is now one of most important developments for next two to three years and that's reflected in the investments being made upstream," says Pegram on the Accell Group's forecasting of this trend's evolution.
Indeed there is to be an expansion of the range to the tune of double what exists at present, with options that offer a flatbed, rear load, family-friendly and those tailored for specific uses. We're told all will be less than metre wide, so they are not intrusive in cycle lanes.
"The ambition is to get these bikes out to UK market in thousands, obviously sold, but first as demo units so the potential can be seen. The biggest volume so far has been local authority fleets of bikes delivered on Energy Saving Trust grants. We are at the stage in UK when it's proof of concept. It's about overcoming that scepticism and so try before you buy is the low risk, no cost solution people need at present," explains Pegram.
So, what wins people over in the end? Is a cost saving in the ballpark of 80% to 90% versus a commercial vehicle enough to turn heads?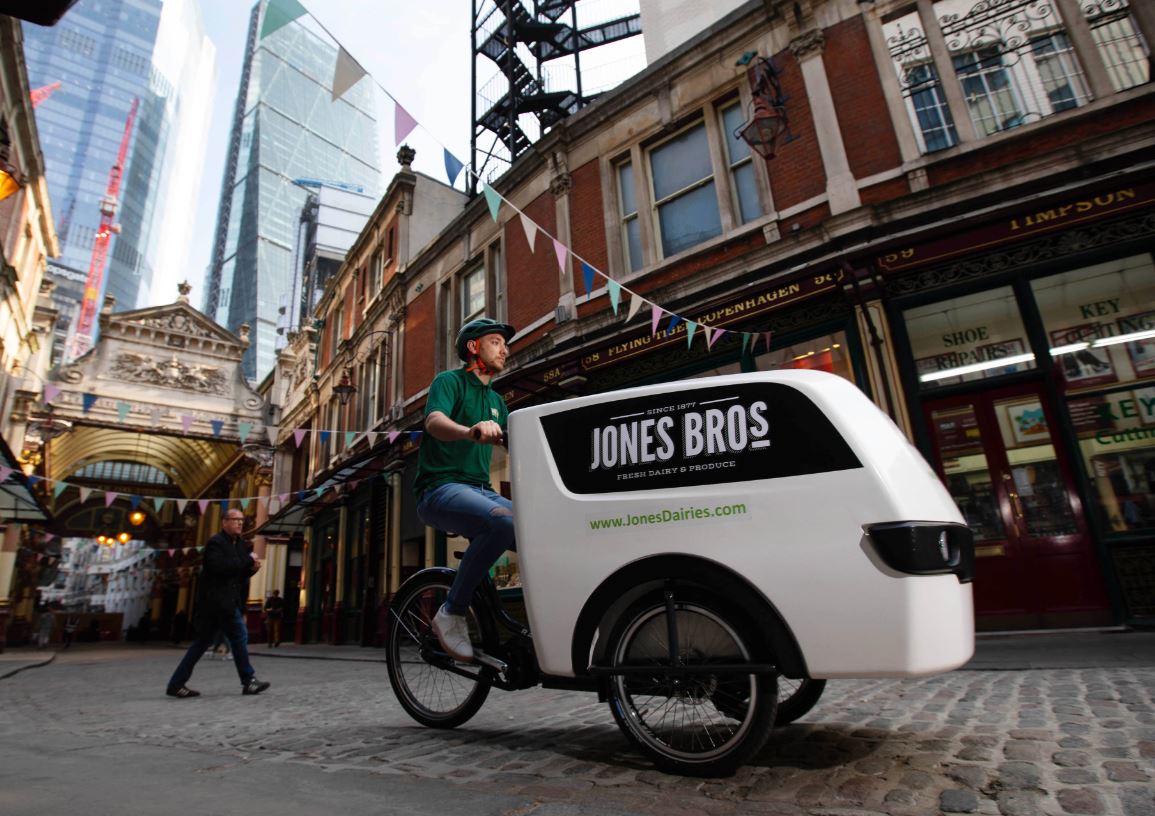 "Factoring in all considerations when managing fleets of vehicles, the savings can be that pronounced and that includes servicing, charging, maintenance and repair bills for the electric cargo bikes. For the dairy business the major savings came from removing the ultra-low emissions charge costs, the fuel cost that rapidly grows when a vehicle is stop-start all day and they now have no parking fines."
Above that, company traffic reduction is a community benefit in terms of noise and air pollution. Pegram admits it is not suitable for every use case, but what is little considered is how full most vans on the road are. A Transport for London assessment of van traffic found that, on average, vans are only 38% full, while the 39% of vans on the road are less than a quarter full. In essence that means we are wasting a lot of space on the roads that could be better used by appropriately sized vehicles.
At the time of writing Pegram is dashing between National Trust sites, delivering fleets of electric bikes and electric cargo bikes. With many of these sites 100-acre or more, staff servicing the grounds have been unable to do anything but drive vans, ultimately disturbing the grounds and the many thousands of visitors.
"These sites are where people go for a staycation and to connect with nature, but up to now they'd be dodging van traffic on site. A large number of volunteers moving on site now benefit from a better tool for the job and for their health too," we're told. "The phase out of fossil fuel vehicles is essential for these organisations, so we have worked with them to move people with no impact on landscape and to reduce noise pollution, enhance staff wellbeing and improve efficiency. Of course, they were ruining the engines of vehicles on so many start-stop journeys too, so it was both costly and inefficient."
Concluding his take on the next logical step for the cargo bike movement, Pegram encourages the Government to enhance its backing for the sector, in particular the support of small businesses wishing to make the change. (The Government has now released some e-Cycle grants for local authorities, which can be put toward electric cargo bikes.)
"Subsidies limit the risk to businesses on the fence and on the expense of a £5k cargo bike that could be huge in bringing about change," he says.