Kinesis UK targets ultra-distance racers with new RTD
Kinesis UK's new 'RTD' (Race The Distance) £850 Scandium frameset will launch at the Cycle Show this week and has been tailored to suit ultra-distance racers.
The bike has been inspired by Kinesis' long association with events including UKCE Sportives and in the Transcontinental Race (TCR), where it gained feedback from rider interaction.
Kinesis became a checkpoint sponsor of TCR in 2016 and started working with its founding father, the late Mike Hall, on details for a frame that would suit this kind of racing. Through that relationship, the brand said it gained deeper insights into what it takes to prepare for and complete events like the TCR, inspiring it to develop a frame to allow more cyclists to explore their personal limits in self-supported bike races, while doubling as a practical fast-paced road workhorse for training.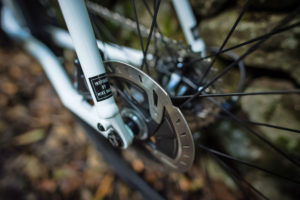 Looks-wise, the RTD graphics are closely aligned to the gravel Tripster AT model in the Kinesis. Mike Hall himself graphically detailed the AT and the follow-on RTD design honours him. the four bands at the top signify the checkpoints in the TCR while the seat tube graphic and overall style is derived from original drawings shared between Mike Hall and Kinesis graphic designer Matt.
Kinesis UK was keen to point out that the sale of RTD frames directly feeds back into the financial support given by the brand to TCR race as a sponsor. Kinesis marketing man Rory Hitchens said: "We think of it like a circle of life. Paying forward to good times on the ride. RTD is available to everyone and inspiring to the end, just like the Transcontinental bike race itself."
Rider Fit Geometry
Kinesis said the bike is fast-paced but with well-mannered handling, with frame numbers following the new Rider Fit Geometry with sizing based on Stack and Reach for a less aggressive site position and more comfortable ride. Fork Rake increases 2mm to 47mm over previous road frames in the Kinesis range, combined with a two-degree slacker head angle (71 degree) giving more stable handling under speed, particularly when bike is loaded for bike packing.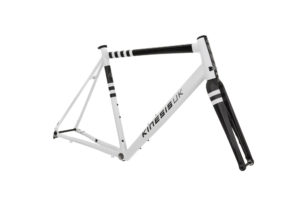 Premium materials and detailing
The RTD frame is hand-welded with a custom Scandium alloy tube set, engineered to deliver fast riding performance with all-seasons features. Kinesis uses a proprietary tube forming technique, Super Plastic Forming (SPF), for a stronger and lighter frameset with a 55.5cm frame tipping the scales at 1530g. An oversized and heavily profiled down tube is key to stability, while the flared top tube and tapered head tube contribute to the laterally stiff front end. Out back, the seat tube requires a 27.2mm seat post and is coupled with the highly flattened seat stays for comfort through compliance.
RTD is the first frame from Kinesis showcases a new head tube with integrated cable ports for both gear cables and rear brake hose. Di2 compatibility is standard.
RTD bucks the trend of previous Kinesis framesets be speccing a full carbon fork from Columbus, rather than one of its own branded offerings. Kinesis said the new Columbus Futura model offered everything they wanted in a fork for the RTD with large (40mm) tyre clearance, 47mm fork rake, clean internal cable routing, mudguard compatibility, 450g.
Kinesis RTD will be on display at Cycle Show this week (stand C23) and the frameset can be pre-ordered now from Kinesis stockists, available from 20 October.
More details on the official site.
Dealers can pre-order here: https://www.upgradebikes.co.uk/Catalogue/Frames/Kinesis/RTD
Pic credit Roo Fowler.