Knolly Bikes puts own 'Trail' twist on 12x157mm rear axle standard
Knolly Bikes is to follow Pivot's Switchblade in adopting what has been dubbed as the "SuperBoost" rear axle standard, measuring at 157mm.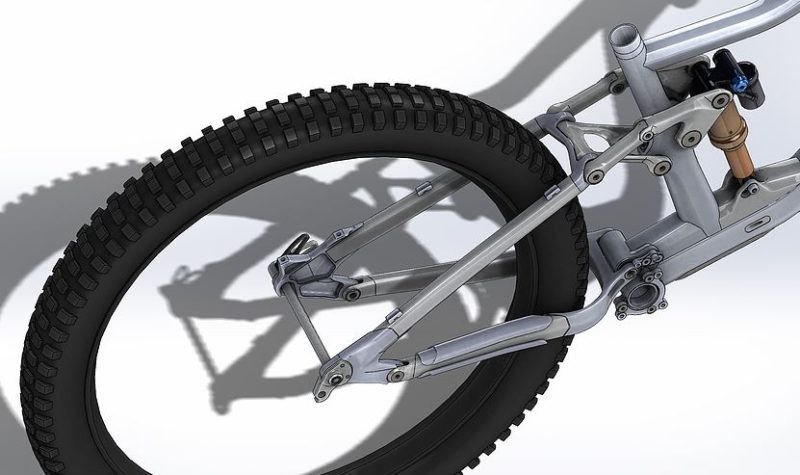 Having skipped past the now commonplace Boost 148 standard, Knolly has blogged to say "back when Boost 148 was launched, we chose to remain on the sideline because we were not convinced it was right."
Now CEO Noel Buckley has gone on to explain that it will move toward 157 x 12mm having noted meaningful advantages in design and engineering potential. Furthermore, Buckley indicates that he is of the belief that the industry may not have committed so heavily to Boost 148 had the latest generation of 1X drivetrains existed at the time.
Buckley writes: "When Boost was created it was designed to help fix a problem with 29er wheelsets and it was marketed as "a huge improvement in stiffness". When in actual fact it was simply the widest possible hub width that could be implemented while maintaining normal Q-factors of existing 2 x 10 speed drivetrains and it was limited by certain suspension designs rear stays. Boost 148 was then adopted as a solution by the "plus size" tire community because it gave another 3mm of tire clearance per side. Unfortunately, it did not solve all the tire size issues, and it resulted in unfavorable geometry when switching between 27.5" and 29" tires."
Knolly is rebadging the as yet uncommon standard, dubbing its take as '157Trail', announcing that this will be carried on all of the firm's 2018 line up.
"We are calling it 157Trail because our Four by 4 suspension allows us to use the wide flange 157 hubs with 73mm BB shells on all our new trail models. The first models to launch will be the upcoming Fugitive 120mm travel 29er and Fugitive 135mm travel 29er. We made this choice because our design priorities are rooted in rider functionality, not in industry trends or marketing," says Buckley. "If the current wave of 1x drive-train technology existed, the wider spacing revolution would have skipped right over 148mm and landed on 157mm. By using 157Trail, our new bikes give consumers the widest range of features possible with zero downsides."
So what are the claimed benefits of going wider still?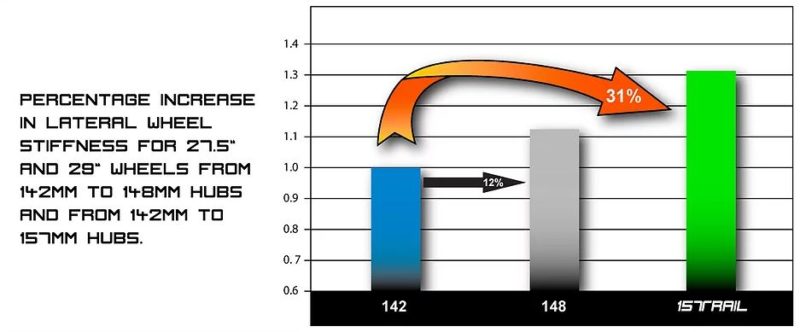 According to Knolly, it has sought to refocus away from tyre width and on to tyre diameter. With the added room, its is thought that riders will be able to better tune the ride feel of their bike through tyre choice. The brand's Fugitive build will accept both 29er and 27.5 x 3.0 without any compromise to BB height, it is said. Up to a 3.25 tyre width is cleared in Knolly's latest designs.
It is stiffness that has most impressed Knolly, which claims to have tested and demonstrated a near three fold increase in the stiffness gains made between 142mm and 148mm hubs.
There are noted Q factor advantages too, with riders able to utilise some of the market's narrowest Q factor cranks, such as RaceFace's Next SL.
Despite all of the reshuffling, Knolly suggests that it hasn't needed to extend chainstay length to accommodate the larger wheel dimensions. What's more, it's design is even front derailleur compatible.
Some downhill and freeride builds have been using 157 spacing for some time now, albeit with narrower flange spacing.
Going to market online with the twist of tying in the independent bike shop where viable, Knolly is to offer a lifetime warranty for those buying its bikes.