Might an economic downturn produce a new wave of cycling demand?
Flashing up on mobiles and desktops this month came the notification that train fares are to rise 3%; a seemingly annual occurrence in the UK.
Coming in tandem with a slew of headlines about a retreating economy and increasing odds of the first recession since the financial crisis, reasons to be cheerful may seem slim on the ground.
So, why the hopeful headline?
Google searches for the term "Cycle to work" have been climbing steadily since the tail end of last year and, while such searches ebb and flow with the seasons, recent figures are hitting multi-year highs while "bicycle commuting" searches are up over 300%.
In fact, it was the financial crash of 2007 to 2008 where numbers began a steady climb, as shown in the chart:
Cycling is, by nature of its low cost ratio to other forms of transport, resistant to a recession. It's no perfect science, but there are trend line similarities when you tie in multiple transport modes to a search.
As news broke of the most recent hike in train fares, searches for "cycle to work" rose in tandem. Over a longer 90-day period there are some quite tight parallels between searches for train fares and searches on cycling.
This could all be coincidental, of course, or tied to other circumstances, such as the weather on any given period. Nonetheless, the trend against an economic downturn is up.
Electric bike stores will vouch for the fact that many customers buying into commuter bikes come in with a curiosity for the cost; not just for the bike, but of the per mile output.
Figures here vary depending on factors ranging the topography of the area to spec of the bike.
Back in January of 2018 a rider claimed to have ridden the 2,826 miles from New York City to Las Vegas on less than $5 of electricity. e-Bikeshop.co.uk places the figure at 0.13 of a penny per mile, excluding wear and tear costs.
Meanwhile, motoring costs run, on average, at around £162 a month in the UK with fuel, insurance, VED and servicing accounted for, according to TheCarExpert.co.uk.
Unsettled by trade wars and the threat of disturbance in the middle east, the price of fuel may soon grow sensitive once more. Supply at the time of writing is ample, but the longer political tensions are left unchecked the more concerned by fuel prices consumers are likely to become. Another string in the bow of the bicycle which, replacement tyres aside, remains unmoved by such news.
According to the National Travel Survey, currently 36% of cycle trips are for commuting purposes. Men cycle 2.5 times more trips than women do at the present time in the UK.
Under the right conditions there is scope for growth among long under-served and often poorly marketed to demographics. This is an area where the bike industry arguably has a blue ocean ahead of it.
"There's zero people of colour and people with disabilities in media; that needs to change as well. If you can't see it, you can't be it," said London Bike Kitchen's Jenni Gwiazdowski when discussing the subject of marketing recently.
42% of people have access to a bicycle, with under 17s having the greatest level of access.
The post millennial generation, it is generally accepted, own less and rent more. This applies to car sales, which have been on a downtrend on the back of a 'peak car' acknowledgment that has seen auto makers increasingly attuned to micro mobility needs.
This, of course, brings well-financed outside competition for the bike business. Many joke that car makers can't design bikes. While that may have held some sway in years gone by, with the electric bike market now forecast to grow at 3% CAGR until 2027 and micro-mobility trending in cities, many of which are increasingly frosty to car use, the threat is becoming very real.
Nonetheless, we now have on our hands a generation whose disposable income will be stretched by transport costs. The National Travel Survey data paints a rosy picture where such conditions exist. Those without access to a car cycled on average 11 more trips and 20 more miles in 2018 than those with access.
Paired with a growing public concern for the environment, future generations look increasingly likely to seek out low cost and low impact transport. For the time being, electric cars are generally prohibitively expensive to low incomes and your average millennial.
School cycling rates have remained more or less stagnant for the past 16 years, hovering between 2% and 3% of trips since 2002; rising slightly to 4% for secondary school children. The desire isn't lacking on the children's part, mind, largely it's the safety concerns of parents stunting growth. Seemingly this is an a blue ocean for those motivated to engage in cycle to school programmes.
According to the latest NTS data, 25% of people cite safety concerns as their primary reason for not cycling more, closely followed by worries about the levels of traffic at 16%.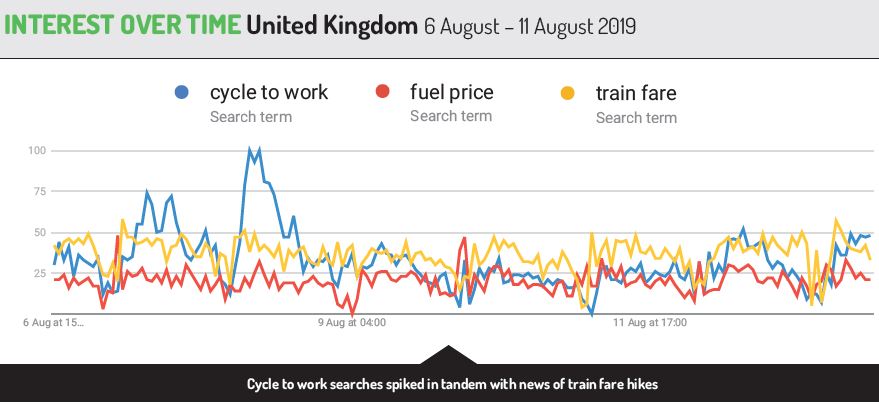 Once more, the long-term trend points to a decline in car use in urban spaces, ultimately easing such concerns.
In the capital, where infrastructure has generally been improving following a stuttering blue painted start, Transport for London data recently revealed an annual increase of nearly five percent – the largest spike ever recorded. Cycling's growth in Central London was higher at 8%.
Such demonstrable progress is likely to spur greater levels of investment over the long-term, in particular as Governments face heavier fines over air quality failures. Right-leaning Think Tank Bright Blue recently went as far to propose a rise in fuel prices in a bid to cut pollution.
While that may not get waves of public support, there is a growing tide of support for cycle lanes among the public. A 2017 survey of over 1,300 motorists revealed that over 80% were in favour of new cycle lanes being built, while 71% said having cyclists on the road under the current conditions didn't bother them.
In the UK's cycling capital, Cambridge, it was demonstrated by the world-renowned local university that some 85% of an increase in cycling can be attributed to newly laid cycling infrastructure.
At the time of writing we have in Grant Shapps a new transport secretary who looks upon cycling more favourably than his predecessor Chris Grayling who notoriously doored a rider on the way to Parliament. The PM too oversaw the early days of London's cycling infrastructure progress, a legacy to which he often, rightly or wrongly, refers.
With the cycle industry contributing £5.4 billion to the UK economy, not to mention cycling contributing £3.1 billion to the UK economy in health benefits, £430 million in congestion benefits and £230 million in pollution benefits – it is hoped the new policy makers will be supportive of cycling during their tenures.
How long can the UK Government realistically hold off investing further into cycling when the cost-to-benefit ratio has been shown to be as high as 35:1? Only time will tell, but in the meantime it appears as though the population's desire is growing steadily.