London's first Quietway opens connecting Greenwich to Waterloo
The first of seven proposed "Quietways" in London has now opened, connecting four boroughs with a nine kilometre passage through traffic free zones and quiet backstreets.
Continuously signposted with standout purple branding, the route connects Greenwich in the east to Waterloo in central London.
Speaking at the Hackney Cycling Conference on Friday, Andrew Gilligan, the cycling commissioner during Boris Johnson's tenure, suggested that he expects this to be the best of the seven and even described today's opening as "not great".
Having previously suggested that he anticipated the opening of the Quietways to have been less complicated than London's Superhighways, Gilligan's review of Quietway 1 is one of failure.
Speaking on Friday he said: "The key thing that's not happening on the whole, something that was supposed to happen, is filtering."
Quietway 1 connects with other cycling routes along the route, including the North-South Cycle Superhighway (CS6) at Webber Street and Cycle Superhighway 7 (CS7) at Great Suffolk Street. It passes many areas of local interest, opening them up to more pedestrians and cyclists, including Patterson Park and Bermondsey Spa in Southwark, through Deptford and into Greenwich, near to the DLR station.
The route passes through Lambeth, Southwark, Lewisham and the Royal Borough of Greenwich and 2 kilometres of the 9 is entirely traffic free.
Pedestrians too will benefit from new or improved crossing facilities and wider footways alongside the improvements for cyclists.
The Mayor of London, Sadiq Khan, said: "It is important that we make it safer and easier for Londoners to cycle across our city and we want the first of the Quietways to make a significant contribution towards that aim. I am already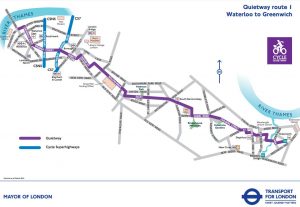 looking at what works best from the existing cycle schemes to ensure we deliver the best and safest road cycling network possible. Cycling leads to a healthier lifestyle, it helps to cut pollution and is a key part of my vision of the type of greener, more modern and affordable transport network we need in our city."