Moore Large: Swap a worn/broken tool for a SuperB equivalent with 50% off
The development of bike shop servicing has been on the rise over the last few years. With people having little time to do it themselves, bike shops provide a service that is easy, quick and good quality, giving the customer more time to ride whilst meanwhile providing a solid foundation of business for IBDs.
Moore Large has announced it is running an offer that allows customers to swap any worn or broken tool in their current range, for a brand new SuperB equivalent with 50% off the standard trade price.
Joanne Clay, Communications and PR Officer at Moore Large, said: "Whatever changes there are to consumers shopping habits now and in the future, the service and expertise of retailers on the high street will remain their biggest strength and at the heart of any good bike shop will be a busy workshop.  There isn't a workshop in the country that doesn't have worn or broken tools that could really do with replacing but for one reason or another, we end up making do.
"Offering dealers the ability to swap out any old tools for brand new SuperB equivalents at half the normal price, is not only a cost effective way of freshening up their workshop equipment but will also give dealers new to the SuperB brand, first-hand experience of the quality and craftsmanship in their tools, to hopefully give them the confidence to make Super their tool brand of choice in the future."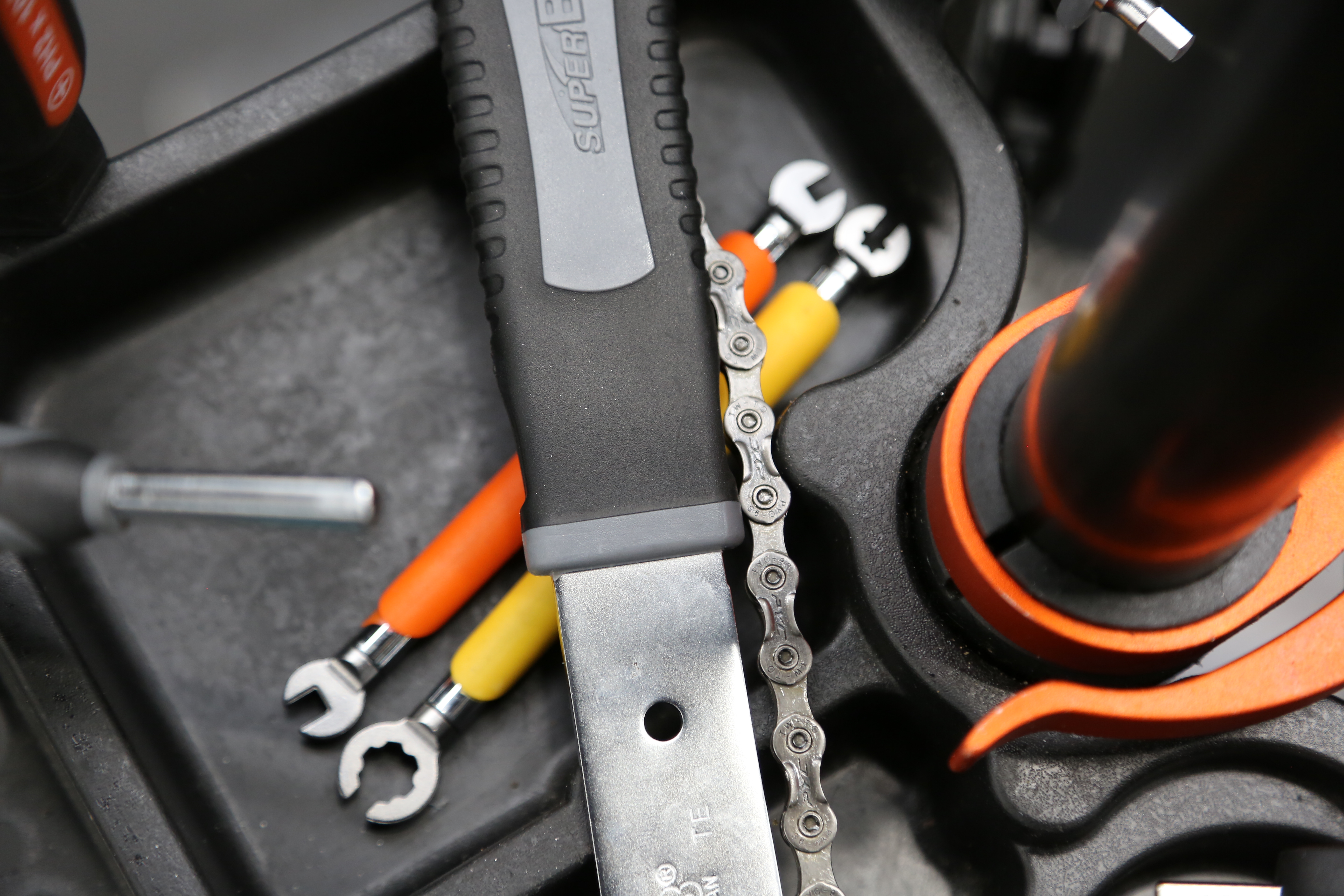 New to the SuperB range are: the Brake Disc Tuning Tool which helps customers to keep their disc brakes true; the Quick Link Install Tool, which is ideal for disconnecting and connecting a bike chain; Super B Digital Torque Wrench, which eliminates the risk of over-tightening and damaging the bike.
As well as ticking the workshop tools 'essentials' box, SuperB's tools have been manufactured with ease in mind. One such recent introduction was the 'Sprocket jaws', a patented design that combines a chain whip with a set of mole grips to give you a single-handed, non-slip grip on a cassette or freewheel sprocket, whilst the other is left free to operate a freewheel or lock ring remover.
Clay continued: "SuperB has been in our portfolio for many years now and has seen solid year on year growth since its introduction. I guess that growth was to be expected as more dealers gained access to the brand and with the increased relevance on repair and servicing work for IBDs but what's been even more encouraging has been the number of dealers that have come back to buy more tools having tried the odd one or two initially.  This is the biggest compliment any brand can have and with the focus this offer brings, we expect this growth rate to carry on, well in to the future too."
SuperB's range is comprehensive in both workshop and 'on the bike' tools. With the likes of Multitools, ChainTools, Allen key sets and home maintenance tools already a popular choice for consumers, this offer is aiming to focus on improving the workshop tool collection for bike shop owners and mechanics alike.
SuperB has been quick to pick up on new and emerging markets, most notably of late, that being the growth in e-bikes and the various tools required for the different motor systems in circulation, including Bosch, Shimano and Brose.