Muc-Off enhances pro-workshop portfolio
Muc-Off drew the curiosity of Eurobike visitors with an empty "billboard booth" occupying its usual space, an entirely deliberate ploy to draw attention to the brand's indoor presence and its enhanced pro-workshop offering.
So, what's on offer to the bike shop's mechanic and bike-care-conscious consumer?
Workshop gloves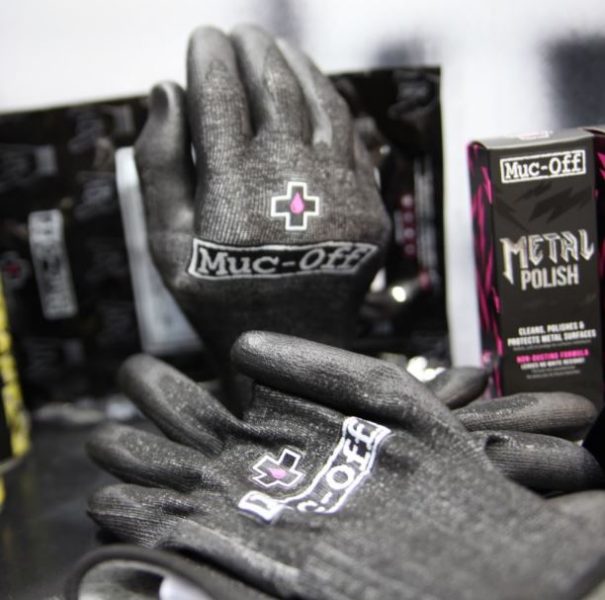 Bound to be a big seller at just £6.99, Muc-Off is countering the bin full of latex throwaways with a more permanent solution.
Machine washable and cut-proof, as well as doing away with any trace of polyeurythane or latex, the gloves are ventilated up top and carry abrasive texture on the fingers to ensure grip even when hands get greasy.
The Nanotube Chain and lubricant
Initially developed for Bradley Wiggins, the Nanotube Chain is now available to the masses for £109.99.
Initially not intended to be mass produced thanks to the cost inefficiency of bedding each chain in on a four hour Dynamometer cycle, the chain is now available as good as it was delivered to Wiggins, bar needing a home bed in, preferably on a turbo trainer.
Claiming to shave up to 10 watts over the nearest comparable dry wax chain, equating to 3 miles within a 112 mile ride, the chain will be the reserve of the competitive cyclist. Alternatively, Muc-Off has also made available the very same all weather lubricant used for £50 per 50ml bottle.
Metal Polish
Delivered in heavy metal inspired packaging, Muc-Off's new polish comes in at just £10. The solution is a solvent-based, non-dusting metal polish for badly tarnished metal and other scratch-resistant surfaces. One coat is said to restore chrome, brass, copper, aluminium and steel to a deep shine.
Five-litre quantities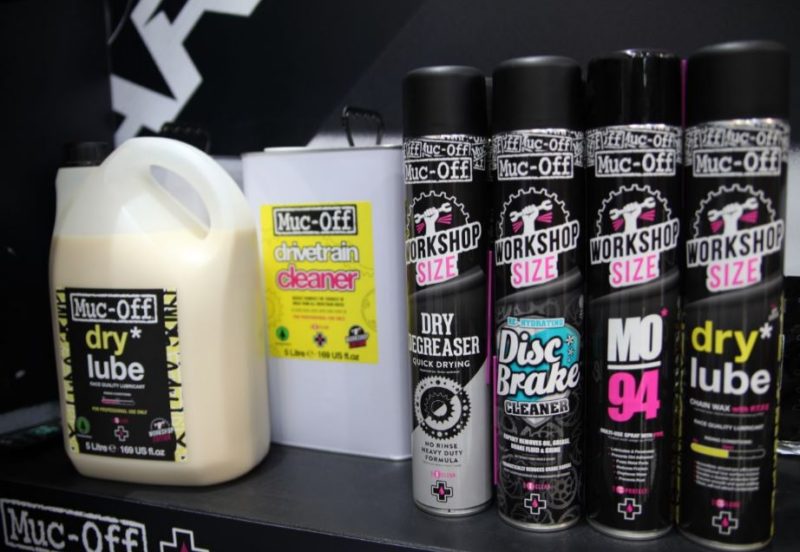 Workshop only quantities of some of Muc-Off's regular use solutions are now on offer, ranging £65 to £75 in price.
"We listened to shop feedback and it's astonishing the rate at which busy workshops are eating through smaller quantities," explained Muc-Off's Jason Bradwell.
Among those lines featuring as five-litre containers dealers will have access to Dry Lube, Wet Lube, Disc Cleaner and Dry Degreaser, among others.
Furthermore, a 750ml can portfolio of the same products will range £7.99 to £12.99.
BioGrease Gun Kit
Very much a does what it says on the packet product and one that will be very much welcomed by the mechanic to enable precise application of greases.
For those attending Interbike, Muc-Off will be available at the show to discuss availability in the U.S. market.