Park Tool launches two new & upgraded work stands
Park Tool has revealed the details of two new home mechanic work stands, after upgrading its tried and tested formula originally released back in 2004.
The original PCS-9 and PCS-10 repair stands were launched back in 2004 and 2006 respectively, and have by and large remained the same. The PCS-9 was a basic work stand with few frills and the PCS-10 was an upgraded version with more features. Now, after 14 years both have had a re-design, resulting in the release of the PCS-9.2 and PCS-10.2.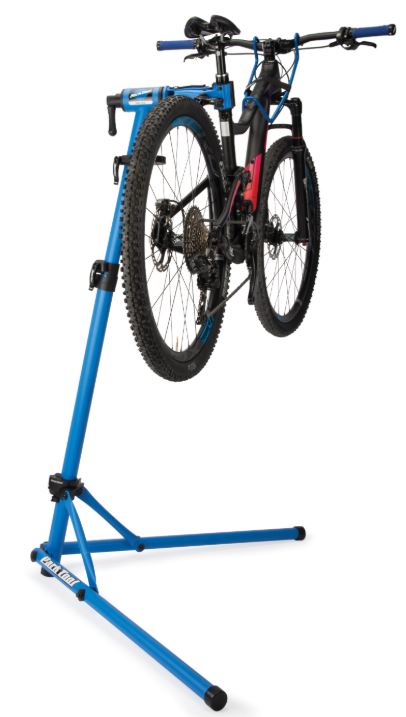 The two new stands are slightly more expensive than their predecessors but come laden with more features to help cyclists work on their bikes. Both have re-shaped and contoured clamp parts and the PCS-10.2 gets a saddle pad similar to the Pro Micro Adjust clamps.
The Oval-shaped upright tubing ensures that the lamps are oriented correctly over the legs. On both stands the legs now pivot differently and have struts to keep them together as they are folded. The PCS-10.2 has slightly stronger and stiffer struts than the PCS-9.2, and legs can be locked up or down on both stands.
Both stands use a steel top tube with a composite rotation bearing system which is designed to minimise clamp sticking. The PCS-9.2 uses ergonomic knobs for locking and height adjustment, while the PCS-10.2 uses quick releases for locking and height adjustment. The stickers have been moved back to the legs so they don't get stepped on and compromised.
Both Park Tool work stands are available to order now and dealers are asked to speak to their local Madison sales agent or visit www.madisonb2b.co.uk.
Eric Hawkins, CEO of Park Tool, spoke to CIN in the latest episode of the CIN Podcast all about the brand's new workshop lift, alongside Madison CEO Dominic Langan and Air Fom's Mark Peterman. You can listen here, or through the player to the right of the website.