Mark Peterman launches modular Air Fom airless tyre insert biz
Mark Peterman is set to launch a new airless tyre business, dubbed Air Fom, at the upcoming Taipei Cycle Show 2018.
The Air Fom product is mounted into an existing tyre by replacing the tube, meaning that no air is present in the tyre when installed. What's interesting about this product when compared to others is that the product seems to come in modular sections; two for the smaller sizes and three for the larger MTB unit.
We're told that the product is a "precision-moulded, multiple layer, hi-tech foam insert that can be constructed to simulate different pressures."
The patent pending design also allows Air Fom to be lightweight. A 700 x 40c insert (60 PSI) weighs approximately 260 grams in comparison to the average weight of a normal 700 x 40c tube that is 160 grams.
Industry veteran Peterman is leading the Taiwan-based company that will design, manufacture and produce the Air Fom product line globally. All products will be manufactured in Taichung, Taiwan using Japanese-sourced materials.
Materials used in Air Fom products are not cross linked and are completely recyclable back to their original raw material for a fully-closed product life-cycle loop.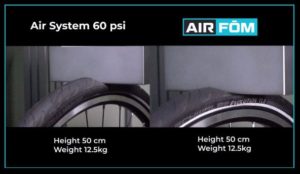 The new product line can be installed quickly, with pressure and ride performance said to mimic a feel close to that of air. Air Fom says that its unit offers about 60% of the rebound of an air filled equivalent, but with massive flat protection benefits.
Inserts are rated to last at least 5,000 km with a one-year warranty.
The new product line joins that of Schwalbe, who produced their own, albeit different by design, airless tyre segment earlier this year. In this case, the same material used in the soles of Adidas' Boost running shoes is utilised.
Air Fom stress that its solution will be a simpler fit for mechanics and will fit any tyre, as opposed to a specific tyre. The brand also claims a lower weight, as well as the ability to simulate multiple different pressures with its modular approach.
Air Fom will begin manufacturing at the end of 2018 with shipments hitting shops early January next year. The product line aims to address all categories, including: commuting, urban, E MTB, MTB and Gravel.
The new Air Fom product line will feature at the Taipei Cycle Show in late October in its own private room. Distribution partners around the globe are to be sought, we're told. The show runs from 31 October to 3 November 2018.
Sizes said to be offered include:
700 x 35c
700 x 38c
700 x 40c
700 x 42c
27 x 2.35 – e-bike
27 x 2.5 – e-bike
29 x 2.35 – e-bike
27 x 2.35
27 x 2.5
29 x 2.35