Event report: Eurobike's Media Days – a smart investment for brands?
Having concluded its second edition yesterday, Eurobike's Media Days press camp has once again delivered the press in droves to the doorsteps of brands large and small.
Running three days in the town of Kirchberg – a ski and mountain biking haven nestled in Tirol – the event this year drew 210 media representatives from 20 countries offering the 24 exhibitors (27 brands) a chance to rack up the column inches early on in the launch season. Journalists traveled from as far away as Australia, the USA and Japan.
"Conditions were again perfect at the second edition of Eurobike Media Days, giving international journalists a great opportunity to learn all about the new products for the 2017 model year, while extensively testing, photographing and filming them. The exhibitors are pleased about the many in-depth discussions they conducted, with twice as many journalists on hand compared to last year's debut event," says Messe Friedrichshafen CEO Klaus Wellmann about the successful platform, alongside Eurobike Head Stefan Reisinger.
With discussions among the media often touching on the increase in demand for diary dates across Europe, as well as overlap between key events such as Interbike, CosmoBike and The Cycle Show, the concept is designed to offer both media and brands an efficient use of their time and resource.
To name just one key presentation, Shimano debuted its new Dura-Ace simultaneously in Kirchberg, alongside other events in Europe. In other Shimano news, the parts giant has also today revealed the acquisition of Lazer.
A mix of returning and new exhibitors took part, with feedback thus far positive, say the organisers.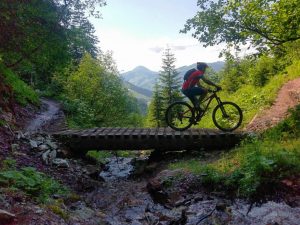 New exhibitor Stefan Vollbach, the manager of Simplon, said of the event: "It's great to be here at this compact gathering of the industry. This event offers a relaxed atmosphere facilitating numerous discussions. Here, we've met all the important media contacts and were able to present our brand well. The industry has adapted quickly to this early preview of new products. Although we couldn't present every new model here in Kirchberg, those we did show got a fantastic response. The exchanges among ourselves have also been very positive. Overall a well-rounded event, and the weather took care of the rest."
From a press viewpoint, Laurens Van Roojen of Switzerland's Cyclinfo offered: "With its ideal lead time, this event offers the perfect conditions for me to get an overview of the major trends for the upcoming season. Some 30 manufacturers in one place for three days – this is a welcome convenience, especially for media outlets that don't have such a big staff."