Price increases an unavoidable reality for many shipping across the Channel
Price increases attributed to a cocktail of the UK's new trading relationship with Europe, skyrocketing shipping costs, raw material availability and exchange rate fluctuations are an inescapable reality for many in the bike business at the start of 2021.
Part of the Hotlines Europe stable, Nukeproof is just one label to this week concede that mid-season rises are a regrettable but unavoidable reality of the new trading climate. The label relies heavily on assembly in European factories and as a result last night echoed the sentiment of others facing new hurdles shipping goods back across the Channel.
The brand wrote:
"As from the 1st January 2021 we have had to increase our SRP's to reflect the change of position of the UK in Europe.
"A large proportion of Nukeproof bikes are assembled in European factories and our hope was that a trade deal would allow these bikes to pass between the EU and our UK warehouse tariff free.
"Unfortunately, the new UK-European trade deal only allows tariff free trade on products that have either an EU or UK origin. To achieve an EU origin at least 55% of the value of the complete product must be manufactured in either the UK or the EU.
"In the case of Nukeproof because most of the bikes value, e.g. frame and components, are manufactured in Asia, the complete bike is not classified as a European product (even if the bike is assembled in Europe). Our bikes therefore attract additional import duties between Europe and our UK warehouse. Combining this with price increases with rising raw materials, labour and current exchange rates we have already seen, it leaves us with little option but to increase our SRP's."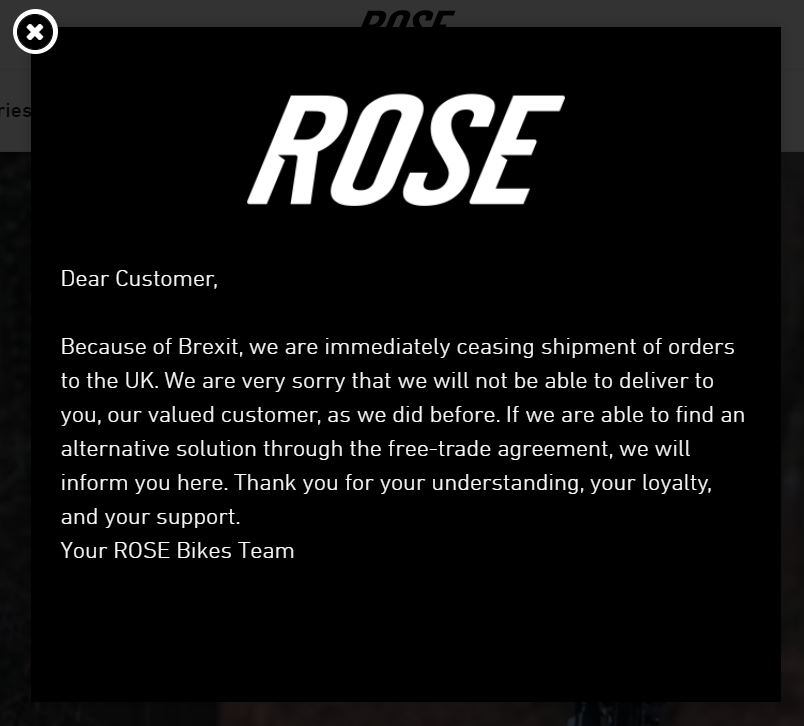 Some labels have deemed the trading set up now too severe to viably supply bikes to the UK altogether.
Over the Christmas period Rose Bikes went beyond its earlier halting of UK sales due to brake set up regulations, adding that Brexit had proved the final nail in the coffin.
"Because of Brexit, we are immediately ceasing shipment of order to the UK," says a message greeting customers logging on with a UK IP.
"If we are able to find an alternative solution through the free-trade agreement, we will inform you here," adds the message.
While not going as far, another direct to consumer label, Canyon, has likewise had to juggle the expectations for customers. The brand will now include duties and tariff costs in the price of the bikes, ultimately prompting price increases for the consumer. Shipping delays are also warned, with no product set to leave the firm's headquarters until January 11th at the earliest.
For Northern Ireland's Canyon customers orders cannot be placed at the present time.
One consideration with a far broader impact on costings is the current situation at docks around the globe, which due primarily to Covid-19 are jam packed with goods awaiting shipment. Inevitably this has led to price increases for which the general consensus is a four fold rise.
One UK bike shop handling an imported European bike label told CI.N this week: "Shipping cost from a supplier in mainland Europe have gone up from €29 a bike box (which dealer margins can absorb) to €120 since 1st Jan (which definitely will be passed on to the customer)."
Coming at a time when the bike industry is desperate to get product to market to meet ongoing high demand the complications added by Brexit, shipping and currency will be unwelcome for any brands that are on the cusp of resuming normal supply. Not immune from the effects of this, several top tier labels had already begun a round of price adjustments as far back as Q4 last year, prior to the outcome of the eleventh hour UK-EU trade deal.
Related: New VAT rules come into play for EU labels shipping sub £135 goods to the UK.