Product focus: Tern lighting, the Weatherneck, new Selle Royal and Icebike* debuts and more
Product sneak peaks are coming thick and fast lately and with a number of trade shows just around the corner we thought it time to round up a few of the bits that have caught our eye lately.
Starting with a number of highlights from UK distributor Madison Sportline's portfolio, there's a good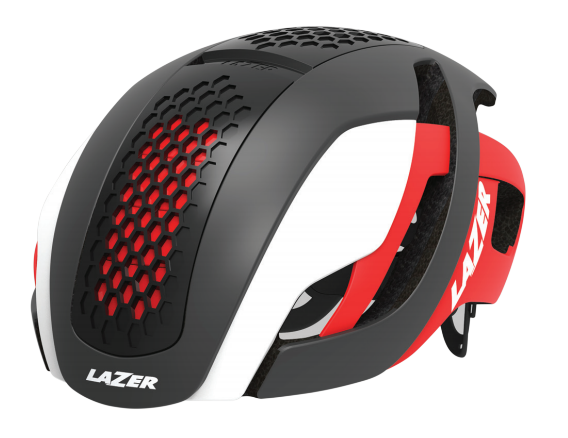 chunk of gear coming for dealers to feast their eyes upon at the February IceBike house-show, for which trade can register here.
Lazer are among those joining the party with a handful of goods that will be
new to visitors. These include the new aero Bullet helmet. With its narrow shape and closed shell it is a seriously aerodynamic helmet, the adjustable ventilation slots turn it into a helmet for climbing or hot days.
The rest of the 2017 range will be on show including the e-bike specific helmet, the Anverz.
Mulebar is ten years old in 2017 and as you would expect they're not slowing down. Three products, for which visitors will be able to taste samples, are to be present at Arena:MK.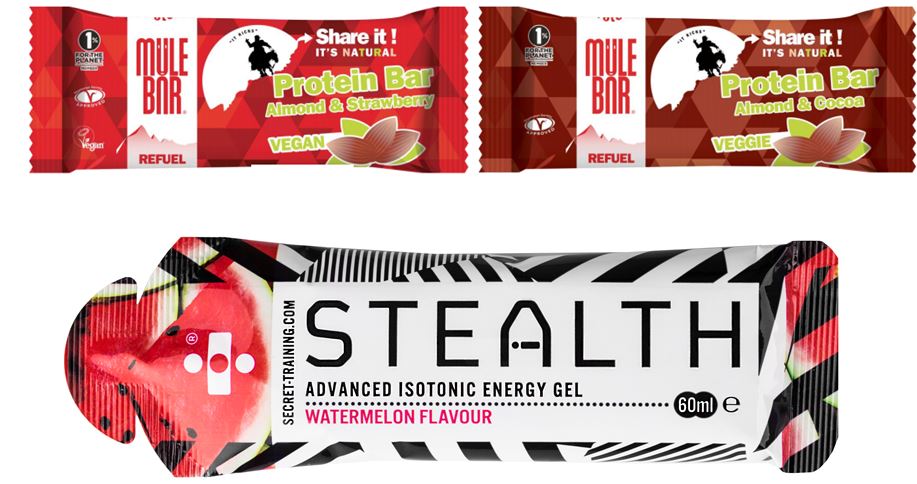 First up is the Lemon Zinger energy bar, which is a totally natural source of energy that is easy on the stomach and very tasty. MuleBar is launching a Vegan and Vegetarian ReFuel protein bar. With the optimum level of protein for long rides and recovery the vegetarian Almond and Cocoa has 21% protein, while the vegan Almond and Strawberry has 25%.
Sticking with nutrition and Stealth is to introduce a new Isotonic gel, this time with a Watermelon twang. As with existing lines, it's PH neutral and kind to the stomach.
Tern's Vizy light
Bicycle lighting is a pretty crowded market, so you have to bring a new take to the table to stand out and that's what Tern's attempted with the new Vizy light.
Projecting a 360-degree radial light onto the ground, this detachable unit is both noticeable to approaching traffic and indicative of the amount of space required to passing vehicles.
Designed weatherproofed, easily recharged via USB and in keeping with the Tern style, the Vizy is available to stockists to order now.

Selle Royal LookIN comfort range boosted

Four newly developed saddles have joined Selle Royal's catalogue under the LookIN comfort line.
With saddles tailored to a relaxed, moderate and athletic in-the-saddle posture, Selle Royal has both male and female-suited cuts.
The new LookIN saddles incorporate a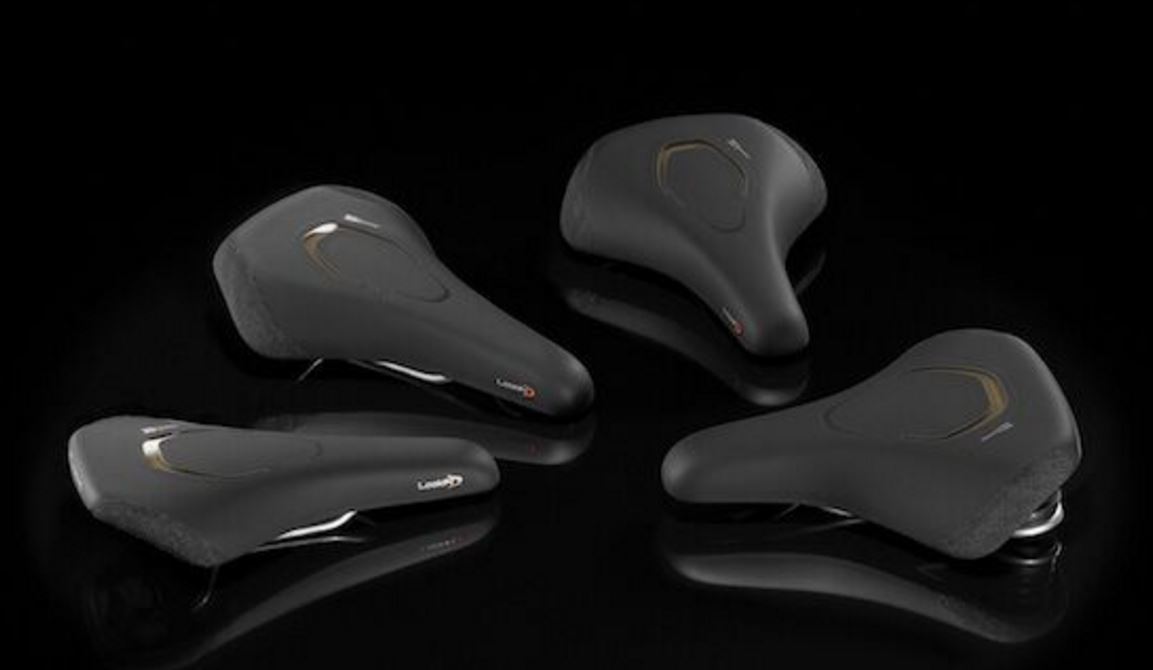 number of considered design features. The top of the saddle houses 3D 'Skingel' that is able to absorb shocks 40% better than other gels. It is positioned strategically on the areas needed for maximum rider comfort.
Standout design changes include a re-worked, more sculpted shape, and the addition of 'Super Fabric' which is an extra strong and durable material that features in the most critical areas of the saddle, plus, the refreshed LookIN logo on the nose of the saddle.
The base of the saddle has a specific structure called 'Flexite' – a system created to balance flexibility with strength – maximising performance through a unique, indented 'channel' structure.
The saddle line will retail at €64.90 each.
Ride Air, via Cooke Components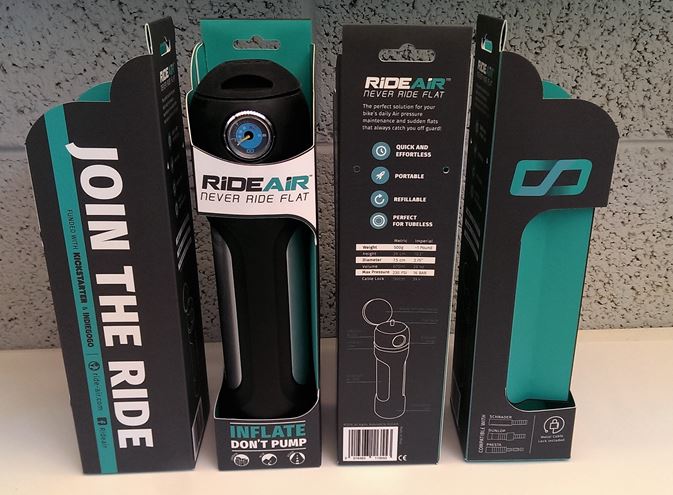 Available to the trade from the middle or February, Cooke Components will take stock of the Ride Air tyre inflation product.
These portable, refillable and multi-use capsules fit neatly into a standard bottle cage and can inflate a tyre with a simple push of a button.
The Ride Air capsules are manufactured from aluminium and come in a variety of colours. At only 500g the 600ml volume capsule will inflate up to 230psi and comes equipped with its very own pressure gauge and a Presta/Schrader adaptor. The standard Ride Air as described is priced at £59.99 RRP.
Another version is available that offers all of the same benefits, but with the additional advantage of also having a one metre cable lock built into it. This is priced at £69.99 RRP.
WeatherNeck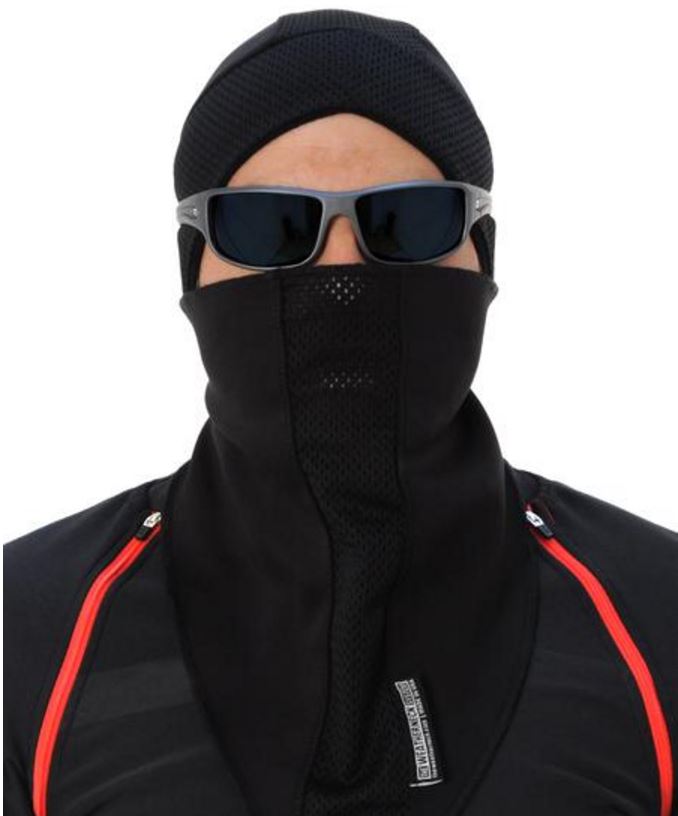 A new addition to the Gone Biking Mad portfolio and one that is available as a resale item for bike shops in the UK is the Weatherneck. 
Made in the USA, the Weatherneck is a two-part warmer for the head, acting as a mullet hat or balaclava. Magnets in the back allow for an adjustable fit and also allow for one-handed removal while riding.
The Mullet Hat also has a Secret Pocket to allow you to stash money or a hand warmer on very cold days.
One size fits all as it's very adjustable. RRP is £39.99 and dealers can inquire about stock on 01202 691152.
Another product you might like to check out posted earlier this week is WhiteCrow's innovative take on tyre inflation and deflation on the fly.