Whitecrow pressurised bike hub inflates and deflates tyre on the trail
Whitecrow has engineered a fully mechanical solution to quick tyre pressure changes on the trail, having engineered a pressurised hub that can inflate and deflate a tyre in seconds.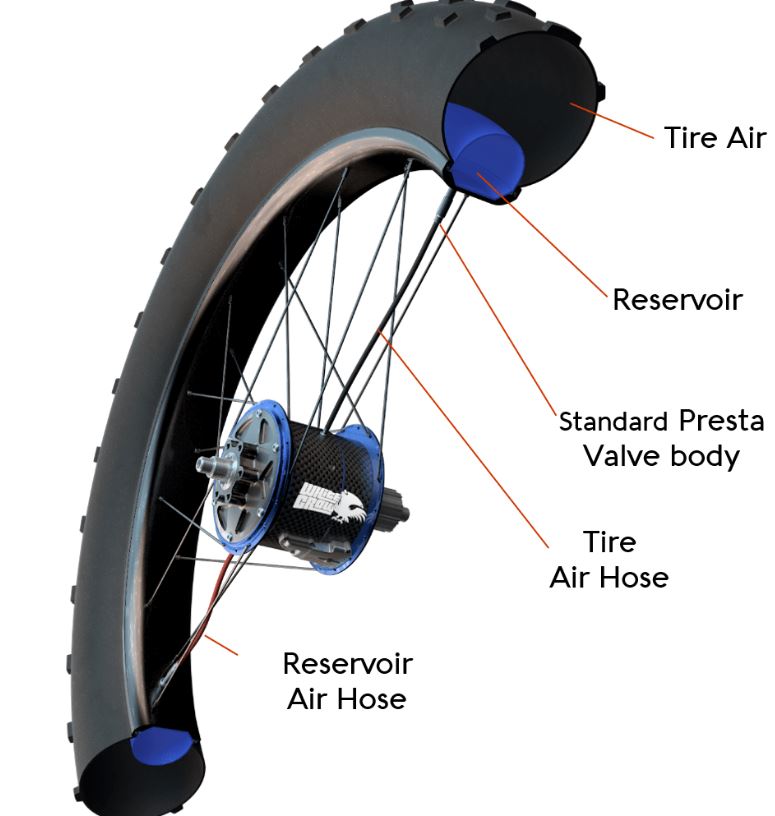 Particularly ascending efficiently and descending in control, the innovative design utilises an air-closed reservoir within the hub paired with a hose run up the spokes and into a two chamber tyre.
Much like Schwalbe's ProCore, the tyre houses a higher pressure inner core to prevent pinches, as well as an outer lower pressure chamber for enhanced control and traction.
Able to be activated as many times as the rider desires, the WhiteCrow system compresses air from the tyre into the hub's reservoir on deflation. This in turn can be driven back into the tyre via a relatively large air compressor, again housed in the hub and driven by the wheel's rotation.
The firm claims the following advantages:
It prevents tubeless-ready burping.
It protects the rim from nasty knocks when the tire pressure is very low.
It facilitates mounting tubeless -ready even in non tubeless-ready tires & rims.
It allows for efficient rolling as there is no contact between the inner surface of the tire and the reservoir (except when you hit something hard, see above point).
Finally, weight is saved by allowing for the use of ultra-thin rims when this would normally be too risky.
The Whtiecrow tech is now live on IndieGoGo with just under five weeks to run. Those backing the project can obtain the hub, remote and inner chamber (compatible with existing tubeless tyres) for 50% off the final retail at $499.
We have to give credit to Gary Fisher for spotting this one. Having joked with Pinarello and Velocite last week on how very few designs are truly original, we asked Mr. Fisher; "What was the last truly innovative idea you spotted?" The WhiteCrow was his response. 
Catch our must-read interview with Gary, where he discusses industry trends, partying with the Grateful Dead and much more here.