Profile Training Academies: The Bike Inn
Founded in 1991, The Bike Inn are specialist providers of training courses for bicycle maintenance, wheel building and hydraulics. By 1996, founders Alf and Teresa Webb were invited to run their courses at Aylesbury College. The course became a National Vocational Qualification (NVQ) and lead to the pair being the first in the bike trade to be appointed D32 and D33 (as it was then) assessors for NVQ accreditation.
Similarly to training workshops across the country, the last few months have seen The Bike Inn experience unprecedented levels of demand for bike mechanic courses. To combat such a dramatic increase in demand, the training academy has increased the number of workstations in its training suit, keeping student groups small to ensure they get the tutor attention they need. Additionally, a higher number of courses have been scheduled all together.
"There's no denying we are booking up into the new year already, with only limited spaces now available in January and February. Five months of lockdown has meant the postponement of the courses due to take place in that time, coupled with a positive surge in cycling and people either facing redundancy or simply looking for a new career direction, have all fuelled interest in bike mechanic qualifications." Says Jon Colborne, CEO at The Bike Inn.
The impact of the cycling industry's bike boom and in tern the demand in bicycle mechanics courses has left many wondering where the demand is coming from and whether this has been generated by startups looking to enter the trade.
Shedding light on this well asked question, The Bike Inn discussed how the increase in demand, in its own experience, has been generated as a result of students wanting to refresh their existing knowledge within the trade, in order to benefit them as either a solo mechanic or to start their own repair shop.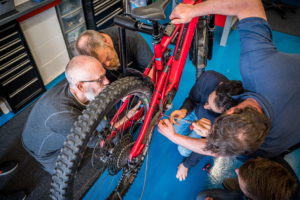 Colborne said: "There's no denying that most of our students are either wanting to back up their existing standing within the trade, with the weight and credibility that comes from our accredited qualifications, they obtain the breadth and depth of knowledge we can offer to start their own repair business. However we also have a wider appeal – we also accommodate the avid amateur cyclists, athletes, triathletes and adventure racers, all of whom want to be able to keep their bikes in tip-top condition, and also be able to replace or fix a range of components themselves without turning to the regular services of a mechanic."
With courses flying off the shelves across the industry, The Bike Inn work to incorporate all modules into each course, ensuring students can learn as broad a range of knowledge as possible. The brand has seen the internationally recognised and accredited IMI Bike Mechanics qualifications become its most popular of courses.
"Although modular in nature, unlike other training providers we do not offer a 'pick'n'mix' range of component courses – we incorporate all the modules into each course to ensure that every student has the opportunity to glean as broad a range of knowledge as possible. It also benefits potential employers and clients, because they know that the IMI qualification means that the person has a sound all-round knowledge – thus giving them industry integrity. Students come to us knowing that they will receive a comprehensive education across all aspects, with no need to second guess what they may or may not want or need to know in future." Colborne tells CI.N.
As the skills required and undoubtedly acquired by bike mechanics have increased in the last decade, more opportunities have become available for men and women to specialise in particular fields. With wages somewhat of a taboo subject for many professions, curiosity got CI.N's cat when it came to asking relevant training academies about whether the industry is overdue a wage assessment as a result of the skills needed to get the job done.
"We believe in the old adage 'a fair day's pay for a fair day's work' – basically earning a wage, and charging a fee, commensurate with the work being done. There are certainly a myriad of new technologies and specialist tooling that bike mechanics need to equip themselves with, whilst at the same time the traditional mechanical principles still hold true. As in any industry, if the operative has invested in additional training in a particular niche, as well as paid out for specialist diagnostic equipment and tooling, then they are perfectly entitled to charge more for their services. As trainers of professionals within the cycling industry we see the potential for our graduates to be able to earn/charge above average rates for their work. There are more and more opportunities to specialise in particular fields, which again should lead to the ability to charge niche-appropriate fees," the academy told CI.N.
Given the current situation as the country heads into the second wave of the Covid-19 pandemic it is not yet apparent what the government will be offering in terms of loans, grants or other financial packages or assistance going forward.
As an educational establishment, The Bike Inn are currently in negotiations to partner with a local leading technical college to offer apprentice training, as well as in the process of gaining approval status for various retraining bursaries with the aim of announcing more information by the end of the year.
"What we have found is that bike shop owners particularly like the nature of our accredited training – they can send us their technicians, and within less than one month they return to their employer as a top qualified bicycle mechanic with an industry approved, internationally recognised qualification, that puts skills in the workshop and adds kudos to their business," Colborne comments.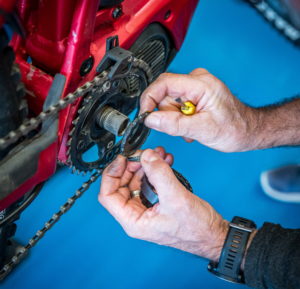 With many people dusting the cobwebs off their bikes during lockdown in the UK, workshops across the country have been flooded with bikes needing a bit of TLC. This has also meant that many mechanics and students have had the time to brush up on their skills by taking part in industry accredited courses. Therefore, with workshops and their mechanics working overtime to keep customers happy, maintaining an efficient and profitable workshop is vital.
The Bike Inn told CI.N that "efficiency and profit don't just happen, they are the by-products of running a well organised business. This starts with ensuring you have professionally trained mechanics so that you are able to offer the highest level of service, combined with investments in the best quality of tools that you can afford, and as broad a range of spares and parts as you can carry. Add to these a passion and sense of pride in the work, commitment to accuracy and precision, and above all communication with your clients, and you have all the elements for maximising your success."
Heading into 2021, The Bike Inn are continuing to focus on its IMI qualifications training, but are looking at different delivery methods – with virtual training classes meaning that it could potentially be able to deliver courses to a greater number of students each year.
"We will continue to supplement our IMI courses with 1,2 and 3 day non-accredited training programmes in specific areas such as wheel building, hydraulics and E-bikes. These are aimed at Level 2 qualified (or similarly skilled) mechanics who want to delve deeper into these subjects, but without committing to the top level IMI qualification course," says Jon Colborne "
"We would recommend that anyone interested in any of our courses or qualifications – whether within the trade, or not – if not ready to book immediately, at least contact us to register that interest. We can advise on course availability (and suitability) and will always attempt to accommodate particular requirements – we also hold a waiting list for each course should we have an unexpected dropout"