Pure Electric boss targets "500 stores in eight years" across Europe
In a seamless transition Pure Electric burst on to the scene by striking a deal to take on select Cycle Republic stores and to save skilled jobs as part of its launch plan. CI.N speak to Adam Norris, the backer of the venture and now former CEO…
By bicycle industry standards Adam Norris' background is quite extraordinary. As a former managing director of Hargreaves Lansdown he knows a thing or two about investments and has over his many years in and around the financial sector been instrumental in decision making on money flow into and out of businesses with big potential.
Making such a bold move as to swoop on prime real estate formerly held by a national chain must be a well calculated and shrewd business move then. Yet, if Halfords gave up trying to turn a profit utilising many of the same spaces for almost the same purpose, naturally our first question to Norris had to be "What's different with Pure Electric?" His answer is striking and refreshingly unmotivated by a quick buck; something that veteran cycle retailers joke about. As the saying goes: "How do you become a millionaire in the cycle trade? Start with a billion."
"My primary motivation is to do something good for mankind. I've built big businesses, have a decent personal fortune and now I'm ready to make an impact on the world. I had considered initially that I might do that in the education sector, or perhaps by investing in work on cancer, but one thing aligned well with my background and skillset, something that I fundamentally understood and had interest in with my engineering background; that was the potential of micromobility forms to make a difference on things like pollution," says Norris.
That's not to say Norris didn't do the maths before coming up with the Pure Electric concept. Initially the store began as Pure Scooters, with Norris spotting a potentially well-timed market entry aligning with incoming legislation to legalise their use. He has, in fact, been part of an advisory panel that has helped shaped Government knowledge on the topic through data gathering and consultation.
"This is an inevitability now, cities are ready to adopt electric scooters and the Government are keen to understand the viability of sharing and sales," says Norris. "It is from here and with my enthusiast background for cycling that I begun to ponder if the electric bike ship had sailed already. Through conversations I was assured by people in the know that it had not. I sent out a head hunter to find somebody in the know and with the skillset to lead the business and that is how we came to recruit Peter Kimberley. He agreed that the opportunity to change the way people move with electric micromobility vehicles was still in its infancy and understood the vision well thanks to his experience leading Cycle Republic. That got the ball rolling."
From there the deal with Halfords to take on 11 Cycle Republic premises and more than 100 of the staff attached to the closing business was struck. Notably, Pure largely took on retail outlets outside of London, opening in cities such as Edinburgh, Bristol, Liverpool, Derby and Manchester. Cardiff is further touted as the retail chain's first store for Wales.
With such an accelerated start CI.N references the time when Pure's brand new CEO, Peter Kimberley, excitedly laid out the Cycle Republic ambition to open 100 or more stores nationally. Will Pure Electric seek to mirror that tally?
"I would go as far to say I'd like to see 500 stores in eight years," starts Norris, much to our alarm. "The ambition was never to stay bound to these shores, however, Peter and I have already been to Paris scouting branches there. We have a store in Belgium thanks to my former ambition to become a pro cyclist while spending time there. Spain too looks likely and Denmark potentially."
We're told that by the end of July the first European store is likely to be open for business and that Pure Electric has carefully recruited fluent foreign language speakers in anticipation of discussions starting in new territories. Had it not been for Covid-19 an opening may already have happened. When it comes to an online presence, Norris is confident that there is a strong place for retail when it comes to goods that come in tandem with services.
"We will tilt between online and retail investment with consumer buying habits, which are changing, but with a product like an electric bike or scooter a first-hand experience is absolutely key for many customers, whether that's because they need to learn about what is a relatively new technology, or simply because it feels uncomfortable investing a good chunk of money without feeling it out," he says.
It certainly helps that Norris' well-documented fortune is available to back the ambition, but with such lofty plans will other investors be involved?
"I can't rule it out, but certainly that's not part of the plan, the only people likely to own shares in the business will be the staff that we recruit. That, I know, is not typical, but we are well placed her to offer staff that perk and I think it important that they personally feel invested in the business. That could be important to our success. Outside investment can create complications and I've seen a lot of companies fail because they couldn't raise at the right time, among other problems. We have it covered, it's my money to invest and that motivates me to ensure this is done properly," says Norris.
With scale comes benefits, he goes on to explain, alluding to a backroom discussion that could eventually see the business link up with franchise partners existing within the cycle trade to ensure a strong nationwide coverage that is based on expertise.
"The first bike shop we opened did not make profit and lessons were learned. The intention was never to turn a profit in weeks, rather to learn over years and to take the best bits of learnings we have taken internally and externally, at home and overseas. We will benefit from economies of scale in time. The bigger you get the more specialists you can recruit to fine tune each aspect for the group's benefit. There are lot's of bike shops out there who are excellent at selling bikes, but that lack the ability to market themselves, or don't have the resource. Scale will make us efficient on many fronts," he says, stating that such discussions, if they happen, are still months away.
Having pitched in as a sponsor to the industry-wide collaborative marketing effort #BikeIsBest, Pure Electric have aligned with a new school of thinking, the notion that as a trade we are now passed marketing to the crowd that has so often lent weight to the stereotyped "cyclist".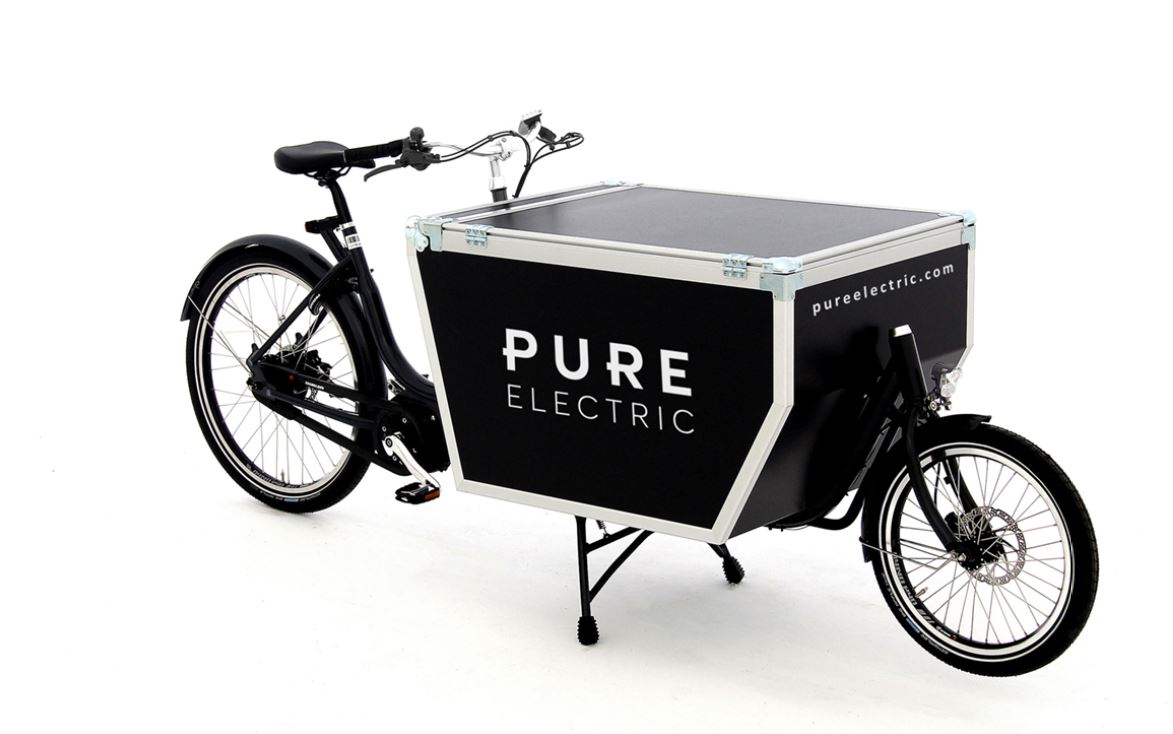 Setting another lofty ambition, Norris proclaims that he "would like to take a million people out of cars."
"The bicycle industry perhaps hasn't had money to do Top Gear style content and generate real public excitement around a product yet. I hope we can change that. I used to read Cycling Weekly and lived my childhood on the heroes featured within. As the years have passed those people are not on my radar anymore. I want to get people to cycle to work or normal bikes, not to focus on the sport's side. I think we will do better than many because what's lacking in industry is communications and marketing skill to change the record; and I think we can change it quickly."
Part of the plan to bring about change hinges both on work started by Kimberley at Cycle Republic, but enhanced by Norris's connections with big business. Accessing corporate accounts with a new cycle to work offering is part of a plan to very quickly bring about a culture change with big business.
"With Peter taking my position as CEO, I am now looking more at the cycle to work scheme, utilising my own background to make connections. We've had a few discussions with big employers already. In another line of work I'd sit with big employers and sell the benefits of a product on site, so we'll be ramping that up. I have just had one of Britain's larger employers on the phone this week. That capability may well help us bring about change that has so far been unattainable."
The key for Pure will be mobility, regardless of the vehicle. In store e-Bikes will outnumber e-Scooters, but this may ebb and flow depending on supply and demand. Norris says that securing quality is often harder in the scooter business and that material quality makes a significant difference as to whether a product will be tested in store.
Layout of the store will be far from a sea of wheels approach and each store will have a spacious showroom feel with workshop capability. It is anticipated that when scooters are fully legalised, as they perhaps are by the time you read this, that Pure Electric will counter the advance of public share schemes by introducing its own long-term leasing programme to capture that customer.
"Whoever the customer may be, there's a good chance they do not yet own either an e-Bike or an e-Scooter," concludes Norris, "and that's what's most exciting about what lay ahead of us."