Raleigh Stride e-Cargo line adds consumer appeal
Raleigh yesterday took to the Olympic Park in London to lift the lid on its new e-cargo platform, designed for consumer use and found under the Stride banner.
While Raleigh parent the Accell Group has made clear its ambition to tap into the business-use side of electric cargo bike use last month Business Development manager for the UK Edward Pegram revealed incoming consumer-facing lines.
With London Walking and Cycling Commissioner Will Norman in attendance, Raleigh yesterday offered out test rides on the new Stride range, designed specifically to replace inner-city car trips and to be accessible for families.
With 68% of journeys in the UK under just five miles, the two models are equipped to offer an alternative. The two-wheeled Stride 2 bike and the larger three wheeled Stride 3 trike will be delivered in a sophisticated black colourway and equipped with a top of the range Bosch Performance CX Cargo Line motor. This motor is purpose-built for carrying heavy loads, while the 500 watt Bosch Powerpack battery should makes light work of any hills even while loaded up. Per charge a 30 to 40 mile range is possible, though this will depend on the usage, load and topography ridden.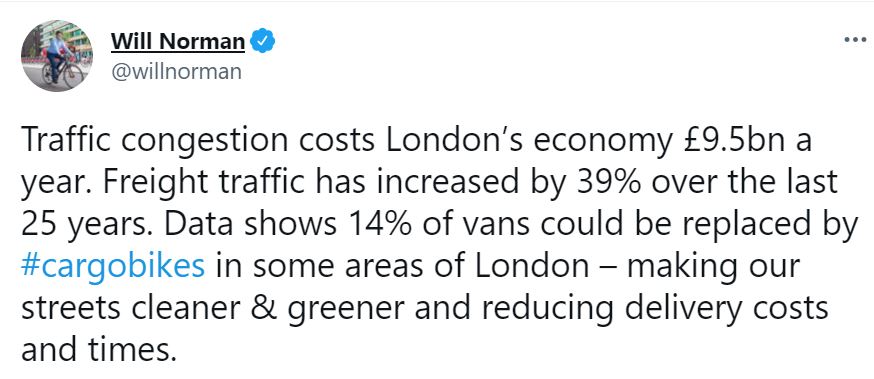 Assistance aside, a smooth transition Enviolo hub and shifter set will help the rider accelerate without sharp gear changes.
Built with a sturdy one-size-fits-all steel frame, the bikes also come with hydraulic disc brakes, built-in front and rear lights, an attached ring lock and a full metal mudguard set as standard – to ensure that riders are equipped for every scenario.
The Stride 2 font carrier comprises strong aluminium and an EEP-foam box that can hold up to 80kg of cargo (rising to 100kg for the larger Stride 3 trike). A selection of useful accessories will also be available for riders looking to upgrade their new go-to family wagon, including; a rain tent, box cover, bike cover, baby and toddler seats, bench cushions and Maxi cosi car seat brackets.
Whilst designed primarily for everyday use, the new Stride range is also perfect for small independent business owners looking to become more eco-friendly (without burning the bank, or their legs). Cargo bikes are increasingly used for delivering goods in record time, or moving tools around congested built-up cities.
Commenting on the new Stride range, Managing Director at Raleigh – Lee Kidger, said: "We are thrilled to unveil our new range of Stride E-Cargo bikes. Having worked closely with businesses in recent years to help them find greener, quicker and more enjoyable last mile solutions, we're excited to create a bike that passes on all of these benefits to everybody. With 130 years of experience building bikes, we're confident that E-Cargo cycles will play a central role in our future and are proud to play a role in that".
The new Stride 2 E-Cargo bike is available for £4,395, with the larger Stride 3 trike at £4,695.