Revgrips to be Distributed in the UK by Cyclorise
Cyclorise has been named as UK distributor for the innovative suspension grip brand, Revgrips.
The San Diego based brand, who make everything in-house in the USA, have been keen to expand into the UK market for some time. Owner Brandon Aymar explains: "the UK is one of our strongest markets and the time has come to focus controlled growth into that territory. We make everything in-house, so growth needs to be gradual and controlled which is where Cyclorise has demonstrated that they are the people for the job. Their passion and current portfolio of well-considered brands is the perfect fit for us. We can't wait to see what happens next!"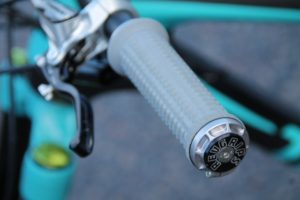 In a unique approach to grip design, Revgrips are adjustable and float off the handlebar to offer "the highest possible comfort as well as minimising trail buzz and reducing the effects of braking bumps".
● Grip Sleeve is suspended off of the handlebar with only the clamps touching the bar
● Adjustable through five-settings from Soft to Firm, Revgrips have a few degrees of 'twist', to minimise the effects of trail buzz and braking bumps
● Elastomer inserts are 'Pro' as standard, but also available in the softer 'Race' and zero-float 'Eliminator' if you don't want the twist, but want the suspended grip. You can mix & match to ensure a tailored feel
● 30-Day Satisfaction Guarantee
● SRP £99.99
Owner Thomas Dibley said: "We are over the moon to have secured a deal with Revgrips. We have been searching for a component brand for a little while now and specifically want to range products that have a significant performance advantage over their competitors; Revgrips offer just that. Brandon and Marc have created a genuinely functional design that solves common problems in a way no other brand does, all rolled up into a desirable high-end package for mountain bikers of all abilities. We can't wait to take delivery and get going!"
Cyclorise are experiencing a period of growth after their recent office move. Already representing SMOOVE, GUP, Sahmurai Sword, Timber! and own-brand Lourí, Revgrips marks their expansion into components.

Dealers can find more online at www.cyclorise.com
Trade enquiries: sales@cyclorise.com