Ritchey components distribution goes to Upgrade Bikes
Upgrade Bikes has announced the distribution of Ritchey Cycling components to the UK and Ireland.
Long-time admirer of the brand and Upgrade MD Damian Mason moved to secure the label for the distributor's portfolio in recent months, seeking to offer better spec for Kinesis build kits.
"Ritchey holds incredible heritage as an innovator of product and we will be working closely with Simon and the Ritchey team to get the brand renewed visibility to the trade and the consumer," Upgrade marketing manager Rory Hitchens told CI.N.
Frames and complete bikes will continue to be serviced to dealers directly from Ritchey with Simon Beatson from the company heading up sales for these as before.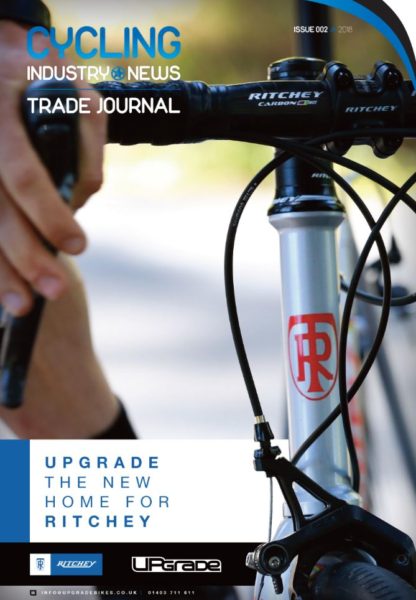 "The UK has always been a strong market for Ritchey, with many loyal customers throughout the region. With our ever-developing product range, continued innovation, and increasing consumer interaction, we felt it is the right time to re-energise our presence in the UK. We are excited for the years ahead and look forward to working with Upgrade who share our vision, have a very focused IBD sales team and are very in tune with all the latest markets trends" said Riccardo Deliziosi, Global Director of Sales.
Ritchey will soon overhaul its website to support the customer experience and dealer stockists.
Matt Killick, Upgrade's Sales Manager, added: "The Ritchey brand has already become a chosen part of our Kinesis build kits, offering innovation with quality and good looks. We are excited to now offer our IBD dealer network a selection of product from the extensive Ritchey catalogue. We are looking forward to re-introducing the Ritchey brand to many IBDs who, like us, know the brand name but have been out of view of the product developments more recently."
As eagle-eyed readers of the latest CI.N Trade Journal may have noticed, the new deal comes into force later this month, with product listings live on the Upgrade B2B now.
Upgrade Bikes are contactable on 01403 711 611, or via email here.