2020 UK Bicycle Report ranks top players in online cycling biz
UK search marketing agency Salience has published its 2020 UK Bicycle report which ranks the industry's biggest names across ten key digital metrics, from organic visibility to social prowess and consumer search trends.
The report indicates a 3% increase in the online cycling market since last year, which comes as no surprise after a busy summer within the cycling industry due to the Covid-19 induced bike boom.
With the general public eager to get on their bikes or perhaps purchase a new two-wheeled companion as a means of exercise and avoiding public transport, visibility of well known brands in search engines has skyrocketed, whilst some brands have seen a drop in organic visibility.
Visibility Year on Year
30 of the industry's best known cycling brands have been analysed and ranked from most highest to lowest with the aim highlighting its search engine visibility in comparison to the previous year. Brands featured include Sigma Sports, Bikester, Wiggle, Evans Cycles, Halfords and Cannondale.
For example, the report shows that whilst brands such as Bikester gained 278% visibility YoY, brands such as Cannondale dropped in visibility by 12%.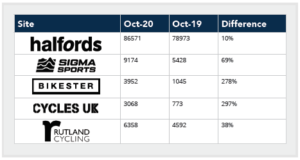 In addition, the report shows the top five brands that have grown successfully within the online market. These brands are as follows;
– Halfords, who gained 10% difference YoY
– Sigma Sports who gained 69% difference YoY
– Bikester gained 278% difference YoY
– Cycles UK gained 297% difference Yoy
– Rutland Cycling gained 38% difference Yoy
The brands that have lost the most organic visibility are;
– Evans Cycles with – 23% difference
– Source BMX with -37% difference
– Tredz with -11%
– Giant Bicycles with -50%
– Wiggle with -4%
Search volume trends
As well as search engine visibility, the cycling report highlights the UK weekly search volume between 2018 and 2020 and has analysed key word trends. According to jumpshot, 50.33% of searches don't result in a click. However, 45.25% still end in an organic click. This shows that effective search optimisation is now more important than ever.
Key word trends include;
– Electric bike (+123%)
– Bike shop near me (+212%)
– Mountain biking (+130%)
– Bikes (+114%)
– Bike shop (+140%)
– Women's bike (570%+)
Furthermore, the Bicycle report indicates digital brand reach within the industry. This has been done through analysing the combined brand search volume with a score representing the effectiveness of content performance across social channels to rank how much umph a brand has online.
The top 5 brand searches are:
– Halfords with 2,740,000 searches per month
– Evans cycles with 368,000 per month
– Wiggle with 301,000 per month
– Tredz with 110,000 per month
– Planet X with 90,500 per month
As the majority of the UK spent the last six months isolating at home, Statista data showed an increase in UK online orders of 161% in May from the previous year. Although the statistics show a slow decrease from May e-Commerce sales, the numbers are still up by 40% regardless of people now being able to return to their local retail stores as of September 2020.
According to analysts at Edge Retail Insight, the surge in online shopping caused by the pandemic is expected to add £5.3 billion to UK e-Commerce sales this year, resulting in a total of £78.9 billion. Therefore, brands have had to up their e-Commerce game and take advantage of the change from in person to online sales.
The bicycle report published by Salience has further analysed top cycling brands' social score. This Social score considers followers and engaged conversations on all major social platforms. The top five, ranked in the report show a strong following, and have ultimately created engagement through content and product campaigns.
These five brands are;
– Giant bicycles (4,544)
– Trek (3,432)
– Canyon (2,494)
– Chain reaction cycles (2,212)
– Cannondale (2,045)
Further to Salience's 2020 UK Bicycle report, Leisure Lakes Bikes wanted to look into which were the most influential regions throughout the momentum created by Covid-19. Analysing search terms across all cycling and bike-related queries, including "where can I buy" all the way to "cycling routes near me", and even "cycle lanes highway code", the company's report showed that more rural areas saw some of the biggest interest.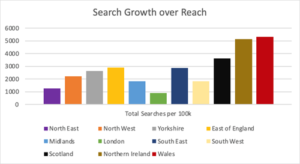 Ben Mercer, Marketing Manager at Leisure Lakes Bikes, said: "Across the UK we've seen huge increases in bike sales as people seek out outdoor activities to support their mental health through lockdown. The search data for the various terms has highlighted that Welsh people really enjoy cycling, probably owing to the stunning scenery through the nation and hugely popular cycle routes like the North Wales Coaster and the Six Dams route in the Elan Valley.
"We also found huge spikes of interest in electric bikes, especially in more rural locations, which could correspond to a more sustainable way of life and living in general," he added.
The data included in the report revealed that Wales had the highest overall cycling-related terms where Scotland had the highest search for terms such as 'mountain bikes' are cycling mad – with the highest overall cycling-related search terms. Additionally, the term 'Electric bikes' saw the biggest growth and searches in Yorkshire, the South West and Wales
Interested parties can apply to get the Salience 2020 UK Bicycle report here.