Scribe Cycling and Silt MTB plot path to shop supply
The minds behind components brands Scribe Cycling and Silt MTB have told CI.N of plans to begin sales via the independent bike dealer network, beginning with the new single disc ratchet drive hub products.
Scribe Cycling was launched with a view to providing wheelsets to the IBD channel, the design of which is backed by over 30 years of industry experience. Ahead of being able to offer complete wheels Scribe's Alan Graham says the firm is now ready to gauge interest from bike shops who may want to take a look at the firm's leaf spring driven hubs.
Graham told CI.N: "Our hubs use a single disc Ratchet Drive System with leaf spring actuation which ensures instant engagement and is very alike to DT Swiss' new EXP hubs. The biggest difference in technology is that we use a leaf spring, whereas DT have stayed with the coil spring. Having an internal ratchet drive increases power transfer and helps prolong the life and durability of the hub as there is only one moving part (illustrated below).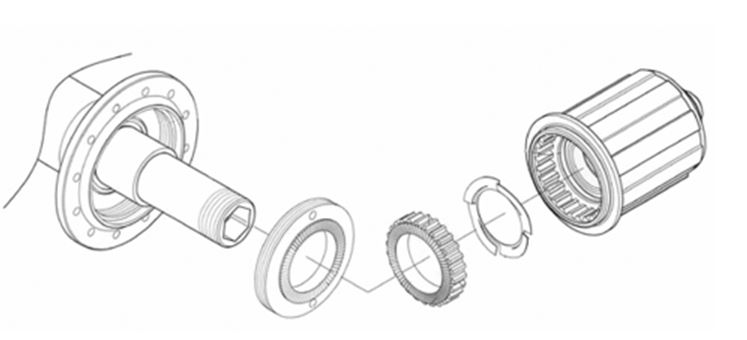 "All hubs will be available with HG, XD or Campagnolo freehub bodies and the required axle configurations, and they have a double anti-bite system (two plates, rather than one)," adds Graham.
With this in mind Scribe has made it so that the most popular configurations can be ordered directly, saving the need to purchase additional end caps or a different freehub in order to get new wheels fitted.
"We have spent a lot of time and effort in developing the range and believe we have an innovative hub that we want to introduce to IBDs at a price point and dealer margin that will be difficult to overlook. RRP for a set is £250 which is significantly lower than comparable single disc ratchet hubs (DT Swiss EXP, for example). In addition to this, we want to offer multiple colourways which will be exclusive to IBDs and will not be sold directly through the Scribe website," he concludes.
The plan in the near future is to move a separate brand, targeted at the MTB market and run under the Silt MTB banner, to bike shops.
To express an interest in carrying the products, make contact here.