Tesla, Jaguar, Bentley and Land Rover high-ups back ambitious e-bike brand
Those who visited Spin London over the weekend will have surely passed the Jivr, a slick, chainless, folding e-bike which has ridden a rollercoaster in order to finally be in a position to enter production.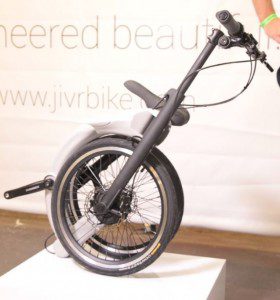 The brainchild of Marcin Piątkowski and two others who have since left to pursue "incredible jobs" with automotive manufacturers, the Jivr hit the drawing board in April of 2012 where the now CEO of the company was studying a MSc in Technology an Entrepreneurship at UCL.
The London University shortly after put forward £50,000 in funding, something which Piątkowski told CyclingIndustry.News wasn't quite the kickstart that's got the brand to the position it's in now.
"The major turning point came a senior VP at Tesla, one of the guys who created the 'Tesla Experience' with Elon Musk, came on board with investment. Once you have someone like that backing your project things get moving a lot quicker and we're now manufacturing in Poland with a method that differs from your standard bicycle production. We've the same engineering experience behind the brand as those who produce the American Army's Black Hawks and that manufacturing space has expanded three fold in to accommodate Jivr production. This has created 30 jobs, rising to 60 by the end of the year."
Since receiving backing from the motoring industry giants, Piątkowski has been listed in Forbes 30 under 30 Europe as one of the most promising young entrepreneurs.
One of the first things you'll notice is that there are very few standards on the Jivr. With three patents pending on things like the proprietary chainless drivetrain and rear hinge, the build is futuristic in appearance, with its offset seatpost, single sided frame and fork and plenty more design touches that would perhaps be more at home on trendy furniture than a bicycle.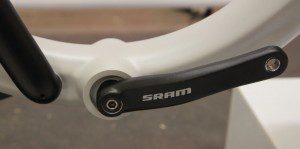 The chainless drivetrain is intriguing in that Jivr aren't as yet revealing what's going on inside the frame, but do state that it delivers a 94% efficiency on a 3:1 single gear ratio.
"We'll never licence the tech out, there would be low quality copycats very quickly" says Piątkowski. "We've brought manufacturing in house for both quality control and to keep our design secrets fairly safe. Out of the 500 components, 300 are bespoke, with only the battery, motor, discs and grips outsourced." (though the model on show at Spin and indeed in the firm's marketing shows outsourced cranks, tyres and saddle.)
Now available to order with a £99 deposit, the Jivr is planned to cost £2,000 on introduction, rising to £2,500. But where will it be available?
"The plan is to gradually introduce own brand stores, starting in 2017 with an investor in Frankfurt. First of all sales will go direct to the customer, but if we can make a success of it, we've plans for Jivr branches in London, then Toronto. My vision is to create the Apple store for light electric vehicles in conjunction with experts around the globe."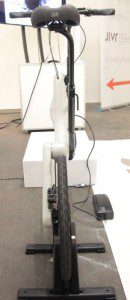 The indication that Jivr will be more than an e-bike label is confirmed by Piątkowski, who says that next on the drawing board are a product family of electrically powered vehicles designed with the challenges of urban mobility in mind, ranging scooters, e-bikes and potentially other ideas.
Interestingly, Piątkowski, nor his early partners have any cycling industry experience.
"We transplanted automotive standards to the cycle industry," says Piątkowski. "Our designer knew the fundamentals of bike geometry, but that's about it."
Financial investment aside, when a high-up at Tesla backs your project you also benefit from input on many other things. The battery cell, for example, is much the same as Tesla uses in its cars. Marketing plans too will follow a similar path.
"We'll use brand ambassadors to drive sales, as opposed to traditional marketing," says Piątkowski. "Our focus for 2016 is to target the UK market, then move to Germany and Benelux. We'll mimic the Tesla Experience with Jivr"
At present the firm is making just 100 bikes a month, with orders delivered on a first come, first served basis. Frames are handmade from start to finish in a process taking two days and using press molded sheets of 2mm thick aluminum, which are first welded then filed down to give the bike its slick looks.
Folding in 10 seconds flat in four steps, the build has two wheelable folding positions, will assist the rider to 25km/h when unfolded and deliver around 30km per two hour charge.
Further reading: Should the bike industry be concerned by the advance of car makers?