UK's largest cycle parking facility opens in Cambridge train station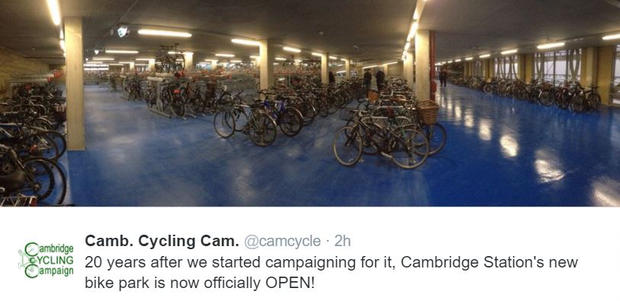 Cambridge's £2.5 million Cyclepoint has opened today, with 2,850 free parking spaces to be on offer to commuters 24 hours a day, seven days a week.
The two-tier racking and Sheffield stands, which campaigners have been calling for to meet demand for over 20 years, are already filling up. From today 1,500 spaces of the total spaces are available.
Designed to be user friendly and secure, the Falco-supplied stands are just two minutes walk from the station entrance, allowing users to speedily access trains once they've secured their bikes. Full CCTV coverage and staff patrols will further add to security.
Previously the station's outdoor parking offered just 1,200 spaces, which with Cambridge's leading cycling modal share of around 20 per cent, has long been considered inadequate. Users have just a limited time to remove bikes from the old racking and are encouraged to make the switch within the next 24 hours or face removal.
The numbered parking is the first of the investments in the station's cycling credentials, with the remaining 1,350 parking spaces coming upstairs shortly, as well as a Rutland Cycles run repair shop opening in April.
To access the parking, enter the station on the west side, opposite Northern Access Road. Larger bikes, including cargo builds are recommended to head to the basement.