Upgrade's Sector leans on Lew to launch new carbon wheels for MTB and Gravel
Spun out of the Upgrade Bikes stable and designed by the minds behind Kinesis UK and DMR Bikes, Sector has released new high-spec carbon wheels for the gravel and mountain bike segments.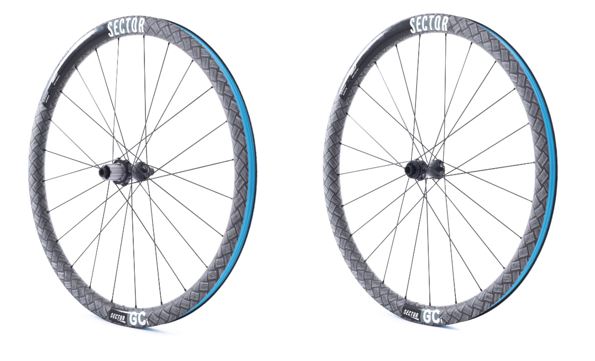 "We were looking at enhancing the structural properties of unidirectional carbon in the application of a Gravel-Adventure rim, with strength and impact resistance being primary considerations," starts Upgrade.
Working closely with composites and aerodynamics expert Paul Lew, Sector established that the introduction of Innegra fibres had the potential to significantly enhance the properties of a Gravel rim. After a period of research and development, the gravel-going GCi rim was born.
For the uninitiated, Innegra fibre derives from polypropylene. As ride properties go, the structure delivers a high strength-to-weight ratio, resistance to damage, vibration damping and energy dissipation.
The TexTreme fabric used in the layup of GCi rim is a Spread Tow fabric built from a hybrid of Innegra and T700 carbon fibres. The Spread Tow layout is significant because it also contributes some positive attributes – the fibres are straighter (reduced crimp therefore higher strength) and it facilitates the use of less resin (lower weight). In the GCi rim the Spread Tow fabric is used on the outer layer of the rim, giving it the unique checkerboard pattern. Those seeing past Kinesis' new e-Bike were giving this a close inspection at the recent Cycle Show.
Currently in the lab undergoing validation testing, Upgrade's investment will seek to prove early results that suggest a 50% increase in vertical compliance over a unidirectional T700 carbon rim of the same profile. This test involves loading the rim with a 100kg weight, in which the GCi rim exhibited a deflection of 15.74mm compared to 10.55mm on the standard T700 rim. From a ride quality point of view that should result in less fatigue and improved traction.
Durability too should be greatly improved with lab results hinting at impact resistance reaching levels almost double the standard required for MTB wheels by the UCI.
"The 9i rim reached failure at 160J compared the UCI stipulated requirement of an 80J impact. In real world terms, the 9i rim can handle the equivalent of dropping a 15kg weight from a height of up to 1.08 metres onto the bare rim," says Upgrade.
The Innegra equipped GCi rim weighs just 440 grams (700c), and the complete wheelset weighs just 1,600 grams.
Sector will offer a lifetime warranty to the original owner of its carbon wheels against manufacturing defect, while a crash replacement discount scheme is also offered.
Inside the box customers gain from a pre-taped wheelset, an alloy 55mm tubeless valve (gravel) and 250ml Effetto Mariposa Caffelatex sealant.
For more details, including the finer points of the mountain bike wheelset, see the UpgradeBikes website here.