VeerCycle pinned concept seeks to open belt drive to the masses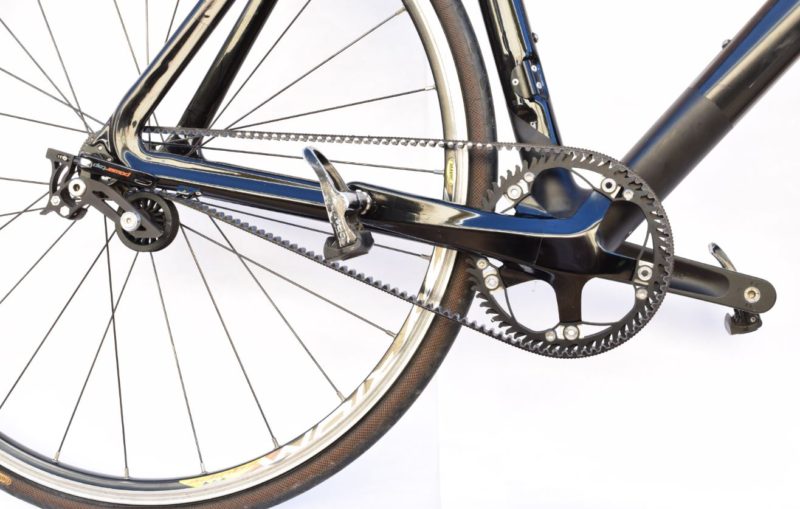 A new take on the belt drive from VeerCycle has come to market, enabling mechanics to split the belt and reconnect, thus eliminating the need for a join in a frames rear triangle.
Speaking to CI.N Katrina Mounivong, Veer's Business Manager said: "Currently, we offer a single speed system but also have custom sprockets compatible with most internally geared hubs (Alfine 8, Rohloff, Sturmey Archer, etc.). It takes as much torque as a chain, but not quite as much as a fully enclosed belt.
"Our current product is called the Split Belt M1 and unlike other belt drive conversion kits out there we splice our belt. This solves the problem of having to exclusively own a split frame or customising your current frame if you're interested in upgrading your chain to a belt."
The pins that connect the belt cover around one third of of the unit, providing a secure connection. Mechanics simply need remove these pins to split the belt, which forks at one end to meet a hard centre.
CEO and founder Sean Hacking came up with the concept while travelling, looking into existing patents and sketching methods to overcome drivetrain problems, utilising his engineering background to bring the concept to fruition.
The market for belt driven bikes is constantly expanding as more company's commit resource to urban cycling. Gates, the belt drive market's largest manufacturer, last year passed 500 OEM customers and forecast no decline in the upwards trajectory.