Western Australia plans Dutch-style cycling network to cope with population rise
Perth has launched the 3.5m (2050) Cycling Network Plan – a document that details how the Australian state's transport networks will cope with a projected population increase.
Though the document doesn't touch on funding, key to making any major transport overhaul happen, Perth's plan does go into detail on a deep network of cycle paths, as well as illustrating some impressive proposed cycling bridges, among other new infrastructure.
Director of Australia's industry levy funded Cycling Promotion Fund,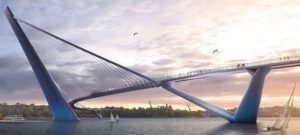 Stephen Hodge described the announcement as "probably the strongest political support we have ever seen from a State Government state about the desirability of long term planning for bikes."
He adds: 'The plan provides for sustainable transport options and addresses the needs for a population in the greater metro area which is expected to grow at least 50% in the next 35 years.'
'While the big headlines will undoubtedly be created by the stunning design for the (pictured) Three Points Bridge, spanning 1.5km of the Swan River for cycling and walking, the really big improvements for mobility are embodied in the comprehensive planning for local and strategic cycling networks.
'The Principal Shared Path Network alone is planned to grow from its current 172km to 850km by 2050."
With such growth in cycle path length, the Department for Transport give a nod to e-bike tech in the document. Similar to a trial in Randers, Perth workplaces have been testing out electric bikes, with those riders throwing a leg over opting to go to work by e-bike 55% of the time.
"Highlighting the potential for e-bikes in Perth are the results of a trial run by the RAC in late 2015. The trial involved 40 employees from 4 workplaces being provided with an e-bike for a 10 week period. Before the trial, 83% of the participants owned a bike, but less than half used it at least once a week. Before the trial, 61% of participants traveled to work by car, but during the trial this was reduced to 32%, with 55% of commuting trips being made solely by e-bike. Trials such as this demonstrate the strong potential for e-bikes to assist in managing congestion, while also having significant health and environmental benefits."
Interestingly, within the document Perth is shown to be one region utilising Strava data to back up its vision. In music to cycle campaigners ears, it was found that segregated from traffic infrastructure was among the most heavily used by cyclists.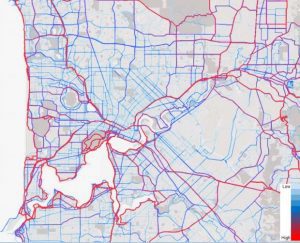 "Separated and/or protected cycling facilities receive significantly higher patronage compared to unprotected cycle lanes or sealed shoulders. Where gaps in these routes exist, cyclists tend to use quiet streets before re-joining the shared path facilities, " noted the analysis.
Read more on the vision in the Department for Transport document here.