With surge in e-Bike sales "saddle up in comfort", urges Selle Royal with eZone product
Selle Royal's electric bike specific saddle – claimed to be the first of its kind – will only gain relevance as the market progresses, according to the manufacturer.
Brought about as a result of heat mapping the e-Bike user's pressure points on a saddle when in motion, Selle Royal claim that there are marked differences when high torque applications come into play.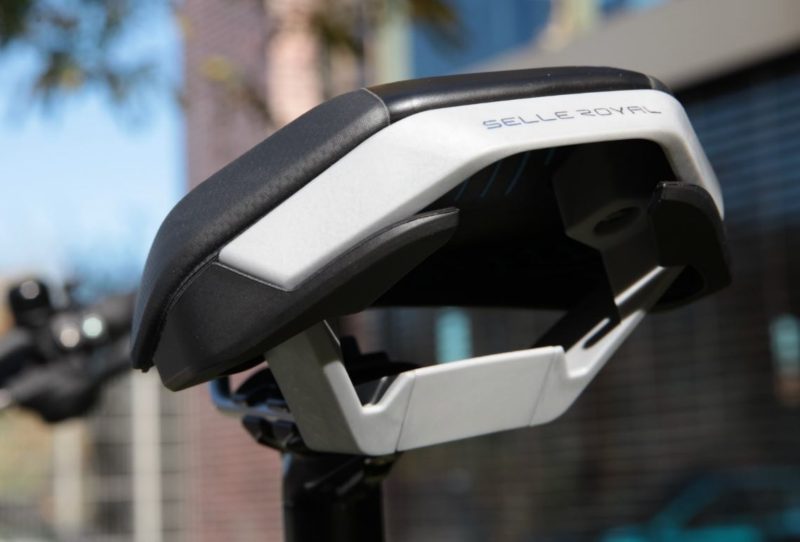 Designed in collaboration with Munich-based Designworks, a sister company of BMW, the new eZone does look different to your typical comfort saddle, most notably thanks to its sloped rear, something designed specifically to "catch" the rider and prevent slipping to the rear of the saddle when power is applied.
Selle Royal's Roberto Bucci explains: "Acceleration experienced by most e-Bike users results in new pressure points on the saddle not seen under simple pedal-powered loads. Riders also sit for longer, so we had to design a saddle that accounted for these new attributes."
Another of the eZone's e-Bike specific features is a handle on the underside of the rear of the saddle. Crafted from tough fibreglass, this takes into account how people move the often heavier bikes around prior to mounting.
At 470 grams, the saddle itself is built to last and at the present time targets solely the comfort market. Designed to fit with Selle Royal's 60-degree spine angle concept, the eZone is touted as the perfect add on sale item for customer's most likely to spend long periods in the saddle. Given the electric demographic's tendency to travel further and spend longer in the saddle, that's most customers, says the brand.
At 270mm long and with a shortened nose, the saddle is designed to help the rider easily mount the bicycle. Selle Royal's 3D Skingel features, claiming to reduce pressure peaks by as much as 40% due to the gel's weight distribution properties.
Primarily expected to be an aftermarket unit due the to higher than normal price for typical OEM spec, the eZone is merchandised for dealers in a new point of sale unit designed to hold a top-mounted demo unit and nine sale units, as well as brochures explaining the technology.
The eZone saddle is available from distributors now and retails at €89.90 in Europe.