Yeti SB150 launches with lifetime warranty attached
The Yeti SB150 enduro race bike has broken cover with the manufacturer delivering three bike options, each with a new lifetime warranty.
Honed by their factory race team and raced on the Enduro World Series by the likes of two time Champion, Richie Rude, the all-new 29er modernises geometry to become an all-round more capable bike on challenging terrain.
Boasting 150mm of suspension in the rear and 170 mm upfront, the SB150 has a longer reach, steeper seat angle and a slacker head angle, combined with a shorter fork offset. This geometry, combined with Yeti's proprietary Switch Infinity suspension platform, allows the SB150 to balance and adapt its abilities as the terrain evens and steepens.
"Our design intent was straight forward – we wanted a bike that smashed the downhills, felt spry on the climbs, and accommodated a water bottle in the main triangle. We checked all the boxes," said Yeti president, Chris Conroy.
The SB150 utilises the firm's patented Switch Infinity system and is designed with a new shock extender. This combination, we're told, allowed the development team a range of tuneability and variable independence when optimising kinematics.
Yeti's leverage rate with linear progression remains, but with a slight increase to the progressive percentages, providing greater compatibility with modern shocks. This apparently gives the SB150 better small bump sensitivity, mid-stroke support, and increased bottom-out resistance while maintaining an incredibly efficient pedaling platform.
Working closely with FOX, the unique two-piece shock extension assembly is approved by the suspension company to run a coil shock.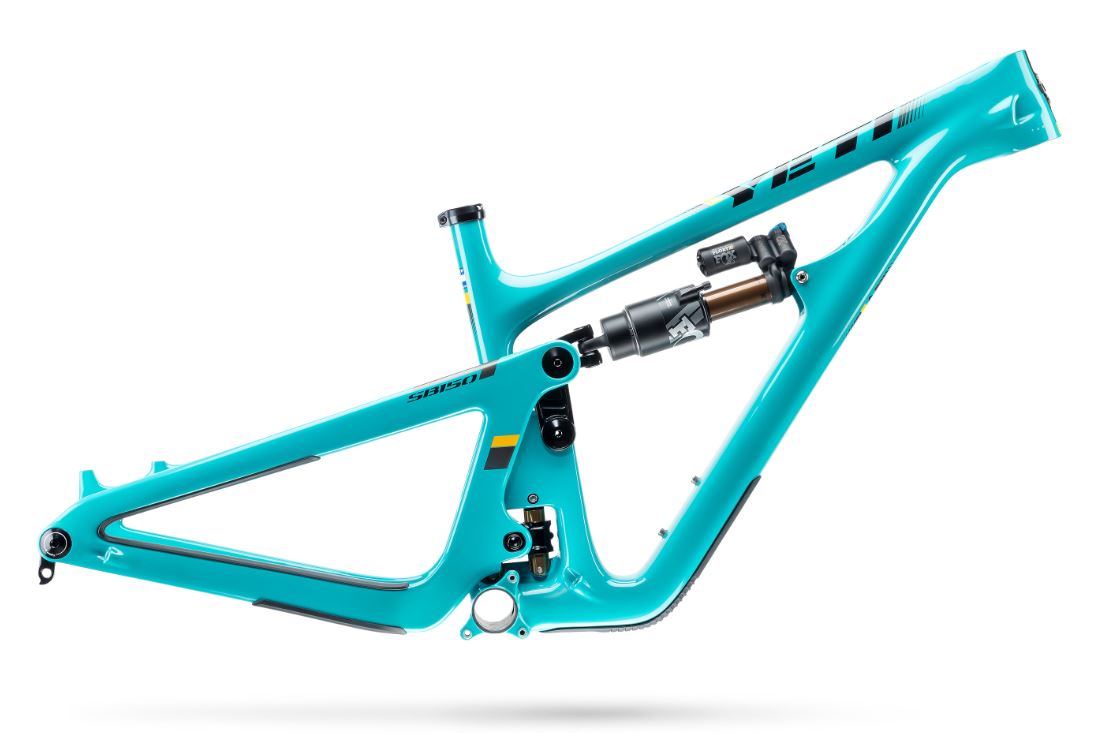 In addition to the SB150, Yeti also released the updated SB6, SB5 and SB5 Beti. The SB6, the bike with the most stage wins in the history of the EWS, now offers internal cable routing for ease of maintenance and will be spec'd with a 170 mm fork with a shorter 37 mm offset.
Both the SB5 and SB5 Beti now run an updated rear triangle that allows 2.8 mm tyres both front and rear. The SB5 Beti will still be offered with a lighter shock tune, 170 mm crank arms and a women's-specific saddle.
All 2019 bikes, starting with the SB100 release in April of this year, will be covered by Yeti's "no-B.S." Lifetime Warranty, backed by UK distributor Silverfish.
"When you buy a Yeti, you become part of the Tribe. We have you covered," Conroy said.
UK Pricing/Models via Silverfish UK (01752 843882)
T-Series
Yeti SB150 Frame Only – SRP £3,499.00
Yeti SB150 X01 Bike – SRP £7,199.00
C-Series
Yeti SB150 GX Bike – SRP £4,999.00