Accell Group to undertake heavy restructuring and strategy shift
Following a bitterly disappointing set of financial results released on Friday, the Accell Group will move to heavily restructure the business, potentially even opening the door to acquisition talks, according to Dutch media.
In the financial report Accell booked higher turnover, but also quickly declining profits. The data revealed that the business's 2017 operating results came in 37.1% lower at €38.0 million, primarily due to weak performance and a transformation of the organisation in North America (in total €10 million) and extra (budgeted) costs for the implementation of a new group strategy. Net profits declined 67.5% over 2016's results.
Following Friday's publication, Dutch news outlet De Telegraaf published an interview with CEO Ton Anbeek, within which he outlined that the organisation would now "fish where we can find fish. For dealers there is still room, they can start 'flagship stores'"
The interview further quotes Anbeek as stating that "consolidation for the sector can not be delayed," hinting that prior talks between the group and Pon's Bike division may well still be alive. Talks only broke down over a 'future value' disagreement in May of 2017.
Investors are believed to have taken an interest in Accell again, with the price of Accell's shares dropping to around two thirds of Pon's former bid.
Seemingly online will become a greater part of Accell's future strategy. In the United States the group has begun working with Amazon and Anbeek told De Telegraaf that despite the initial focus being on restructuring and simplifying Accell's structure, that "we will do that too", in reference to cooperation with e-Commerce giants.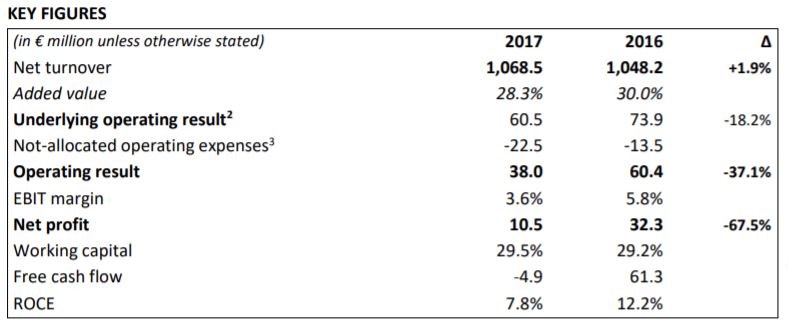 The financial results' focus on the planned restructuring places a value of around €60 to €80 million in savings annually by 2022 for the group. While this is anticipated to cost the business between €30 to €40 million to execute, we are expected to see "stronger emphasis on reduction of complexity within the group, centralised management of (e-)commerce and innovation, plus use of scale and synergy potential across the value chain and all regions."
With the restructuring beginning immediately, there are a number of personnel changes.
Hielke Sybesma (CFO) decided after 23 years to leave the company as of 1st May 2018 and will step down from the Board of Directors as of 25th April. The search for a successor to Sybesma has started.
Jeroen Snijders Blok (COO) resigns from the Board of Directors at his own request as of 25th April 2018, while retaining his current activities and reporting directly to the CEO. The responsibility for the production sites has recently been transferred to Jeroen Both (CSCO).
Jeroen Hubert has been appointed Chief Commercial Officer (CCO) as of 1st March 2018. Jeroen reports to the CEO and is responsible for marketing, innovation, (e)commerce and retail / experience centers. He has previously gained extensive experience in the aforementioned areas at Pepsico, Friesland Campina, Wehkamp and Ikea.
Anbeek's statement within the financial results reads:
"In 2017, we started the executing of our new strategy in Europe and North America. Unfortunately, the initial results of this strategy were overshadowed by a disappointing performance in North America. Sales via existing distribution channels (IBDs and multi-sport) came under pressure and the contract with a major multi-sport chain was terminated. These developments prompted a restructuring, including the replacement of the local management and an adjustment of the North American organisation which also gave rise to a necessary correction on US import levies for the period 2013-2017.
"In Europe, we benefited from our leading position in the field of e-bikes. Sales of e-performance bikes for active recreation and sports saw a particularly strong increase and we also recorded a further increase in the order file for 2018. Turnover of regular bikes declined but this was compensated by the higher turnover of e-bikes. In addition to e-bikes sales, we also recorded an organic increase in the turnover of parts and accessories, partly on the back of growth in our own XLC brand. The higher turnover in Europe translated into a higher underlying operating result for our European businesses.
"In 2017, we incurred extra costs of €7million for the roll-out of our strategy. As part of this drive, we
raised the supply chain organisation to full capacity and we are making considerable headway in the
field of parts & accessories, portfolio management and IT.
"We have refined the strategy and translated it into a concrete roadmap for the period 2018 – 2022,
including related goals and guidance for required investments and anticipated savings. Our ambition
is to become market leader in the mid and high end of the e-bike market in a consumer centric and
socially responsible way. For this, 2018 will be an important transitional year. We will accelerate our
strategy roll out and reduce the complexity of the group in order to better and faster anticipate changes
in the market. As such, we can add more value for dealers and consumers and at the same time realise
our ambitions for growth and profitability."