Race brand BOX issues BMX fork recall
Race brand BOX has issued a product recall on a number of carbon-based fork models within its BMX portfolio, citing a potential steerer tube failure issue.
The manufacturer released the below statement on the recall, as well as details of what to look out for on affected models:
"Since our inception in 2011, Box Components has been committed to manufacturing the highest quality bicycle components. Providing racers and riders with the best and safest products on the market has always been our number one goal. As a result of this and in cooperation with the CPSC, Box Components is offering a voluntary replacement of some of our older BOX carbon fiber BMX forks. The reason for the replacement is a manufacturing flaw that may result in some steerer tubes becoming loose when turned against resistance on the front wheel of the bicycle. This flaw poses a potential fall hazard to the rider. There have been no reports of injury as a result of this defect. Box Components is aware this is inconvenient for our customers, and we appreciate your assistance in helping us replace potentially defective forks from the market."
The flaw in design affects aftermarket forks sold from January 2015 until July 2015, as well as forks featured on 2016 complete bikes including; the Haro (Team CF Mini, Team CF Junior, Team CF Expert), Redline (Flight Mini, Flight Junior, Flight Expert, Flight Expert XL) and DK (Elite Junior, Elite Expert).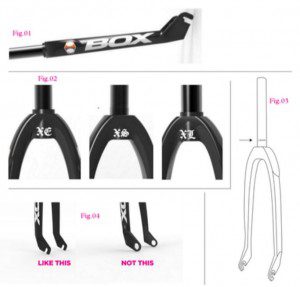 The models affected are detailed below:
XE 20 inch 10mm Dropout Fork (model number BX-FK13A2010)
XE 24 inch 10mm Dropout Fork (model number BX-FK13A2410)
XL 20 inch 10mm Dropout Fork (model number BX-FK15A2010)
XL 24 inch 10mm Dropout Fork (model number BX-FK15A2410)
XS 20 inch 10mm Dropout Fork (model number BX-FK14A2010)
For more information visit Boxcomponents.com/recall, or email: Recall@cyclegroupinc.com