Aire Velo Bearings to keep bike shops rolling with extended warranty and VAR Tools addition
Bearing specialist Aire Velo has moved to enhance proposition for trade accounts, adding an extended warranty on bearings from 2018, as well as becoming an importer for specialist tool brand VAR.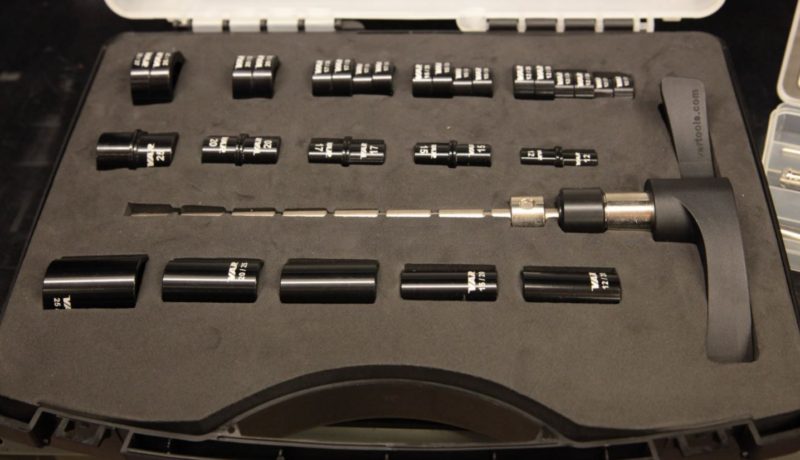 Hailing from France, VAR was spotted by the West Yorkshire firm on social media, where the brand has gained a solid following among professional mechanics.
"We'll be taking the full range, so mechanics will have access to specialist kit for installation and extraction of everything from bottom bracket bearings through to hubs, headsets and more," explains Aire Velo's Jonathan Richards. "The kit is well priced against alternatives on the market, but the quality is way up there, there's a decent following in mechanic circles for VAR."
Now available to stores is a £299 kit, shipped free of charge to shops.
The brand addition came on the back of feedback gathered at last year's Bike Place Show, which the firm will be returning to in 2018. It's been a productive period during which the specialist has worked tirelessly to understand dealer needs.
"We conducted a dealer survey earlier this year which returned a lot of feedback that's helped shape our business, something that we'll be able to discuss in more depth at January's show," says Richards. "We've tended to find that dealers don't want to carry deep stocks of bearing spares, so there's a number of changes we've made to accommodate this. We're now able to ship bearings by DHL on a free of charge next day delivery and orders placed before 4pm will arrive the next day."
Aire does ship globally too, with Richards telling us there's very few territories on the map left unchecked, such is the depth and speciality of the firm's stocks. If outside of the UK, bearings can be sent for just £12 tracked.
Dealer feedback has also resulted in a move by Aire to bolster the quality and the back up on its service.
"The majority of bike shops want a consistent stock of stainless steel bearings throughout the range and a backup of hybrid ceramics to cater for the performance customer. Some education is required by the dealer when a customer arrives on what's the best fit. You don't want to be speccing full ceramics to high-impact scenarios, for example. With all of this in mind, we've moved to introduce an industry-leading warranty of a year on our stainless steel bearings from 2018," says Richards.
By nature bearings can be a difficult product on which to guarantee consistency, so Richards is assessing how he can guarantee a strong experience for partners going forwards.
"Inevitably now and then there are inconsistencies in batches. When we take calls from customers on bearing life we will always try to build a picture of why a bearing may not have lasted, or failed. It's important to gather this information so we can put quality education back into the market, as well as check back with manufacturers if we identify batches causing problems," explains Richards. "We are however strongly assessing upgrading our sourcing to one high quality supplier. At the present time we've stock arriving from Taiwan, Italy and Eastern Europe. Going forwards I want to ensure our quality control and stock consistency is industry-leading. I anticipate that, once complete, we will have a wide stock of bearings that deliver the kind of quality you'd expect from Enduro, for example. We'll also introduce coloured seals to help dealers quickly identify stock. I'm slightly concerned that if the bearings last longer i'll get less business, but we wanted to make an investment in quality all the same!"
Introduced last year, Aire Velo's workshop boxes are to be tweaked to better serve the bike dealer, we're told.
"Available to shops are boxes divided into 4, 9, 16 and 25. Moving forwards we're going to offer dealers the ability to customise these so there's no need to take bearings you're unlikely to use. As a further incentive, we're assessing broadening the gap between consumer and trade purchase in order to give dealers a stronger margin to work with," adds Richards.
Investing heavily in SEO, as well as the website's functionality, dealers will find Aire Velo increasingly present and easy to order from. Among other additions to the site, stockists will find a greater depth of references and tools to quickly track down the right bearings.
Also found alongside the introduction of VAR, Aire Velo will also attend The Bike Place with Biomaxa, a specialist in lubrication.
"This is a product that has to be tried," concludes Richards. "So come by the booth, grab a sample and give our test rigs a spin."
To register for the show, click here.