CyclingIndustry.News Analysis: Trading Staycation
As we approach the one-year mark since the UK emergence of the Coronavirus pandemic, many of us have been left dreaming about the good old days when we could take our steeds abroad for the annual cycling vacation. However, as we wave goodbye to winter, restrictions are still in place across the country and therefore it looks like any cycle touring will remain close to home.
Survey results published by the Statista Research Department show that UK Google searches for the term 'staycation' in July 2020 increased by over 500% compared to the previous summer, and the term 'UK Staycation' increased by over 400%.
Many would jump to the conclusion that the staycation trend has been predominantly brought on by the Covid-19 pandemic and according to The NPD Group, recreational bicycling did grow by 203% last spring as social distancing was enforced.
Chris Smith, Managing Director at bike rack maker Pendle Bike Racks, told CI.N "There's no doubt that the pandemic has put health and wellbeing in the forefront of people's minds, and of course we all know that cycling is in the UK post-Brexit, with only 19% claiming that Brexit would not affect their thoughts on travel.
The template for the staycation boom is also evident in sales patterns according to brands. "Looking at our top three cycling brands, we have seen significant increases in sales across the board. Our Bombtrack turnover more than doubled and the growth curve was only limited by the inability to land more bikes quickly. We sold out well before we intended to sell out! With Bombtrack's range being largely adventure orientated it's obvious this type of bike certainly appeals right now to people looking to explore the varied and stunning terrain we have on offer in the UK," says Amelinckx.
Dominic Langan, CEO at Madison added: "From April 2020 through to December, we saw a 51% growth in Thule sales, our touring bike sales in this period grew by 118%, a 76% growth in Madison bags and panniers and M:Part bicycle racks grew by 30% until we ran out of stock."
"Childseat sales grew by 256% as families looked to get out on the bikes together for days out during a long warm summer," added Langan.
Pendle also experienced a surge in demand as a result of the initial UK lockdown. "In the weeks following the announcement of the first national lockdown, the traffic on our website doubled, then doubled again. PBR products are perfect for staycation goers, allowing families to take their bikes with them on holiday and avoid the costs associated with hiring bikes," says Pendle's Chris Smith.
With the industry facing a supply dilemma throughout the Covid-19 pandemic, and now the complications added by Brexit, ensuring that goods arrive in store is paramount for bike shops across the country who are wanting to return to normal and keep up with the dramatic rise in demand.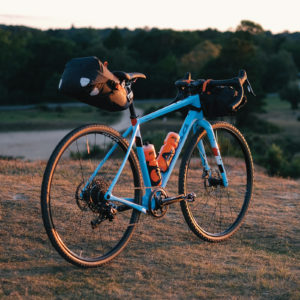 Lyon says it has been able to offer an excellent depth of stock when it comes to Ortlieb and Salsa in particular. "With Ortlieb being made in Germany, we are protected from the long lead times and shipping issues we have seen with some far Eastern production." The brand is confident that it will be able to meet the vast majority of its 2021 pre-orders in time.
"We have goods landing all the time and enough to deliver another very strong year, but if demand continues to grow, there could be supply issues," says Madison's boss. "The growth in cycling has been global and factories are under immense pressure to meet demand. Limited availability, increased shipping costs, increased raw material costs and increased production costs are all putting a huge inflationary pressure on products which may curb some of the demand, but we expect 2021 to be a big year as we gradually and hopefully come out of the restrictions of the pandemic."
Chris Smith, Pendle said: "We have all of our products manufactured and assembled by our sister company Pendle Engineering, who also reside in our Nelson Lancashire HQ – so production lead times usually aren't an issue! However, we've been seeing a worrying trend in raw material prices and lead times, spurred on by the pandemic and Brexit for sure."
Now, a staycation article would be somewhat incomplete without a bike touring and bikepacking kit list.
Salsa's Warbird, distributed by Lyon, is a bike that can not only go the distance at the Frontier 300 but with its longer wheelbase, it equally lends itself to longer overnight trips loaded with bags. At the entry-level of the range, Salsa's Journeyman is a great starting point to the brand and this model will become available in the UK later in the season.
Also distributed by Lyon, Ortlieb's bikepacking range has just seen a major overhaul with the addition of the Fork-Packs and Roll Closure versions of its Frame-Packs. The entire range is fully waterproof and comes with a 5-year warranty.
Additionally, the very nature of a staycation suggests that a vehicle would need to be packed up as easily as possible but needs to be quickly unpacked again for regular use. SeaSucker racks make for great staycation racking option due to their ease of use and fast installation. Once at the destination a SeaSucker rack can be quickly removed and safely stored ready for the return journey. Rated to 95kg of pulling force each, SeaSucker suction cups feature a proven design derived from high strength vacuum equipment used to manoeuvre large sheets of plate glass in building construction applications.
With the Seasucker Komodo and Hornet racks, a single bike can be installed directly without the need to remove the front wheel. The Komodo is designed for vehicles which have limited roof space with folding and articulating cups to ensure compatibility, it's also optimised for road bikes only. The Hornet is designed for installation on the back panel of SUV or minivan type vehicles, which are high enough to carry a bike vertically secured by the handlebars with wheels facing outward.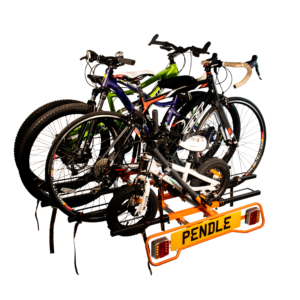 Furthermore, Thule's rail-fixed roof racks are the winners of multiple design awards. The brand offers rear mounted and towball racks. Compatibility of the racks can be measured against your customer's car using an online tool available on the Thule website and the Madison B2B site to make it easier for shops to ensure they're buying the right setup.
Clothing is also an important factor to consider for anyone with a bike focussed staycation in mind. Your customer will require something that manages sweat well, does not restrict movement, and offers protection from the elements, too. Madison clothing, such as a Protec or Roam jacket, padded shorts or a set of Element gloves to keep your hands comfortable can make all the difference.
Pendle racks are also an option for the family cycling staycation. The racks are engineered from high quality materials with a tough, weather resistant powder-coated finish. Products available include the Wheel Support Towbar Rack, Hang on Towbar Rack, Roof Rack and the Pendle Tandem Rack.
The most recent Government announcement outlined how people traveling into the UK from the 33 red level countries will have to pay £1,750 in hotel fees, so this has possibly closed the door on international travel for many Brits looking to go abroad for a bit of summer sun. So, whether you are planning a trip to the highlands for some off-road action, ride the beautiful lanes of the Peak District or just cycle along the sea front with the family, there is a plethora of equipment out there, perfect for a UK cycling staycation. We'll see you out there.
This article is available to read in the latest issue of CyclingIndustry.News magazine.