Aprire begins reshoring process with new bespoke carbon manufacturing facility
Aprire Bicycles is in the process of kitting out a new manufacturing facility in Cheam, Surrey, where it will offer bespoke carbon manufacturing.
Giving CyclingIndustry.News a pre-production tour of the facility, owner Phil Dempsey said this will be far from a run of the mill carbon production facility.
He said: "Bespoke will mean something more here. Though in the early days our capacity will be around 1,000 frames a year, we've asked a lot of questions of the efficiency of bringing a build from the drawing board to the finished article. I worked with a chap from Cambridge University to ask a lot of questions of the 'we've always done it this way' mindset. As a result of creating molds differently and using standard ovens we're taking between 30 and 40% of the energy expenditure out of the process. There's no need for an autoclave or heat press using our method. All of this brings our costs down."
Working around uni-directional carbon design, it goes without saying that Dempsey's designs will be precise down the the most minor detail, but for the serious athlete, Aprire will bring something else to the table.
"Bike fitting is the base for many manufacturers, but we'll also be looking at powermeter data in constructing frames for customers. If a customer has an 700 watt output, the frame will be built with that in mind. The sprinter churning out double will obviously have a frame bolstered for that output, as opposed to an off the peg layup that won't make the most of that rider's strengths."
Working largely within a 600 to 2,000 watt range for the general public, Dempsey says he'd love to work with an athlete who could achieve more, but insists the process becomes a lot more involved the more output a rider can offer.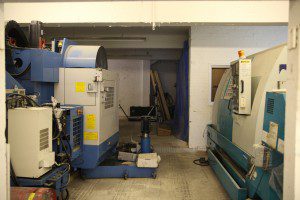 Coming from a background where understanding the fundamentals of suspension was key, Aprire's design gains from insight into how carbon can assist in traction. Stiffness is important, but so is handling, he says.
"I've been surprised to see in the past so many fork or chainstay design offering no lateral movement in the corners. For grip in the corners it's crucial to have a little flex or face the bike washing out from underneath you. Slow down video of a motorcycle and you'll see the flex. That energy has to go somewhere and when the frame snaps back inline it's the rider who benefits in terms of acceleration. Carbon is a beautiful substrate and I can't fathom why so many builders are focused entirely on stiffness when you can achieve unsurpassed handling advantages and vibration dampening by tailoring certain areas of the frame."
Recounting a story of a chat he'd had with suspension engineer Dave Weagle, Dempsey said it's important to look beyond the bike industry in order to evolve our thinking and design.
"Dave turned a tank turret into inspiration for a rear hub! I think as an industry we don't look outside of the box enough. Take the Mike Burrow's Olympic Lotus build, a totally phenomenal bike, far from traditional and one that really got aerodynamics on the agenda. Unfortunately the UCI regulations are horrendous for builders. I'd love to see a change of the 3:1 rules to a 4:1 profile. That'd allow for some immensely wacky designs and while 90% of early designs would more than likely be crap, it's about those that do open up new possibilities, not to mention helping designers experiment and better understand the fundamentals of why certain things work. In my opinion, nothing is rubbish, it's what you gleam from it."
Describing the traditional double triangle as "horrifically strong", Dempsey says he can understand why people would be afraid to challenge tradition. But that's exactly what Aprire's factory will soon be doing as part of a yet to be revealed collaboration.
Plenty more is keeping Dempsey busy too, who shares a 360-degree view of a proprietary power pedal design on his screen as we chat.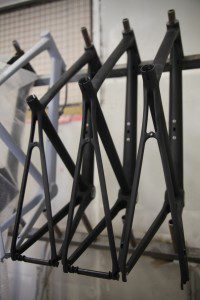 "This one is out to licence with other companies and will allow you to fit with an 8mm allen key without messing up any of clever science within. It's taken a long time to source the material, but one of the perks of counting metallurgy and material science as a hobby is knowing when something will work and this pedal will be perfectly formed, requiring no recalibration and taking the margin for error out for whoever's installing the pedal."
Patriotism and quality control aside, another benefit of gradually reshoring Aprire's production will be the opportunity to work with bike shops on small runs as the business grows.
"We already have a few that we're going to make for," says Dempsey. "It's viable for bike shops to go own brand and many are. I prefer to take to someone else's design and work with it, but we can also offer from the ground up design. Our paint shop can finish the job too. We're not using decals, everything's handpainted. All things considered, in many ways the traditional bike shop can make a comeback with own-label supply."
Though in year one production numbers may limit this business, Dempsey says that from the moment the machines go on a recruitment drive to grow begins. Inside six months ten in-house people from designers, sales and engineers will be sought. The five year plan goes much bigger, with Dempsey hoping to grow to a 40,000 carbon frame output in Europe, along with 200,000 aluminium, another process that he anticipates will be reshored at the earliest opportunity.
So where else does the bike dealer fit into Dempsey's plans?
"The industry is changing to click and collect, so that's the path i'm  looking at with the dealer preferably stocking our product and gaining full margin, but also offering the option of a commission based on PDI and service. This way the dealer has the customer going forwards and we have our sale."
When it comes to quality control, Aprire is in possession of the same seven-axis 3D scanner as used by the UCI to certify frames. This, according to Dempsey, allows Aprire to be certain that everything leaving the factory surpasses EN, ISO and DIN standards. The result of stringent quality control he says is no returns bar crash replacement to date.
"In the past i've rejected whole batches down to minor errors. Once i turned away 400 frames 'upgraded' from 6066 aluminium from 6061. Despite any advantages gained, fatigue life is of utmost importance and i want to maintain our reputation. 6061 may be heavier, but it'll last a lifetime, so back they went. It's for this reason you'll never see press fit BBs featuring on Aprire builds. Long term this is a flawed design unless installed absolutely perfectly. What bike shop can do that with 100% precision without a fly press?"
It's at this point we're introduced to the brand new carbon Celeste, retailing just under £2,000, which we'll leave you to admire below.