How much is the UK cycling market worth?
How much is the UK cycling market worth?
In the past coming by concrete statistics on the size of the UK bicycle and electric bike market has been complicated by a general industry reluctance to share data, something which the Bicycle Association of Great Britain has identified as a development priority.
Moving forwards, The Bicycle Association has begun to actively drive new membership, as well as collate anonymised data from partners. This, it is hoped, will eventually lead to a hymn sheet from which we can all confidently sing and in particular offer Government departments as a case for investment in cycling. But this requires you in the trade to give up your numbers, something which you can find out more about at the BAGB site at bicycleassociation.org.uk.
The Bicycle Association's Peter Eland Technical Manager told CyclingIndustry.news: "We have decided to leverage the data to date from this market intelligence initiative, and the support of SQW, by asking them to produce an "Economic value of the cycle industry" report. We have found that Government ministers and senior civil servants take a very broad brush approach and want to focus efforts where they see significant impacts for jobs, the economy or health. A headline figure for 'economic added value' is what they need to hear."
Expected to be delivered in the coming months, the hope is that after a considerable period of fumbling for answers and questioning suspect estimates that we may soon be able to offer an answer to those asking for the value of the UK cycling business.
What we can determine at the present time, much thanks to analysis from the Confederation of the European Bicycle Industry, is that Great Britain is second largest in Europe in terms of market sales of bicycles at 17%, sat only behind Germany at 21%. France (14%), Italy (8%) and Poland (6%) round out the top five.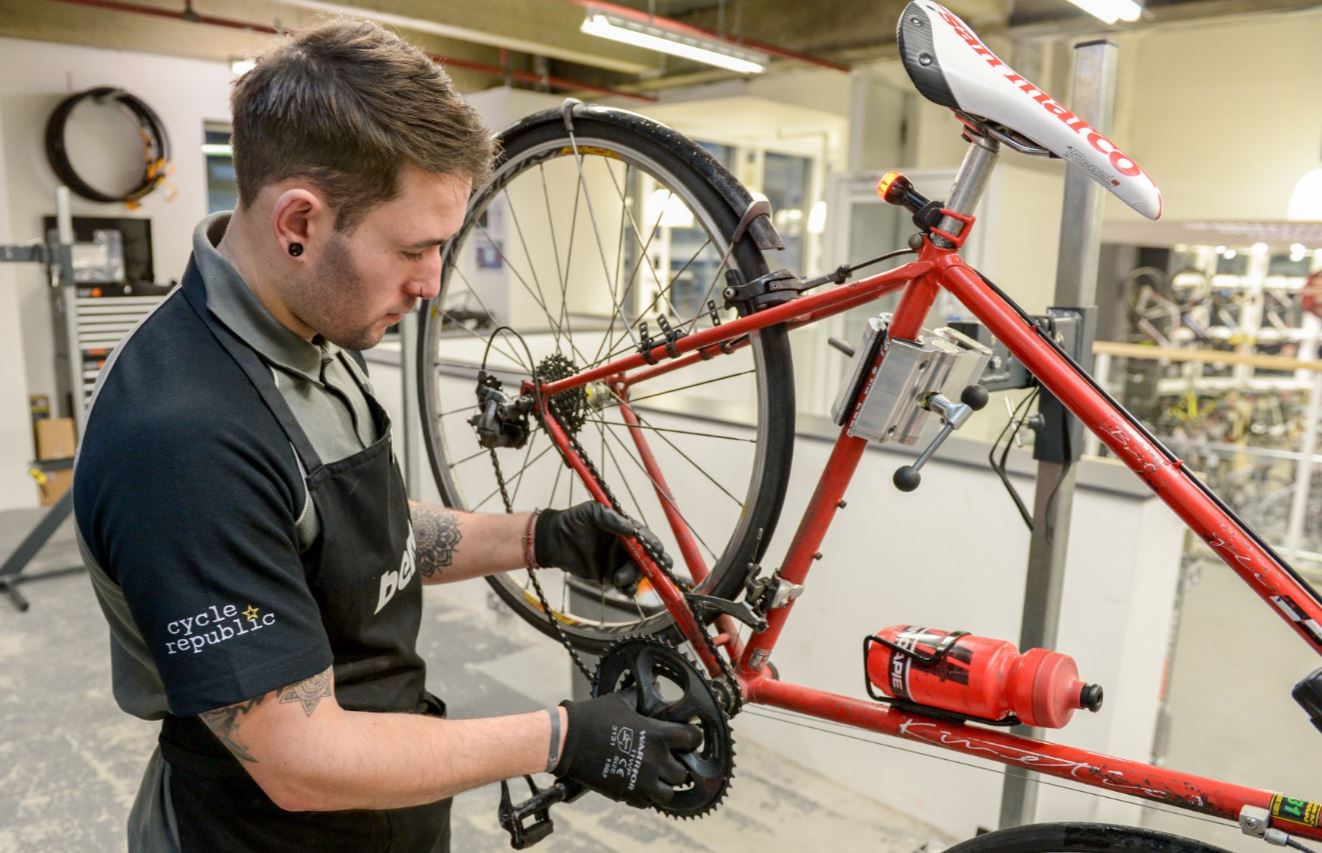 The independent retailer, though by our own database calculations slowly declining in number, remains important with market share estimates ranging 35 to 40%. This is marginally ahead of Halfords, which at the latest count commands the market's largest chain of 462 own label stores. A further 13 Cycle Republic stores, largely found in London, are the foundation of what the retail giant has speculated will be up to 100 branches nationwide in the coming years.
Having spent some £18.4 million on Wales' Wheelies and Tredz assets, the market force is not only posturing to capture a greater share of insurance replacement business and set to benefit from an enhanced cycle to work trade, but with the purchase is seen to be expanding the product portfolio which it can reasonably be expected to access.
Speculation that the road boom is largely over is seemingly well founded. Informal industry estimates suggest that serious road bikes make up just 10% of the market's sales and since 2013/14 have been declining year-on-year.  Mountain bikes at 30%, bikes defined as hybrids at 26% and children's bikes at 30% make up the bulk of sales in the UK.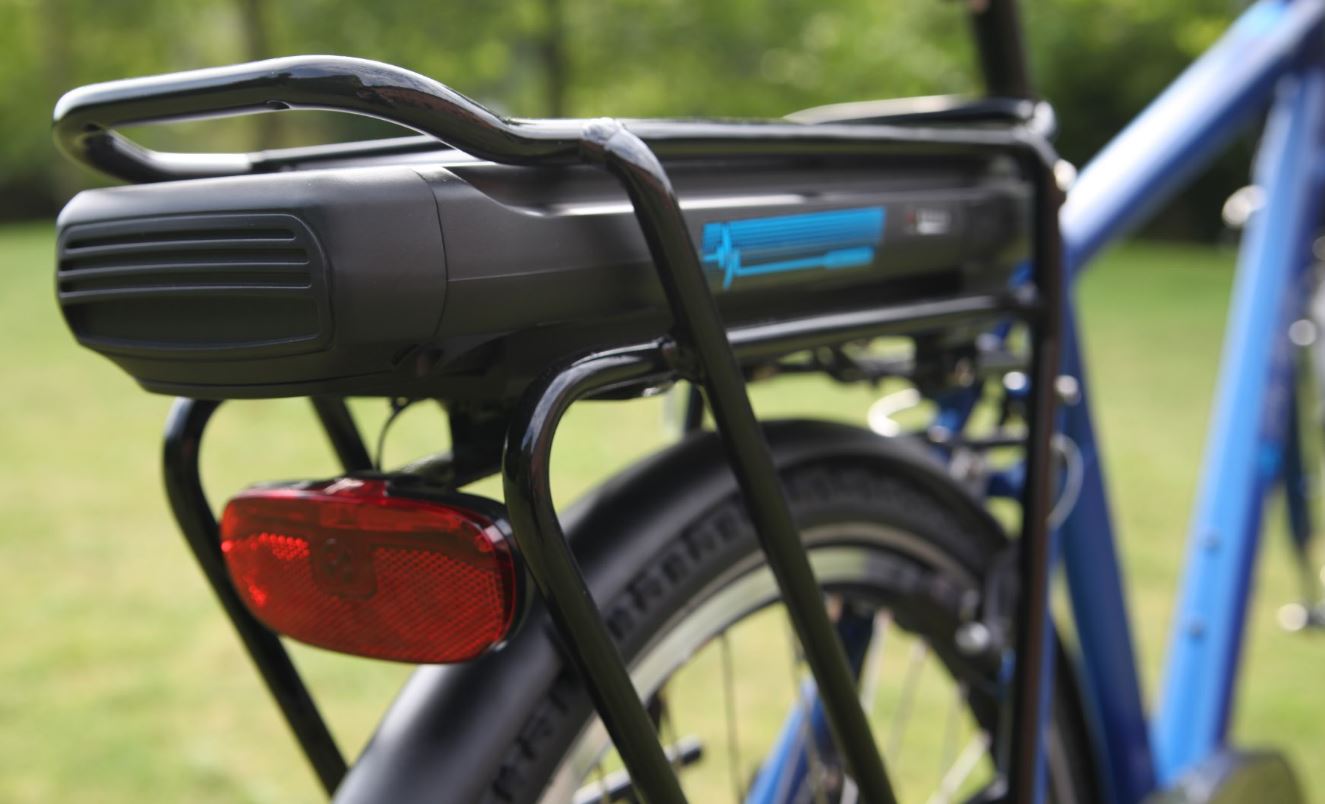 Electric Bicycles 
Electric bike statistics in particular have proven a baffling topic, with official numbers suggesting the UK is now well on the way to catching some of the momentum seen on mainland Europe.
In Germany, depending on who you speak to, e-bike sales make up between one in 4 to 8 bike sales. In the Netherlands, trade organisation RAI place power-assisted sales at near one-in-three. Scratch that, e-bikes are now 57% of sales.
"A note of caution" is advised when viewing the UK's stats, warns Garidis. At a members meeting earlier in 2016, trade insiders largely agreed that something is not as it seems, with suggestions that other power assisted goods such as 'hoverboards' or scooters may be skewing figures.
If specialist distributors sales are anything to go by, finally the UK market is accepting of the product.
EBCO, for example, have doubled the total volume of their business by stock this year with the introduction of a mass volume price point, ranging £799 through £999.
Of the Pulse line, co-founder Paul Stanforth said: "We've worked very hard with our suppliers to ensure we can create a quality offering at a lower than usual price point," says co-founder Paul Stanforth. "We were keen not to repeat the quality control headaches we experienced 25 years ago when we began shipping in mountain bikes, so in tandem with Trans X we've delivered affordable and reliable quality at an achievable for most price point."
Already a household name, KTM has enjoyed similar growth in the UK in recent years, with distributor Fli telling CyclingIndustry.News that turnover of electric to pedal-powered bikes is split almost down the middle.
Colin Williams said: "Of the 400 dealers on our B2B around 150 of them now buy into the electric bike world, in fact we get on average one new call a day from a store looking to dip a toe in. For the first two years of selling e-bikes I'd hand dealers a catalogue and they'd hit me with it, but with an average sale price of £2,500 to £3,000 mindsets are changing. There's very little in the way of reluctance now. 80% of those carrying KTM products in the UK are stocking pedal-assist in one form or another."
50 Cycles too, despite Kalkhoff's decision to go direct to dealer in the UK from August 2017, is a business boasting solid growth. Earlier this year the firm moved headquarters to a larger premises, having secured 30% growth in sales in the year to November 2015.
That growth has continued into the tail end of 2016, says Snaith: "We've now dropped out of distribution, which gives us scope to ramp up the retail side of things. The objective is to grow our current network of four stores with partners and we anticipate having up to eight in the near future.
"Since 2004 we have served over 24,000 customers. The last two of these years have seen a large pickup too, so the growth is sustained. During summer we can shift as many as ten to 15 bikes a day and these go for, on average, around £2,000 each. Come 2017 I'm determined to double our turnover. It's a nice problem to have, but we struggle selling the cheaper electric bikes, they're often left over at the end!"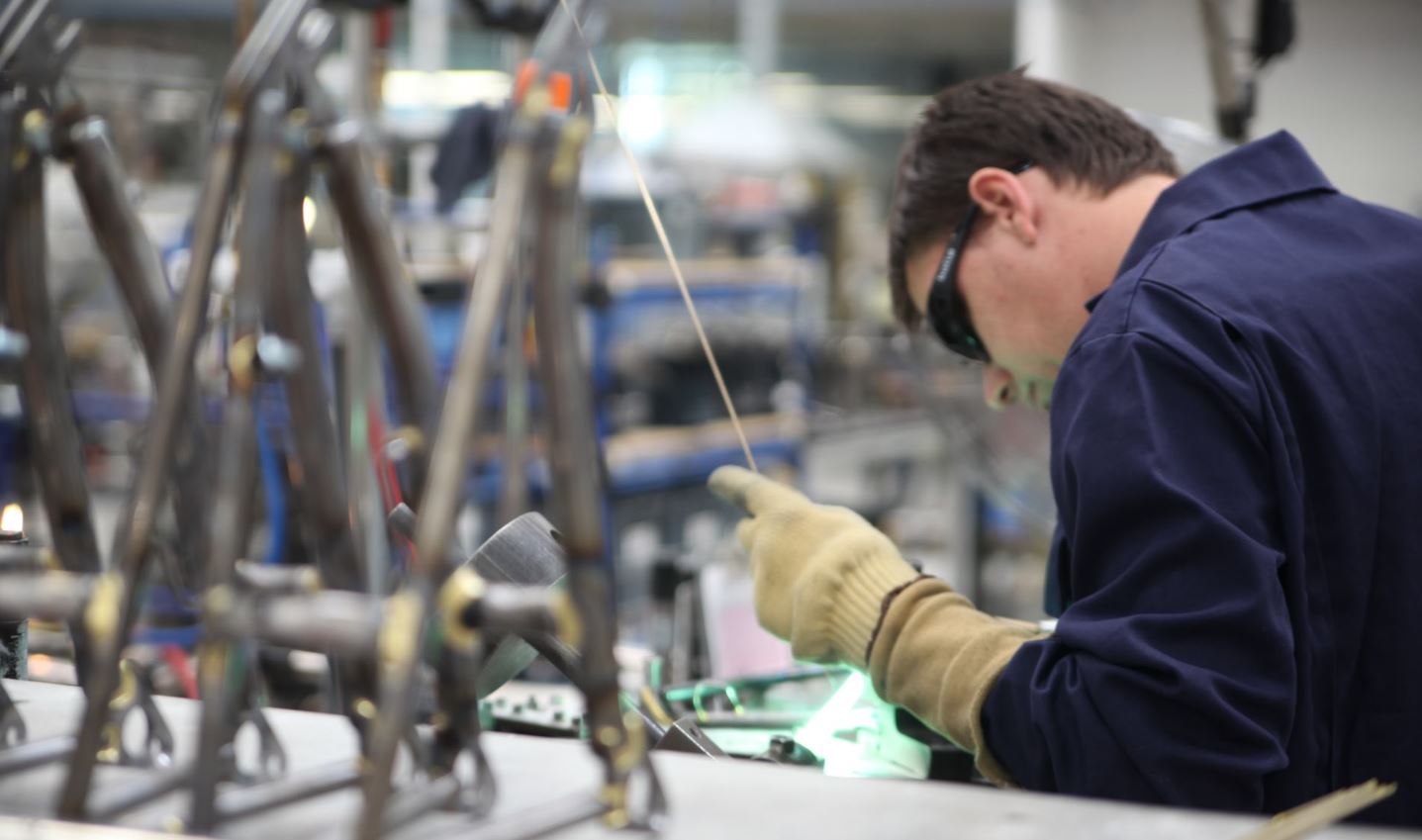 Production 
It goes without saying that we're lightyears away from where UK bicycle production was just a few short decades ago, but there are positives to be taken from recent analysis.
Since 2007 domestic bicycle production has doubled, albeit from a base of just 27,000 units to the 53,000 produced in 2015. Much thanks to the UK's premier manufacturer that figure is anticipated to skyrocket in the coming years.
Speaking to CyclingIndustry.News earlier this year, Brompton's communications executive Nick Charlier said: "The ambition is to be selling 100,000 bikes a year by 2022, so more than double our current output. Our new 84,000 square foot home has space for another production line, which will fire up at peak times. We're soon to bring our paint shop in house too, which will save a truck load of parts going to Wales each day for powder coating. The facility allows us quite simply to become a leaner more efficient business. We're planning in Q4 to move to a five day week from the current seven thanks to the expanded capacity. That, paired with the in-house paint work, begins to recoup some of the £2 million spent on the move."
Another giant in UK manufacture may soon emerge, if we are to take seriously the ambition of Cycles Perfecta's Phil Dempsey. Having recently gone live with a manufacturing plant, assembly line and paint shop in Cheam, Surrey, Dempsey's vision is to get competitive with Far-Eastern powerhouses.
"To begin with we'll be capable of producing around 50 frames a week, working around a single eight hour shift. With a bit of soundproofing we can eventually move to two eight hour shifts," Dempsey told CyclingIndustry.news. "But the market is there for us to produce 100,000 bikes a year in total and with automation that's entirely possible. At the present time we're already set to manufacture carbon frames for Lios and Pearson, but envisage that OEM interest in UK production will only grow as Far Eastern supply becomes less competitive. The lure of being in the same country as your production is strong for many now."
Another boon for the UK bicycle production story is the news that Pashley has signed a contract to become the supplier of London's Santander-backed bicycle hire scheme.
While bound by a non-disclosure agreement on exact numbers, general manager Stephen Bell did hint that a fleet of 12,000 six-year-old public bikes will need heavy re-enforcement.
"We are a blip in the bigger picture," says Bell, "But we've produced 10,000 bikes a year at a steady rate for years, with around 50 export markets served, so business is healthy. The re-emergence of the cargo bike segment is proving a particular success at present. Of course, since Brexit people are a lot happier to pay their bills and are in general ordering greater numbers."
Related: The UK's cycling manufacturers have their say on Brexit
Looking north, AMC Velo, the brainchild of former pro Andy Miners, has also spoken on its ambitions to grow a manufacturing plant in Scotland and one that becomes a major exporter.
The official line on UK cycling market worth
Bike Moving annual totals (Units to August 2016)
Units imported: 2,969,708
Change YOY: -19.85%
Origin in order of volume: Philippines, Taiwan, Bangladesh, Dem. Kampuchea, Tunisia
Electric Bike Moving annual totals (Units to August 2016)
Units imported: 232,146
Change YOY: +237.94%
Origin in order of volume: China, Taiwan, Hong Kong, Germany, UAE
Bike Moving annual totals (Value to August 2016)
Value imported: £349,408,000
Change YOY: -12.25%
Electric Bike Moving annual totals (Value to August 2016)
Value imported: £29,855,000
Change YOY: +144.36%
Exports Moving Annual Totals (units to August 2016)
Units exported: 483,819
Value exported: £63,892,000
Destination in order: Irish Republic, Nigeria, Belgium, Ghana, Germany
(Disclaimer: The Bicycle Association urges caution on electric bike figures, pointing to anomalies in unit value and volume within official numbers)
Further data on the wider European and global bicycle market can be found here.