Bianchi targets shoppers with concept store based at world's largest agricultural theme park
Bianchi has opened an own brand store in the presence of Italian Prime Minister Paolo Gentiloni, who attended the grand opening at Bologna's FICO Eataly World centre.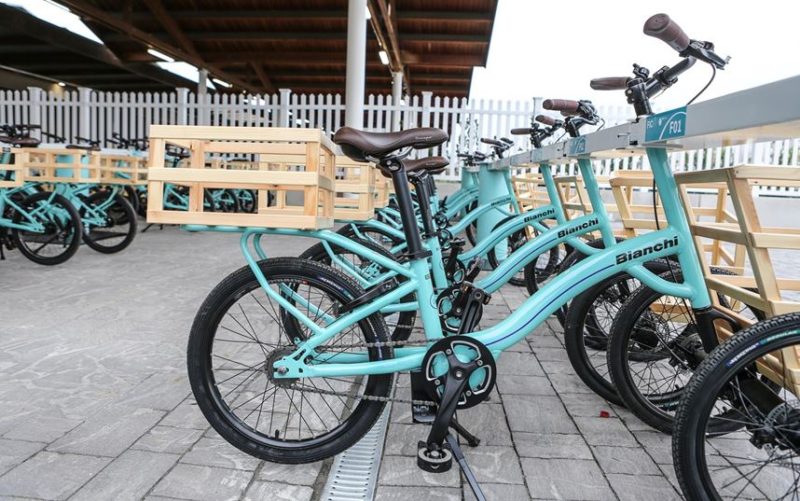 The location isn't your typical bike shop destination; FICO is known as the world's largest agricultural theme park and a destination for food lovers.
There is good reason, however; the branch will work as a branding exercise for the many visitors who will have access to a 500 strong shopping bike fleet, specifically developed by Bianchi. The park has cycle paths connecting its destinations.
The Bianchi Shopping Bike is the first "three-wheeled bike" featured with hydraulic disc brakes, projected for urban mobility and shopping, equipped with wooden basket to easily and safely carry loads.
The new store comes kitted with a mechanical workshop. Inspired by the traditional Italian factory's design and architecture: elements like iron, concrete and wood have been combined in a harmonious way, giving a modern look to the typical craftsmanship of bike stores.
The branch will display and sell its Road, MTB, City-Fitness, e-bike, apparel and accessories ranges in stores. An area has been dedicated to the high-performance Bianchi CV models, projected with Countervail Vibration Cancelling technology, as well as the new SF01 "Bianchi for Scuderia Ferrari" and a selection of Ducati bikes, made by Bianchi.
"Bianchi is proud to be part of FICO," stated Salvatore Grimaldi, the owner and chairman. "It was a honor for us to welcome the Italian Prime Minister to this very important event. President Gentiloni congratulated Bianchi for driving the tradition of Italian greatest brands in its branch, and was particularly interested in our shopping bike, one of the greatest novelties inside FICO, that was also very successful among the visitors."
The Bianchi Bike Store is open inside the FICO park every day, from 10.00 to midnight.