Pashley pitch UK made e-Cargo trike to trade and service workers
Pashley has revealed plans for a new electrically assisted e-Cargo trike. Set to enter production in April 2021.
As with all things Pashley, the e-Cargo trike will be designed and built in the UK at the firm's Stratford-Upon-Avon home.
Given the project name 'Alecs', the lightweight trike aims fill a gap in the mid-market, kickstarting the new generation of products set to meet the ever-growing market for zero emission vehicles.
Noticeably, more delivery trucks have taken to the roads as a result of the mass growth in e-commerce since the Covid-19 crisis. Alecs is designed to carry cargo in busy urban environments where quick and efficient deliveries are required, therefore aiding in the fight against pollution and congestion by traditional delivery vehicles.
The versatile design also lends itself to a variety of other purposes such as on-premises load movement and carrying tools and equipment for trades people or service operatives.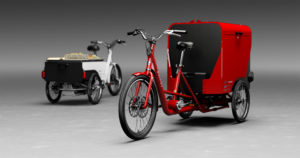 Alecs features the latest in electrical assist drive and battery technology as well as a unique tilting mechanism. The tilting mechanism provides greater cornering stability and speed in comparison to trikes of the same size. These features mean that it has the stability of a traditional tricycle while having the agility and handling benefits of a bicycle, all of which make it safer and more user friendly to a variety of riders.
Alecs will comply with the German standard DIN79010 and will weigh a total of up to 300kgs, including the rider. Additionally, it will have a load capacity of up to 1.2 cubic metres and its narrow wheelbase option means it can be used on cycle lanes and in areas with restricted access.
The development has been supported and part funded by the Niche Vehicle Network. Meanwhile, Pashley partnered on the project Simpact Engineering, Reynolds Technology, WMG at The University of Warwick and Foresight Innovations.