Big Sky Agencies saves money with the BMW i3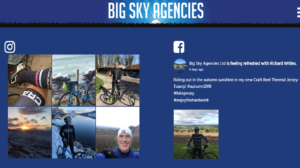 Sales Agent Simon Baynes of bigskyagencies is one of the first reps in the country to adopt a cost-saving electric vehicle for his high mileage job. Simon, who represents Vaude, Craft, Led Lenser, Darn Tough and Zamberlan, is based in Monmouth near the Welsh border. Visiting a variety of cycle and outdoor shops, as far as Norwich and the Midlands, he covers around 20k pa and has been running his i3 since October last year. We asked Simon about his experiences.
How do you find the car to drive and for doing your job?
First off, it's great around town, really good acceleration, kind of Golf GTi quick but not crazy. It's always ready to go, no faffing with gears. Its also pretty compact and has a ridiculous "taxi like" turning circle so you can park in really tight spots. You can also pull a u-turn instead of a tedious 3-pointer in pretty much any road.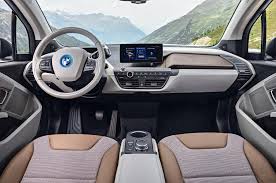 I totally love the cabin, it's really high quality and really spacious, the visibility and the seats are great too. It's like the old mini advertising from the 70s – "small on the outside – big on the inside". Actually, huge on the inside, apart from the back seats.
On the motorway I set the cruise to 72 mph which is a "true 70" and it's really quiet. I paid for the up-rated Audio System, so I just listen to my favourite tunes, when I'm not receiving sales calls that is. Norwich takes me about 5 hours to get to and it's really relaxing. One of the best things is there's no "stop-start engine nonsense" in traffic jams (sorry queues).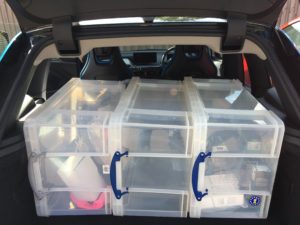 As for samples, it's great for me as I only sell P&A. The body is really boxy and tall, with a totally flat load-bed and no boot lip. It's kind of pan-flat, like a mini-van, when the seats are down. There's easily enough room for all my sample boxes and bags and an overnight bag.
You could fit 2-3 bikes but it would be a squash and a squeeze.
How about running Costs?
You can get these cars on a Business Lease of course, but in my case I chose a PCP deal with a really low interest rate.
It gives me the flexibility to decide what to do with the car at pretty much any point. I charge a private mileage fee back to my agency which is of course a tax efficient way to run a company vehicle.
The monthly payment is £20 more than the previous Skoda Superb, but the insurance is lower and of course "fuel" is significantly cheaper. Simon calculates he is paying £180 pcm less on his all-in running costs.
How far does it go and how do you charge it?
So firstly, I should explain, the car isn't fully electric. You could say it's a hybrid with a really big battery. After 110 miles of battery power, I can switch over to Range Extender (Rex) driving anytime. There's a petrol powered motorcycle engine under the boot that (quietly) re-charges the battery as you drive. I spend about £24 per month, or £288 per year, on petrol. In the old car, I could spend that much in a month.
You get about 100-120 miles from the battery alone, which you charge overnight at home. I'm with ecotricity so it costs about £3.50 to "fill the tank" and it's the same price if I use one of their motorway chargers. If you don't have them provide your home supply, the motorway charge is about double that.
Charging takes about 30-40 minutes if you use a fast charger. But there are certain hots-pots in the charging network with poor reliability so I'm glad of my petrol range extender which has got me out of trouble and on to the next charger down the road a few times.
I also use Polar and Instavolt, who I find more reliable. Finding chargers is easy enough on my smartphone. I use the "Zap Map" which tells me where the chargers are and in most cases if there are working correctly.
Do you see others moving on to EVs?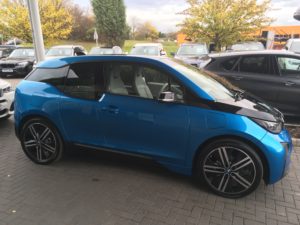 Oh yes, absolutely. Quite often when I'm charging there's a tap on window. People are keen to chat and to understand the car and whether it might work for them. I got the first one in Monmouth and it stood out in the blue colour with its 20″ wheels. The local dealer has an BMW "i specialist" and they are pretty good. Now there's three or four driving around the town. Maybe I should ask them for a commission….
Would you go back to a 'conventional' ICE vehicle?
If someone offered me a 5-Series or C-Class estate tomorrow, I'd just say 'No thanks". The i3 is so quiet relaxing to drive, especially on the Norwich trip, I've noticed I feel less fatigued when I get home. I don't think I'd go back to anything with an engine.
That said, I'm hoping for more choice in the EV market when I come to change in a year or so. I'll certainly be sorry to see it go. The new i3 (which has 155 miles range but doesn't have the Rex) might not work for me. Although the car has been 100% relaibale and never let me down, I've found the public charger network isn't quite there yet. So I'd either want a car with at least 200+ miles or the security of the Rex.
I'm certainly happy with the choice I made to take on the i3. I've saved money and had a nicer car at the same time. I'll be excited to see what's coming next.
***
Check out our sister site evfleetworld in the meantime if you are thinking of saving money with an electric vehicle.
Related Articles: